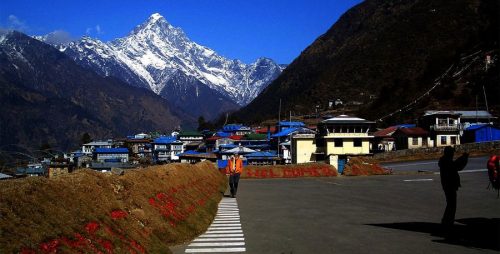 Nepal, the Himalayan country, is officially called the Federal Democratic Republic of Nepal. It is in South Asia. It borders China in the north and India in the south, east, and west. It is the 49th largest country by population and 93rd largest country by area. It is landlocked means it does not touch any sea and ocean. Nepal has a diverse geography, including fertile plains, subalpine forested hills, and eight of the world's ten tallest mountains, including Mount Everest, the highest peak on the Earth. Kathmandu is the capital and the largest city in Nepal.
Nepal is a multi-ethnic and multi-cultural nation. Here, people value their culture and customs more. Some of their customs you will find interesting, some strange, and others beyond scientific logic. The below list is some cultural dos and don'ts in Nepal.
Cultural do's and don's in Nepal
"Namaste" is a common act done by putting the palms together in a prayer-like gesture to greet anyone in Nepal.
Do not take it seriously if any Nepalese hesitates to shake hands because it really hasn't been very long since western traditions crept into the Nepalese way of life.
Major Hindu temples are usually off-limits to foreigners. Don't enter them unless given permission to. Do not take leather articles inside the temple area as they are prohibited.
Also, there will be small circular or rectangular stones or metal mandala on the ground in front of most shrines. Do not step on them.
Use your right hand to eat and deal with food. Nepalese use their left-hand to wash after defecating.
Also remember that most Nepalese use their fingers to eat and using spoons and forks is not common, especially when you are having "Daal Bhat" the staple Nepalese diet.
Once your lips have touched a food item or its container, it is considered Jutho (polluted) for others. Don't eat off someone else's plate or offer anyone food you have taken a bite out of.
Men should not walk/trek around bare-chested. Shorts are acceptable, but long pants are better. Women are recommended to wear long skirts. Exposure of women's legs can bring unnecessarily, so avoid wearing shorts and short skirts.
Public display of affection between man and woman is frowned upon. Kissing, cuddling, hugging in public is absolutely discouraged.
Time in Nepal moves very slowly. Everything is approximate. Nothing happens on time. Be patient. Anger and impatience will rarely make things better, if not worse.
Bargaining is very common in Nepal. You would often need to bargain while shopping and riding cabs in Nepal.
Never eat beef in front of Hindus & Buddhists because beef is strictly prohibited among both Hindus and Buddhists. Cows are sacred in Nepal.
Remove your shoes when entering a home, temple, or monastery and avoid smoking and wearing a scant dress in religious settings.
Do walk around temples/ stupas clockwise (from the left-hand side).
Do get a receipt of authenticity when purchasing an antique replica, otherwise, you will not be allowed to take it out of the country.
And don't buy ivory or fur from endangered species, your purchases encourage the trade in such illegal goods, and you won't be allowed to bring them back home anyway.
Don't give in to children who ask for just one rupee. Although a rupee is a small amount that anyone can spare, successful begging leads young children to drop out of school and take up panhandling as their trade. If you want to help, give it to a trustworthy charity or a school.
Don't take photographs of locals, holy shrines & temples unless they have clearly given their consent.
IN NEPAL, YOU MAY ALSO LIKE BELOW POPULAR TRIPS:
Find your trip
---
Traveller's review
---

It's my dream from my childhood to reach the base camp of Mount Everest. By reading several travel books I knew it needs one experienced trek organizer for the best trip experience. I talked with a couple of friends who already did it. They recommended me Excellent Himalaya Trek and ...Read More

My husband and I did Nepal Tour 7 nights 8 days in the first week of April 2018. The trip was fantastic. We visited Kathmandu, Pokhara, and Chitwan. Before we fixed this trip Mr. Suman, the manager, he sent us detail on various trips to Nepal in the email. He ...Read More

I finished Annapurna circuit trek including Poon Hill last November 2017. It was the awesome trekking that I had ever done in my life in terms of perfect Himalayan views, beautiful villages, nice local people and several sceneries. My trek was organized by Excellent Himalaya Trek and Expedition.  Before the ...Read More