Everest Three Passes Trek
Trip Code: N-ET-113
Destination: Nepal
Season: Oct/Nov/Mar/Apr/May
Max Altitude: 5550 meters/ 18209 feet
Trip Starts/Ends: Kathmandu/Kathmandu
Transportation: Private Vehicle and Flight
Accomodation: Standard hotel in Kathmandu & Tea-house in Trekking
Trip Grade:

Stratenous
Trip Overview
---
Everest Three Passes Trek is an ultimate adventurous journey of Everest region. This trip is more popular among adventure lovers as it brings over the three mountain passes of Everest Zone which are all the high passes in the world. These alpine passes are Kongma La Pass (5535 meters /18159 feet), Cho La Pass (5368 meters/ 17612 feet) and Renjo La Pass (5360 meter/17585 feet).
Technically it is not much difficult crossing these passes but all these trails climb over 5000 meters so it is essential proper acclimatization to reduce the effects of Acute Mountain Sickness (AMS). Here the suggested hiking program is designed for considering this major issue.
Another remarkable feature of this adventurous journey is to be also at the Everest Base Camp, the foothill of the world's tallest mountain, and to hike up Kalapathar as well as Gokyo Ri. Both of them are smaller peaks from where the awesome close-up view of Mount Everest and other towering peaks of the planet can be experienced.
The trekking route of Everest Three Pass Journey is almost like the circuit of Everest region. It covers all major highlights of Everest Himalayan territory from stunning views of gigantic mountains to awesome Himalayan glaciers and from serene glacial lakes to distinct alpine lifestyle and vegetation.
The beginning of Everest High Pass trek is from Lukla after 40 minutes mountain flight from Kathmandu following the classic route of Phakding, Namche Bazaar then towards Dingboche. From here it branches off Chhukung valley. Afterward, it rises with a climb to Kongma La Pass to Lobuche and Everest Base Camp. Trekking continues over Cho La Pass to Gokyo Lake, then crossing the Renjo La Pass it down to Thame. Subsequently following the classical trail it drops down to Lukla where this adventures trekking ends.
From Lukla its flight back to Kathmandu where with cultural sightseeing of world heritages declared by UNESCO followed by farewell dinner the overall program of this trip will be completed.
About Trip Date of Everest Pass Trek
The best time of Everest Three Pass Trekking is during the months of September, October, November, April, and May. During the mentioned months the weather becomes pleasant with clear Sky and temperatures at higher places are more bearable. In winter and during the monsoon months flights are frequently canceled because of poor visibility at the Lukla airstrip. The most serious obstacle of trekking in winter is cold weather and high passes are filled with snow. Consequently, it's very difficult to find out the trail.
The trip date of Everest Three Pass Trekking will be on any date which you feel comfortable. We organize this trekking as your private trip.
About Optional Activities for Everest Three Pass Trek
Everest Three Pass Trekking is an exciting trekking holiday in Nepal. You can make it further exciting by joining in extra activities/ side trips. As the interest of people is different from each other, we have put these extra activities as optional tours. They are not included in your package cost. On your request, we offer you. The list of optional activities is displayed in right column.
For any further information and queries about Everest Three Pass Trek, please feel free to contact us.
Price
---
| | |
| --- | --- |
| USD 925 Per Person | For Group Size of Two People |
| | |
| --- | --- |
| USD 1299 Per Person | For Group Size of Two People |
| | |
| --- | --- |
| USD 1425 Per Person | For Group Size of Two People |
Trip Map
---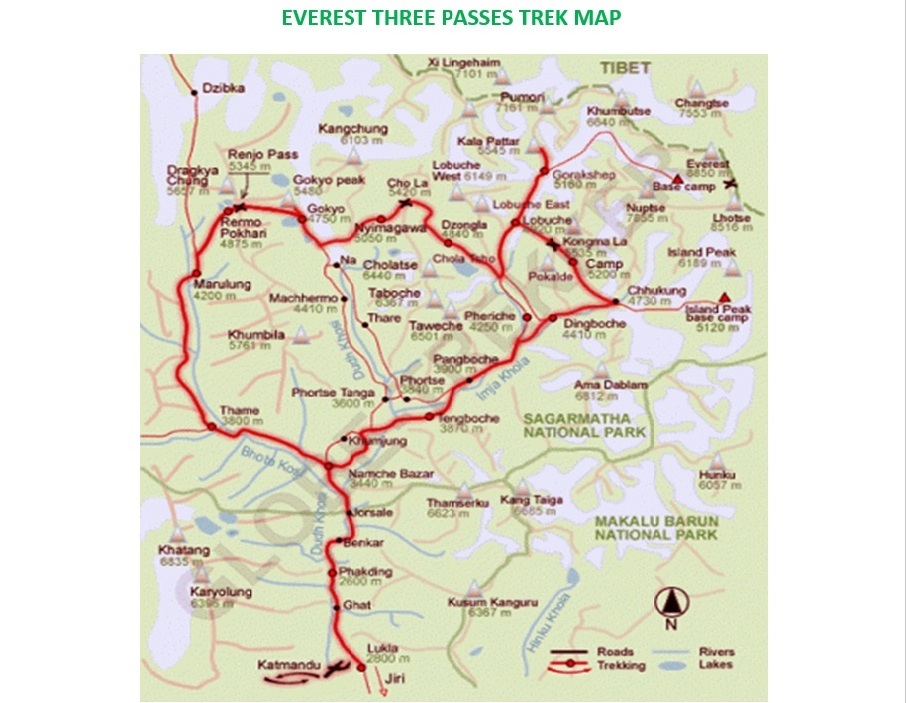 Trip Review
---

Everest Three Pass is an extremely rewarding adventurous trek. We did it in October 2017. Our overall trip was 20 days and was organized by Excellent Himalaya Trek. The trip itself was undeniably very challenging, but if you prepare well and are in good physical and mental condition, you will be of course to do it. The experience we attained in this trek was outstanding and never forgettable. To our success, our guide (Tashi) and porter (Shyam) had a great role. These guys are so helpful, knowledgeable, sincere, and have many experiences. We also appreciate the management of Suman, the team leader of this company. From beginning to the end of this trip everything was perfect; he catered all of our needs. Our communication with Suman before we arrived in Nepal was very much fantastic. It was very hard us to say goodbye these nice people after the end of the tour. Their caring services will always remain in our mind. At the end, we say anybody who is looking for any adventurous trekking in Nepal, book and go with Excellent Himalaya Trek. Thank you!!!
Miguel & Julie
Switzerland

Incredible Everest Trekking, I am Alex from Uk was in Nepal as a fellow traveler. A friend of mine had recommended me Excellent Himalaya Trek and Expedition for my short trek to Namche. I had a really nice trek and wonderful time with this company. Especially the Ram who is running the company is very much informative and he has the young team for Adventure tourism. I would suggest using this company to anyone who wants to do a trek in Nepal. Thanks
Alex
Uk

Once-in-a-Lifetime Breathtaking Journey through the Majestic Himalayas Visiting Nepal was life-changing, as cliché, as it sounds. The trek I completed in Nepal, from Lukla to Tengboche, was amazing—crossing suspension bridges, eating amazing meals that were made to order (be patient), meeting the gracious people of Nepal, being removed (at times) from electronics (i.e. no computers, no televisions)—it really reminded me how out of touch I've gotten with the world. This journey re-connected me with myself and with basic life, mindfully: eating, sleeping, trekking. I have to advise, it is a good idea to physically train before you embark on a trek, especially, if you normally, don't hike like myself. I recommend trekking poles—they really helped through some of the steep parts of the trek. I also, recommend wearing a hat, buff, sunglasses, as it can get really dusty, with the dirt trails plus, you're sharing them with dzos. Also, highly recommended is a small day pack to carry while you hike, for toilet paper, water, and snacks. It was very cold in Tengboche—wearing layers is a must, also, having a warm sleeping bag & headlamp, as the guesthouse room did not have heating or lighting available at night. A good pair of high top hiking shoes is a must & staying hydrated is important, due to the altitude. My analogy on the bathroom situation in the guesthouses is, it is like a slot machine, you do not know, whether if it is going to go down or not, until you hit the flush lever. The outhouses along the trekking trails were actually, more pleasant than the western toilets. What really made the trek though was our trek leader —our leader really educated our group about Nepali culture and had incredible stories to share, so having a good trek leader does make or break the trek. Be aware when you get your visa for Nepal--how long it is valid for. Reason to note this, is that there may be flight delays, due to poor flying visibility, which may leave you stranded for a few more days longer in Nepal than planned—likely, after your visa has expired so be warned. As far as Kathmandu, it was infused with spirituality, with Hinduism and Buddhism co-existing peacefully. Be prepared to bargain for merchandise and note, that sometimes, old, torn rupees may not be accepted by all merchants. Namaste!
Brooklyn
New York
Ask our experts (Inquiry)
---