Kailash Heli Yatra: Kailash Helicopter Tour
10 Days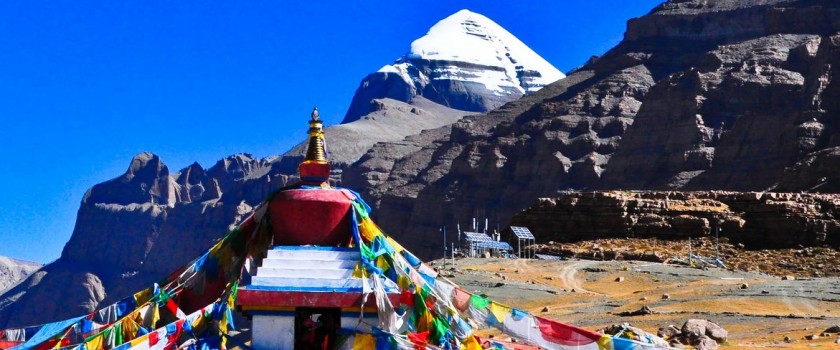 Trip Code: T-KMY-11
Destination: Tibet
Season: May, June and September
Max Altitude: 5723 meter/18776 feet
Trip Starts/Ends: Kathmandu/Kathmandu
Transportation: Flight, Helicopter Charter, Bus
Accomodation: Guest House
Trip Grade:

Pilgrimage Tour

Trip Attraction:

Culture, Himalayas & Wildlife, Wieieieieieies
Trip Overview
---
Kailash Heli Yatra is the short tour of Kailash and Mansarovar Lake using a helicopter. This trip is mostly popular among those people who have a short time and do not like long days of driving. This is adventurous as well as exciting lifetime journey too.
Mount Kailash is a peak in the Gandise Mountain range in western Tibet near the sources of Asia's four important rivers: Indus, Brahmaputra, Sutlej, and Ganga. Mount Kailash is respected as the sacred mountain by four religious groups: Hindus, Buddhists, Bonis, and Jainis. Hindus believe this mountain is the home of Lord Shiva.
Similarly, Mansarovar is a high altitude fresh Water Lake located north of Mount Kailash with the circumference of 88 km. People visit Mount Kailash and Mansarovar Lake for divinity and good fortune.
Mount Kailash Helicopter tour starts by flight from Kathmandu to Nepalgunj and then connecting to Simikot, the western hilly small town of Nepal. From Simikot, you board on a helicopter for the flight to Hilsa, the place close to China/ Tibet border. After crossing the border you start the scenic drive on Tibetan plateau to the Mansarovar Lake.
After taking a holy dip in this sacred lake you head towards Darchen, the base camp of Mount Kailash. From the base camp, it's nearly half an hour off road drive to Yam Dwar. It's a small temple from where the Kailash Parikrama starts. The first of Kailash Parikarma is 16 km of walking. It takes around 5 hours to reach Dirapuk, the first day-night halt place of Parikarma.From Dirapuk you can have darshan of north face of Mount Kailash.
The second of Parikaram is 22 km of walking. It's a little bit difficult as it needs to climb the cliff around 8 km. Once you reach the top of Dolma La (5600 meters), the trail goes down. While you descend from this pass you see the beautiful small lake which is called Gauri Kund. It, around 6 km of descent. Then the trail moves ahead on the flat. After 6 to 7 hours of walking you reach Zuthulphuk where you spend your night.
From Zuthulphk, next day it's 10 km of walking to Chongdo which is quite easy and takes one and half hour. Then you end your kora and get back to Kathmandu following the same incoming route via Purang, Simikot, and Nepalgunj.
Note of Kailash Heli Yatra:
Kailash Yatra is the journey to the home of Lord Shiva. It's a lifetime pilgrimage tour, people join it for peace, happiness, and moksha. Please contact us for any further information about this holy trip and the price of it.
Ask our experts (Inquiry)
---