Trip Code: N-ET-111
Destination: Nepal
Season: Sept/Oct/ Nov/Mar/Apr/May
Max Altitude: 5550 meters/ 18209 feet
Trip Starts/Ends: Kathmandu/Kathmandu
Transportation: Private Vehicle and Flight
Accomodation: Standard hotel in Kathmandu & Tea-house in Trekking
Trip Grade:

Moderate to Streneous
Trip Overview
---
Everest base camp trek is a world-class hiking tour that brings to the foothill of Mount Everest. Truly Everest base camp tour is the exploration of the magnificent high mountains of the planet, impressive glaciers, a different culture of the Sherpas, distinctive landscape of the Himalaya region with its endangered flora and fauna.
Everest Base Camp trekking begins after 40 minutes of sensational mountain flight from Kathmandu to Tenzing-Hilary airstrip at Lukla. Lukla is the gateway to this adventure trip. From Lukla, the trekking starts following the upward path to the Sherpa capital of Namche Bazaar passing through the Dudh Koshi River valley with views of Thamserku and Kusum Kangaru peaks.  It takes about two days to reach this Sherpa village, which is a central hub of the Khumbu area. Usually, at this place trekkers allow a day of rest for acclimatization to minimize effects of Altitude Health problems (AMS). They then trek another two days to Dingboche (Alt. 4,260 m/13,980ft) before resting for another day for further acclimatization.
Another two days takes to Everest Base Camp via Gorakshep, the flat field below Kala Patthar and Mt. Pumori. After the visit of the south base camp of Mount Everest the hiking to the top of Kalapathar (Alt. 5555m/18225ft), the black rock nearby Gorakshep, provides a 360-degree awesome panorama of world's tallest mountains of Mount Everest, Mount Lhotse, Mount Pumori, Mount Lobuche, Mount Nuptse, and other surrounding peaks. From this elevation the true height of Everest becomes clear. The entire south face of Everest is visible.
Afterward, the trekking will retrace down Lukla following the places of Pheriche, Pangboche, Tengboche, Namche, and Phakding. In Lukla, the trekking ends. Next morning you fly back from Lukla to Kathmandu. Eventually, the program of this journey completes with the wonderful sightseeing tour of world heritage sites in Kathmandu valley along with farewell dinner at an authentic Nepali restaurant with live cultural dances.
Everest Base Camp Trek Cost
Excellent Himalaya Trek and Expedition is a leading operator of Everest Base Camp Trekking run by local experts and Sherpas of Nepal. We are pleased to offer the Everest Base Camp trek package at USD 1175 Per Person for a group size of two persons on a private tour basis. For the solo trekker, we have a separate special price.
The given 14 days Everest Base Camp Trek price includes accommodation in every place, food during trekking, highly experienced trekking guide, one strong porter, trekking permit, round-trip domestic air ticket, airport transfers, all local taxes, etc.
Apart from the package, we also provide individual services like only mountain guide hire, porter hire, internal flight booking for Kathmandu Lukla flight tickets, hotel booking etc. We also offer the best rate for individual services. Please contact us for the rate.
Best Time of Everest Base Camp Trek
The best time of Everest Base Camp Trekking is during the months of September, October, November, March, April, and May. However, theoretically, it is possible to trek in the Everest Base Camp year around. During the mentioned months the weather becomes pleasant with clear Sky and temperatures at higher places are more bearable.
In winter and during the monsoon months flights are frequently canceled because of poor visibility at the Lukla airstrip. The most serious obstacle to trekking in winter is cold. Days can be perfectly comfortable but the mercury plummets as soon as the sun sinks behind the mountains.
The departure date of Everest Base Camp Trek (EBC Trekking) will be on any date which you select on your choice. We organize EBC trek in private tour basis.
Hiking Distance of Everest Base Camp Trek
The hiking/trekking distance from Lukla (hiking starting place) to Everest Base Camp and back from Everest Base Camp to Lukla is around 130 Kilometers/ 81 miles. You will complete this distance in 11 days. Every day you walk on an average of 12 Kilometers/ 7 miles. In your normal pace of walking, you will do it with a sometimes gradual ascent on the rocky terrain and sometimes with a descent.
Height of Everest Base Camp Trek/ Elevation of EBC Trek
You will start Everest Base Camp Trek from the elevation of 2804 meters/ 9199 feet at Lukla. Every day you will receive elevation in the range of 400 meters to 800 meters. As most of the people's bodies are not used to these elevations, the trek includes acclimatization days at the places named Namche Bazaar and Dingboche to ensure your safety. The highest altitude of entire EBC trekking is Kala Patthar, nearby Everest Base Camp. Its height is at 5555 meters/18225 feet. Kala Patthar is the best viewpoint for Mount Everest and its surrounding magnificent peaks.
Trip Map
---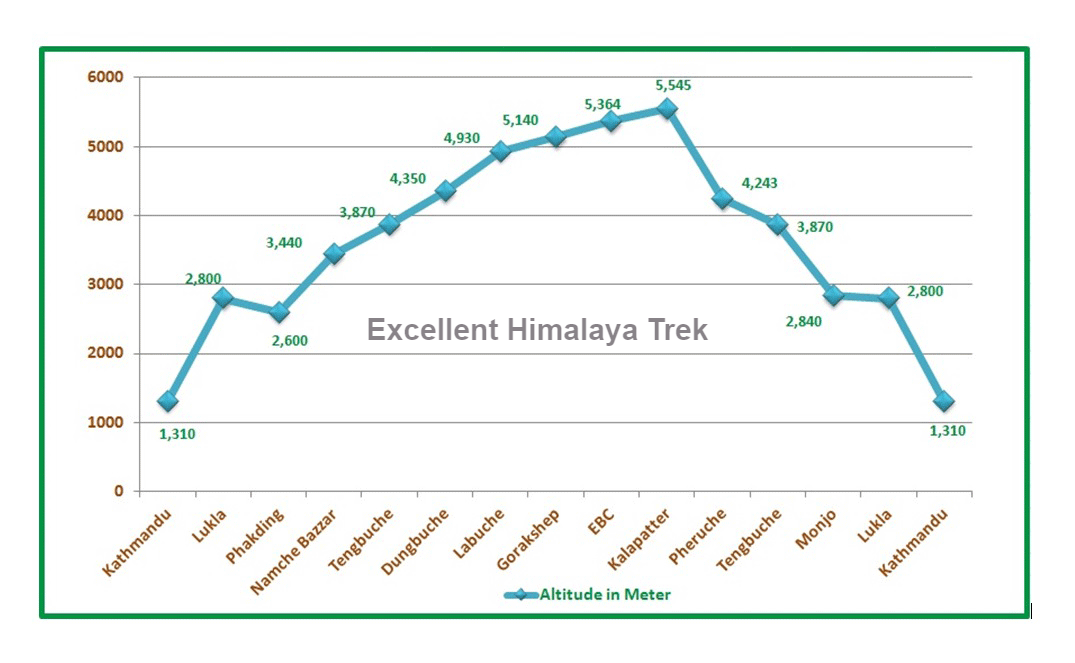 Trip Review
---

It's my dream from my childhood to reach the base camp of Mount Everest. By reading several travel books I knew it needs one experienced trek organizer for the best trip experience. I talked with a couple of friends who already did it. They recommended me Excellent Himalaya Trek and Expedition.  Rightly Excellent Himalaya Trek is very efficient since the first contact and very patient in designing my itinerary as there were many changes on my side. After I landed in Kathmandu they offered me family environment took care well. Suman, the owner, provided very experienced trekking guide and porter. I am sure that without their assistance I could not succeed this trip. Overall, I appreciate the fact that everything is well managed. Thank you Excellent Himalaya Trek for your perfect services.
Happynav
Australia

In October 2017 we successfully completed Everest Base Camp Trekking in Nepal with my four native friends. The trip was excellent in terms of breathtaking Himalaya views and the top services offered us by Excellent Himalaya Trek. We really appreciate well care of us by their trekking crew. The guide (Tashi) was so nice guy with lots of mountain experience and all porters were super friendly. We can never forget their ever smiling faces. We would strongly recommend this company; everything was well planned but still flexible for what everyone wanted to see. In this trip, our best moment is reaching to the Base Camp of the top of the world and the worst moment is one extra day stopped in Lukla due to not happened flight caused by foggy weather.
Jacob Taylor
United States of America

It was my first experience of trekking. Before landing Nepal I and my girlfriend (Charlotte) had a doubt whether we could complete Everest Trek or not. Before start of this trip, during my corresponding with Suman, he had already assured me with a lot of explanation. After we come here and see their services, felt we selected the best organizer. The care of Suman (Manager) and trekking guide (Ganesh) was fantastic. They certainly had our best interests and wellbeing at our heart. Trekking was little bit tough to us but the scenery was breathtaking at every turn, walking through the villages and engaging our self in Nepalese culture was something we will never forget. We would definitely recommend Excellent Himalaya Trek and Expedition if you are thinking of Everest trekking.
Theodore
Australia

I would like to thank Suman Shrestha, MD of Excellent Himalaya Trek and his all team members for all their support in helping to achieve an incredible experience during our trip to Everest Base Camp Trekking. It will be something that I will always remember and be proud of this miraculous trek. Truly, Nepal has been like our own home for 2 weeks and now leaving this beautiful country, nice people and best company a lot. See you again guys for the next trip to Nepal.
Harold Williams
USA

We two recently completed 16 days Everest Base Camp Trekking. It was absolutely amazing and must do for everyone. Excellent Himalaya Trek looked after us and guided us through some of the most breathtaking and eye-opening places that I have ever been too. Our guide and porters were absolutely lovely and I am so lucky for having met them. If anyone would like to go for this trek, I suggest contacting with Suman, team leader of Excellent Himalaya Trek and book with them. Thanks.
Francesco
Italy

Trekking to Everest Base Camp was one of the most scenic and adventurous. We all enjoyed this trip fully. Our trekking leader managed by Excellent Himalaya was so responsible who looked after us with great care. The porters were so innocent who carried our personal stuff. They all made our walk one of the most memorable experiences. If you go on this trek ask if you can get them, they'll turn your trip into your lifetime adventure journey.
Patricia Smith
United Kingdom

Incredible Everest Trekking, I am Alex from Uk was in Nepal as a fellow traveler. A friend of mine had recommended me Excellent Himalaya Trek and Expedition for my short trek to Namche. I had a really nice trek and wonderful time with this company. Especially the Ram who is running the company is very much informative and he has the young team for Adventure tourism. I would suggest using this company to anyone who wants to do a trek in Nepal. Thanks
Alex
Uk

Once-in-a-Lifetime Breathtaking Journey through the Majestic Himalayas Visiting Nepal was life-changing, as cliché, as it sounds. The trek I completed in Nepal, from Lukla to Tengboche, was amazing—crossing suspension bridges, eating amazing meals that were made to order (be patient), meeting the gracious people of Nepal, being removed (at times) from electronics (i.e. no computers, no televisions)—it really reminded me how out of touch I've gotten with the world. This journey re-connected me with myself and with basic life, mindfully: eating, sleeping, trekking. I have to advise, it is a good idea to physically train before you embark on a trek, especially, if you normally, don't hike like myself. I recommend trekking poles—they really helped through some of the steep parts of the trek. I also, recommend wearing a hat, buff, sunglasses, as it can get really dusty, with the dirt trails plus, you're sharing them with dzos. Also, highly recommended is a small day pack to carry while you hike, for toilet paper, water, and snacks. It was very cold in Tengboche—wearing layers is a must, also, having a warm sleeping bag & headlamp, as the guesthouse room did not have heating or lighting available at night. A good pair of high top hiking shoes is a must & staying hydrated is important, due to the altitude. My analogy on the bathroom situation in the guesthouses is, it is like a slot machine, you do not know, whether if it is going to go down or not, until you hit the flush lever. The outhouses along the trekking trails were actually, more pleasant than the western toilets. What really made the trek though was our trek leader —our leader really educated our group about Nepali culture and had incredible stories to share, so having a good trek leader does make or break the trek. Be aware when you get your visa for Nepal--how long it is valid for. Reason to note this, is that there may be flight delays, due to poor flying visibility, which may leave you stranded for a few more days longer in Nepal than planned—likely, after your visa has expired so be warned. As far as Kathmandu, it was infused with spirituality, with Hinduism and Buddhism co-existing peacefully. Be prepared to bargain for merchandise and note, that sometimes, old, torn rupees may not be accepted by all merchants. Namaste!
Brooklyn
New York
Ask our experts (Inquiry)
---