Everest Expedition: 8848 m/29029 ft
65 Days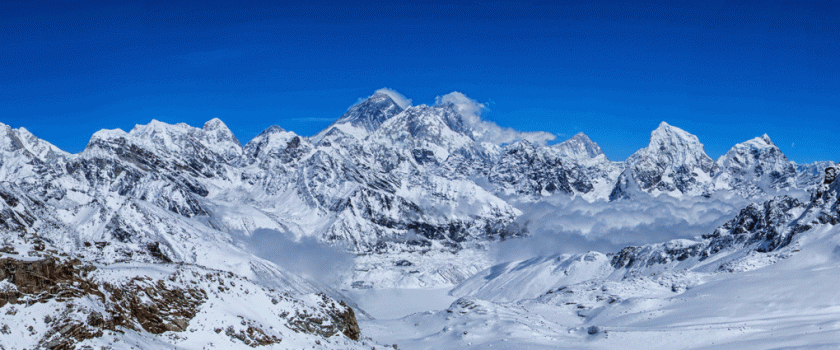 Trip Code: N-EXP-11
Destination: Nepal
Season: From April to May & Sep to Oct
Max Altitude: 8848m/ 29029ft
Trip Starts/Ends: Kathmandu/Kathmandu
Accomodation: Standard hotel in Kathmandu/ Mountain lodge in Trekking/ Camping in Climbing
Trip Grade:

Climbing- Strenuous Plus
Trip Overview
---
Everest Expedition is obviously the dream of all mountaineers because it is their ultimate attainment. Mount Everest, at 8848m/ 29029ft, is the top of the mountains in the world. It is located in the Mahalangur Himalayan Range of Nepal. The present official height of 8,848m/29,029ft was established by the Indian survey team in 1955 which also confirmed by a Chinese survey in 1975.
The English name 'Everest' was given by the Royal Geographical Society in the honor of Sir George Everest in 1865. Sir George Everest was the leader of Great Trigonometry Survey in 1856.  That survey discovered it the highest peak said to be 8840m. They named it by Peak XV. With a simple technology, the height was determined with really unbelievable accuracy which only 8m less from the current altitude of 8848m.
The Peak 'Everest' is recognized as 'Sagarmatha' in Nepal. It means forehead of the sky. In Tibet/China, it is called 'Qomolangma'. After the discovery of Everest, there were made several attempts for the summit of this peak. The first recorded efforts to reach Everest's summit were made by British mountaineer team led by Charles Bruce in 1922. In the climbing history of Everest, the 1924's expedition by George Mallory and Andrew Irvine is one of the greatest mysteries. Both of them died during the summit. After many unsuccessful attempts, Sir Edmund Hillary and Tenzing Norgay Sherpa made the record of first successfully climbed to the top of Everest on 29 May 1953 using the south ridge route.
Everest has two summit routes: Southern Col Route and Northern Col Route. The Southern Route lies in Nepal and the Northern Route is in Tibet. It seems that the expedition attempts before 1950 were made from Northern side. The reason was at that time Nepal was closed for foreigners. Nepal has been opened for outsiders only since 1950 with the establishment of the democratic governmental system. In 1959 China, after the Cultural Revolution, closed Tibetan borders to outsiders. Then, the Southern route from Nepal has become more popular among climbers. It is now reported that around 1000 ascent attempts are made every year through this route.
Everest climbing is absolutely a great adventure including both physical as well as mental challenges. Therefore, it provides a great feeling of pride and the sense of being the most courageous person in the world. During the trip, climbers should meet various interferences such as high altitude, severe weather conditions and avalanches and exhaustion.
For Everest climbing, the climbers must have broad mountaineering experience at least of 6000 meters, preferably, the climbing experience of Himalayan peaks from 7000m to 8000m such as Cho Oyu, Shishapangma, Lhotse, Ama Dablam, or others.
To participate in this expedition the climbers must be a very fit and active winter walker in good health. A climber must make his/her cardiovascular strength along with muscular strength to face oxygen level drops by 60-70 percent. It also should make sure that he or she can carry big bag packs as a need to carry oxygen cylinder and large bag packs to ascend the top. Further, he must acclimatize with weather conditions and be prepared for rock falls, avalanches. He must be able to ascend and descend fixed lines independently on the very steep ice and snow slopes.
The trip of Everest Expedition via Southern route starts with the 35 minutes flight from Kathmandu to Lukla. From Lukla, you follow the trail to Everest Base Camp by trekking. The trail passes the places named Namche Bazaar (3440m), Tengboche (36600m), Pheriche (4270m), Lobuche (4910m), Gorak Shep (5140m). It takes typically 8 days of trekking to reach Everest Base Camp. Everest Base camp is situated on the north of Khumbu glacier at high of 18000ft. It is surrounded by Pumori, Lola, Nuptse, and the Khumbu Icefall. In the base camp, all climbers gather before starting the climb to Mount Everest and also returning time after their climbing. So, it seems busy with excitement for the preparation of their expedition. Here you will stay several days to be acclimatized for the summit.
Above the base camp for making your way to Summit, we establish four camps. Camp I will be at 6400m, Camp II at 6750m, Camp III at 7200m, Camp IV at 8000m. From the base camp when you move on to Camp I, you need to crosse the Khumbu Icefall using fixed ropes and aluminum ladders. In Camp I you will hear the deep murmuring cracking sounds of crevasses at night. From Camp I it is around 450m on a gradual slope to Camp II. Camp II is is located at the foot of the icy mount Lhotse. It is a very safe and sheltered location with good views of Lhotse. Here sometimes wind seems very violent enough to destroy our tents. Likewise Camp III is around 610m above from Camp II which is located at the head of Lhotse. Climbing to Camp III is often difficult since most of climbers feel the effects of high altitude. From Camp III onwards, you will need oxygen cylinders. You will reach the Camp IV after just crossing 8000m elevations. Camp IV is located at South Col. There are two rock sections before camp 4 called the Yellow Band and the Geneva Spur. Both of these areas are set-up with fixed ropes. From Camp IV you set for Summit which is about 500m in distance. There is the Balcony, the Hillary Step, and the south summit before reaching the central summit. The route to the true summit is a moderate snow slope.
Everest Expedition Trip Note:
Everest Expedition 65 days is a proposed schedule. We designed it by our experience of previous trips. The actual itinerary of your trip can be different depending on the factors like weather conditions, your physical condition etc. The trip may finish earlier than proposed period, or it may slightly long as well. For, additional information of Everest Expedition please contact to us.
Ask our experts (Inquiry)
---