14 Days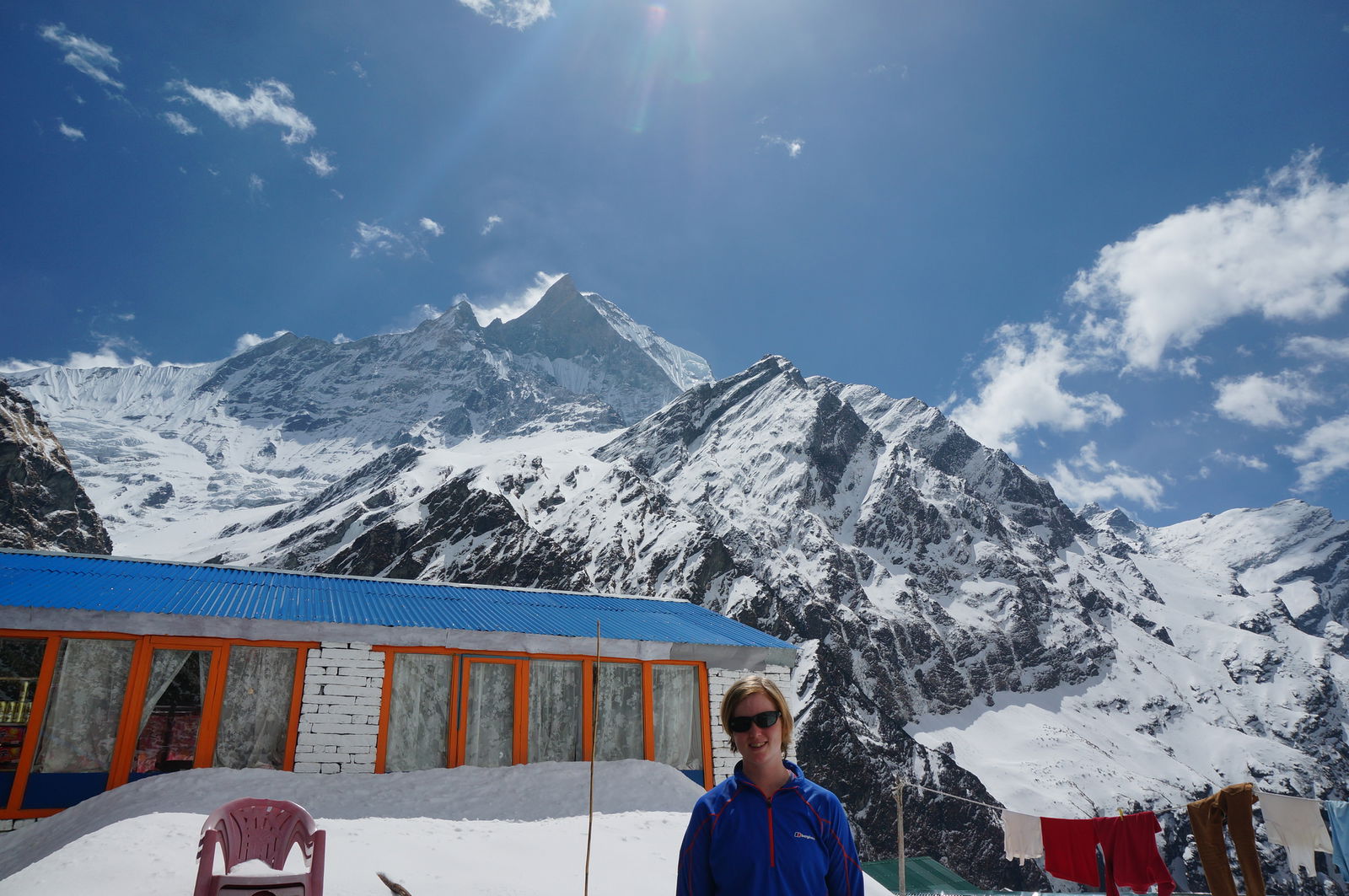 Trip Code: N-AT-120
Destination: Nepal
Season: Sept/Oct/Nov/Feb/Mar/Apr/May
Max Altitude: 4130 meters/ 13422 feet
Trip Starts/Ends: Kathmandu/Kathmandu
Transportation: Private Car and Tourist Coach
Accomodation: Hotel in Kathmandu & Pokhara & Tea-house in Trekking
Trip Grade:

Moderate
Trip Overview
---
Annapurna base camp trek is an extensively famous hiking tour that leads to the base camp of Mount Annapurna. It's really amazing that Annapurna Base Camp is curved by a solid wall of snow-capped peaks and it seems like a mountain sanctuary. Thus Annapurna Base Camp trek is also famous the name of Annapurna Sanctuary trekking.
Annapurna Base Camp's trekking trail passes through beautiful villages, terraced farmlands, lush hills of oak and bamboo trees, sparkling streams, and glacial moraines. In spring everybody becomes more excited while trekking on this trail. Because it's a time for blossoming rhododendron flowers and it makes the hills colorful.
Annapurna Base Camp trekking has some long steep climbs and descends on stone steps however the trekking is not difficult. Among all base camp trekking routes in Nepal, Annapurna Base Camp is the easier and more quickly reachable base camp trekking. It does not need any climbing and hiking experience.
Here, in our program of Annapurna Base Camp trek, we have also linked Poonhill.  Poonhill is one of the most popular places in the Annapurna zone. Visit Poonhill provides you to enjoy the beautiful sunrise with the view of Dhaulagiri and Annapurna I. Dhaulagiri is the seventh highest mountain  (8167m) and Annapurna I is the tenth highest mountain (8091m) in the world.
Annapurna Base Camp trek begins from Nayapul and is a reachable one-hour drive from Pokhara. From here the trail follows the Modi Khola (stream). Then it ascends to Ghorepani crossing some beautiful Magar villages through rhododendron forests. From Ghorepani, it's an hourly morning hike to Poonhill. Leaving Ghorepani you walk ahead to join the main trail of Annapurna Base Camp at Chhomrong.  Furthermore, you continue climbing to Machhapuchare Base Camp (3700m) via the places of Dobhan and Deurali. From Machhapurchare Base Camp it is only a few hours of walking distance to your dream destination.
After the visit to Annapurna Base Camp, you retrace your steps all the way down to Nayapul with a night stopover at Bamboo and Jhinu Danda. Jhinu Danda has a natural hot Spring where you can soothe your aching body. Finally, you end your trekking at Nayapul. Then you drive back to Pokhara followed by to Kathmandu.
Annapurna Base Camp Trek Cost
Excellent Himalaya Trek and Expedition is a leading operator of Annapurna Base Camp Trekking run by local experts and Sherpas of Nepal. We are pleased to offer the Annapurna Base Camp Trek package at the price from USD 725 to USD 830 Per Person for a group size of two persons on a private tour basis. For the solo trekker, we have a separate special price.
The given 14 days Annapurna Base Camp Trek cost includes accommodation in every place, food during trekking, a trekking guide, a trekking permit, all ground transportation, local taxes, etc.
Apart from the package, we also provide individual services like only mountain guide hire, porter hire, hotel booking, trekking permit issues etc. We offer the best rate for individual services. Please contact us for the rate.
Short Annapurna Base Camp Trek
Annapurna Base Camp Trek can also be completed in 9 days and 12 days. We recommend a 9 or 12 days ABC trek for people who do not have time for 14 days of ABC trip.
The price of Short of Annapurna Base Camp Trek (9 days) is from USD 590 to 650 Per Person and the cost of 12 days ABC trek is USD 690 to 760 Per Person for a minimum group size of two people. The price includes accommodation, food during trekking, an experienced mountain guide, all ground transport, a trekking permit, airport transfers, all local taxes, etc.
Go with Locals (Excellent Himalaya Trek and Expedition), Save money and Have an unforgettable happy experience.
About the Trip Date of Annapurna Base Camp Trek
The best season and most favored times of Annapurna Base Camp Trekking/ Annapurna Sanctuary Trekking is autumn (From Mid-September until November end) and spring (From the beginning of March until mid-May). During this period the daytime is sunny and warm with outstanding views. At this time the temperature in the day is between 10 C to 30 C. The nights are often cold with a temperature between 5 C to 2 C. Trekking to Annapurna Base Camp in winter (Dec, Jan, Feb) is also possible but the temperature during winter could be harsh for most people. Trekking in the summer season (June, July, Aug) will be affected by rain/monsoon but the Summer trek could be an advantage for a keen botanist.
The trip departure date of Annapurna Base Camp will be on any date you select of your choice. We organize the ABC Trek as your private tour.
About Optional Activities for Annapurna Base Camp Trek
Annapurna Base Camp Trek is a wonderful trekking holiday in the Annapurna region of Nepal. You can make it further exciting by joining in extra activities/ side trips. As the interest of people is different from each other, we have put these extra activities as optional tours. They are not included in your package cost for Annapurna Base Camp Trek. On your request, we offer you. The list of optional activities you get it in the right column in the laptop/ desktop view. In the mobile view, you find it below after scrolling.
Trip Reviews
We have just completed an amazing Annapurna trekking with Poon Hill. We had a fantastic experience and highly recommend this trip to anyone. Our trip was organized by Excellent Himalaya Trek. It is a professional tour company with experienced trekking guides and porters. We felt Poon Hill is not a difficult trek. The mountain views were absolutely incredible, the landscape varied a lot in every day of the trek and there were a couple of nice villages along the way. Although we were there in October (peak season), the trail was only busy in few places. The lodges on the trail were comfortable. They offered us very good food.  We had good guide support from Dawa. Our porters too were so much helpful and friendly. Overall, we had no complaints about the hotel, food, staffed, and other matters. Everything was perfect. Thank you, Suman, for your excellent arrangement.
Sandeep Mehta
Annapurna Base Camp including Poon Hill is a lovely trek for beautiful Himalaya views and sunrise in a short time. We booked this trip with Excellent Himalaya Trek and Expedition by online. It is absolutely the best decision that we have made. From the start to the end of the trip, we always get excellent services. On our arrival in Kathmandu Airport, Suman, the Managing Director of this company, welcomed us and helped to transfer our hotel. Suman is very helpful and friendly. He gave us detail tour briefing and also introduced with our guide Hari before our trek. In Pokhara, we met our porters (Ghanashyam and Badri). When going trekking with Hari and our porters, we feel likes going on hiking with good friends. They are very helpful, funny, and friendly. Whenever we're having trouble to walk on steep hills, they are always ready to help us. They made this holiday to be one of the perfect ones that we ever had. We indeed enjoyed our Poon Hill Trek. We totally recommend Excellent Himalaya Trek to every people who are planning any trek in Nepal. Thank you, Suman, for arranging such a wonderful trip for us. This is a memorable tour with very much happy experience!
Wendy & Renaud
Ask our experts (Inquiry)
---