Langtang Gosainkunda Lake Trek Cost with Perfect Itinerary
15 Days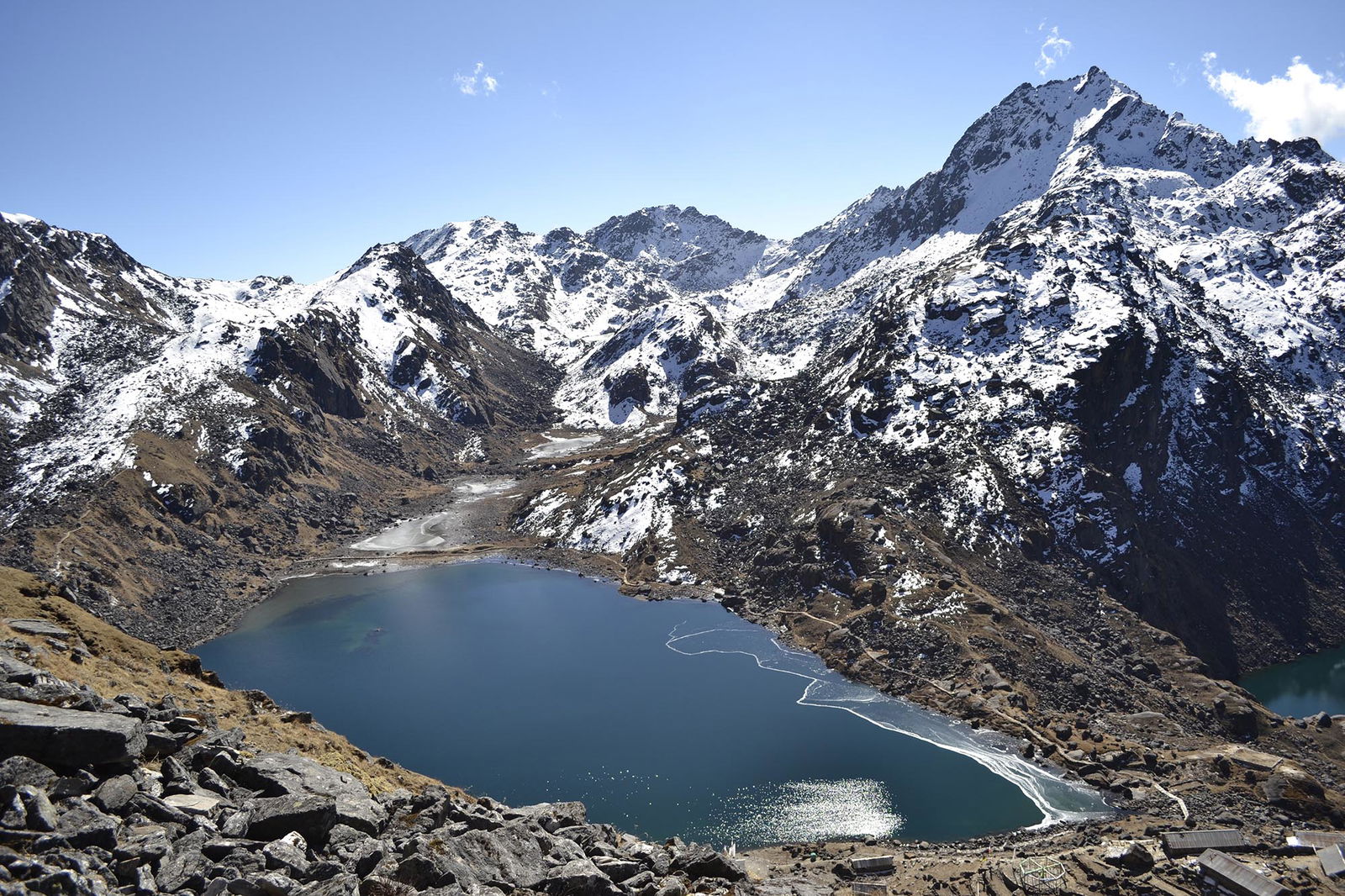 Trip Overview
---
Langtang Gosainkunda Trek is the journey to the natural valley of glaciers and the divine Himalayan Lake named Gosainkunda, revered mostly by Hindus and Buddhist people, inside the territory of Langtang National Park, the 1st protected area in the Himalayan region of Nepal.
The major highlights of Langtang Gosaikunda are a wide variety of climatic zones from subtropical to alpine, an inspiring walking trail that passes along the mountain stream through the forests of pine, rhododendrons, oak, and maple which also the habitat of black bears, rhesus monkeys and red pandas and the ethnic culture of Tamang people whose lifestyle and religious practices are almost of Tibetan people and different than the same group living in mid hills of Nepal.
Similarly, the Himalayan glaciers flowing from mighty Langtang Lirung, a couple of sacred lakes where dipping is believed to cleanse of all mortal sin, and the spectacular mountain views of Langtang Lirung (7234m), Langtang Ri (7205m), Dorje Lakpa (6966m) and Loenpo Gang (6979m) are also the wonderful experience of this trekking.
Langtang Gosainkunda trek starts from Syabrubesi, 6:30 hours of drive from Kathmandu. First two days the trail ascends through the forest crossing rivers and streams. Then it enters Langtang Valley and goes to visit Langtang village and Kyanjin Gompa. There are several side trips from the open alpine area of Kyanjin Gompa. Hiking to Tsergo Ri (4984m) provides the best views of the surrounding Himalayas and glaciers. Then the trail follows to visit Gosainkunda Lake.
The trek climbs considerably steep to Gosainkunda through farmland first then via an alpine crest. The trail offers panoramic views of the Himalayan range to reach a rugged bowl-shaped zone of holy lakes. There are one hundred eight lakes in this region but the most famous are Gosainkunda, Saraswati Kunda, and Ganesh Kunda. All these are near each other. On the full moon day festival of every August, a large number of pilgrims reach Gosainkunda to take a holy dip in the lake.
After Gosainkunda Lake, the trail crosses the mountain pass of Laurebina La (4610 meters) with glacial moraines and descends via Ghopte, Chisapani to Sundarijal where the trekking ends formally. From Sudarijal it's nearly one and half hours of drive to Kathmandu.
In summary, the major highlights of Langtang Gosainkunda Lake Trek are as below:
• Enjoy a scenic drive along the bank of the Trishuli River.
• Cultural and scenic trekking route.
• Exploring an ancient Buddhist monastery & cheese factory in Kyanjing Gompa,
• Panoramic view of Langtang Himalayan ranges from the top of the Kyangjin Ri/ Tsergo Ri.
• Visit a beautiful alpine lake called Gosainkuda at an altitude of 4,380 m from the sea level.
• Experience the interesting Tibetan-style lifestyle of the Tamang people.
• Explore the Himalayas glacier near Kyanin Gompa.
• Trek through Langtang National Park.
• Easy to the moderate trekking route.
Itinerary of Langtang Gosainkunda Lake Trek
Day 1: Arrive at Tribhuvan International Airport, Kathmandu, and transfer to the hotel by car. Orientation of trip at the hotel. Overnight at Hotel at Kathmandu.
Day 2: Drive from Kathmandu to Syabrubesi (Alt. 1467m/4813ft) by bus. 145 km northwest of Kathmandu. Driving 6:30 hours. Overnight at Tea House. Meal: Breakfast, Lunch & Dinner.
Day 3: Trek from Syabrubesi to Lama Hotel (Alt. 2470m/ 8104ft). Walking 6 hrs. Overnight at Tea House. Meal: Breakfast, Lunch & Dinner.
Day 4: Trek from Lama Hotel to Langtang village (Alt. 3430m/11253ft). Walking 6 hours. Overnight at Tea House. Meal: Breakfast, Lunch & Dinner.
Day 5: Trek from Langtang Village to Kyanjin Gompa (Alt. 3870m/12697ft). Walking 3 hours. Overnight at Tea House. Meal: Breakfast, Lunch & Dinner.
Day 6: Hiking up Kyanjin Ri or Tsergo Ri (Alt. 5050m/16564ft) and back to Kyanjin Gompa. Walking 6 hours. Overnight at Tea House. Meal: Breakfast, Lunch & Dinner.
Day 7: Trek from Kyanjin Gompa to Lama Hotel (Alt. 2470m/ 8104ft). Walking 6 hours. Overnight at Tea House. Meal: Breakfast, Lunch & Dinner.
Day 8: Trek from Lama Hotel to Thulo Syabru (2210m/ 8500ft). Walking 6/ 6:30 hours. Overnight at Tea House. Meal: Breakfast, Lunch & Dinner.
Day 9: Trek from Thulo Syabru to Cholangpati (3654m/ 11988ft). Walking 5 to 6 hours. Overnight at Tea House. Meal: Breakfast, Lunch & Dinner.
Day 10: Trek from Cholangpati to Gosainkunda Lake (4,380m / 14,620ft). Walking 5 hours. Overnight at Tea House. Meal: Breakfast, Lunch & Dinner.
Day 11: Trek from Gosainkunda Lake to Ghopte (3530m / 11265ft) via Laurebina Pass (4610m / 15115ft). Walking 8 hours. Overnight at Tea House. Meal: Breakfast, Lunch & Dinner.
Day 12: Trek from Ghopte to Kutumsang (2470m / 8560ft). Walking 5 to 6 hours. Overnight at Tea House. Meal: Breakfast, Lunch & Dinner.
Day 13: Trek from Kutumsang to Chisapani (2295m / 7655ft). Walking 5 to 6 hours. Overnight at Tea House. Meal: Breakfast, Lunch & Dinner.
Day 14: Trek from Chisapani to Sundarijal (1380m / 4530ft) and drive from Sundarijal to Kathmandu (1350m / 4450ft). Walking 4 hours. Driving 1 hour. Overnight at Hotel in Kathmandu. Meal: Breakfast, Lunch & Dinner.
Day 15: We drop you at Kathmandu International Airport in our car for your flight to your country. Final Departure from Nepal. Meal: Breakfast
About the Trip Date of Langtang Gosainkunda Trek
The best time for Langtang Gosainkunda Trek is from Sept to mid-Dec and from March to mid-June. During this period daytime is sunny and warm with outstanding views. Winter time (Dec, Jan, and Feb) is also good for Langtang Gosainkunda Trekking but the weather will be too cold and Mountain View sometimes might be disturbed by foggy weather. Trekking in Langtang during Monsoon (June, July, August) is affected by rainfall but at this time high valleys and meadows blossom with flowers and lush vegetation. The trip departure date of Langtang Gosainkunda Trek will be on any date that you select. We organize this trekking as your private trip.
Cost of Langtang Gosainkunda Lake Trek
USD 780 Per Person
The above Package Cost includes:
• On your arrival day airport pickup service by car.
• Two-night accommodation in Kathmandu at Tourist standard hotel with breakfast.
• Drive from Kathmandu to Syabrubesi by local bus.
• Drive from Sundarijal to Kathmandu by car.
• Twelve-night accommodation in Mountain Lodge/ Tea House during the trekking.
• An Experienced English-speaking friendly trekking Guide for the entire trek.
• Expenses of food, accommodation, insurance, transport, and the wages of trekking staff.
• Trekking Permit (TIMS Card) fee.
• Langtang National Park entry permit Fee.
• Altitude medicine, First aid medicines, and oximeter
• A Trekking Map of this route.
• Trip Achievement Certificate after completion of the trek.
• All government taxes, local taxes, and tourist service charges.
• Complimentary farewell dinner after the trek in Kathmandu at a typical Nepalese restaurant with cultural dances.
• On your departure day airport drop service by car.
The above Package Cost does not include:
• Airfare for your international flight.
• Nepal Visa Fee (You can easily get Nepal Visa at the arrival time at the airport in Kathmandu)
• Your travel insurance which includes medical and Heli evacuation
• Alcoholic beverages, Hot (coffee, tea) and cold drinks, hot water, bottled water, dessert.
• All kinds of personal expenses like phone calls, internet use, laundry, battery charge, hot shower during trekking, excess baggage charge, etc.
• Lunch and dinner in Kathmandu except for farewell dinner on the last night of the trip.
• In case of emergency helicopter rescue/ evacuation & its cost.
• Porter (If you need a porter to carry your luggage, the extra cost is USD 85 Per Person. It includes his lodging, food, transportation,
allowance, & insurance. As a practice, one porter is shared by two trekkers. One porter can carry a maximum weight limit of 25 kg.)
• Tips for Trekking Staff.
• If you want a private jeep drive from Kathmandu to Syabrubesi, the jeep cost is extra.
• Any expenses arising due to unforeseen situations like flight cancellation, personal sickness, natural calamities, political strikes, etc.
• Cost of any extra services, if you use which are not mentioned in the above package, includes section.
Note: If you hire a porter, we will provide you with a duffel bag in Kathmandu to keep your all trekking stuff. The porter carries duffel bags. You can store your suitcase and other things that are not required during trekking at your hotel in Kathmandu. After you return to Kathmandu from the trek, you can collect them.
Please contact us by email at [email protected] or WhatsApp at +977 9851203181 for any further information about Langtang Gosainkunda Lake Trek, need any changes in the above itinerary, or any questions. Once we receive your message, we get back to you within 24 hours.
Trip Reviews
Langtang is a fantastic trekking route in Nepal. We (four) did it in May 2017. We booked this trip with Excellent Himalaya Trek. It's a Kathmandu based tour company of experienced local guys. Langtang is one of the earthquake affected places of Nepal on 25th April 2015. Besides enjoy on trekking, our other aim to see what's going on there now. We discovered everything is getting good in a smooth way. Trail is ok now. Many lodges have reopened after reconstruction. We had enjoyed the trek with good sceneries of the mountains, life style of Langtang valley and the landscape of this region. During trekking we met different ethnic groups and observed their culture. The trial has some ups and down. Sometimes we got difficult to walk, at that time, our guide, Dawa, advised us to make our walk slow and steady. We followed him and completed this trek successfully. We have good memories from our Langtang trek. We are so much thankful to Excellent Himalaya Trek for all the perfect arrangements and services.
Gerald & Team
USA
We selected Langtang Gosainkunda Trek for our 2017 holiday destination. We had also done it in November 2017. It was one of the fantastic trips which we have done in past. We know in Nepal there are lots of trekking trails but we decided to go Langtang as it was devastated by a huge earthquake of 2015. During the trek, we saw earthquake effects. We also talked with local people. We discovered now everything is going on in normal way there. Many lodges have been repaired and can have good rooms there. Langtang Gosainkunda is a perfect trekking route in terms of breathing Himalaya views, beautiful nature, and touchable hospitality of local people. We enjoyed this scenic trek with guide and porters of Excellent Himalaya Trek. Thank you so much, Suman, the proprietor of this company, Dawa (trek guide), Porter (Hari) for wonderful time and experience in Nepal.
Ivan, Sue & Lyn
Malaysia
Ask our experts (Inquiry)
---