Trip Code: N-AT-121
Destination: Nepal
Season: Sept/Oct/Nov/Mar/Apr/May
Max Altitude: 5416 meters/ 17769 feet
Trip Starts/Ends: Kathmandu/Kathmandu
Transportation: Private Car and Coach
Accomodation: Standard hotel in Kathmandu & Pokhara & Tea-house in Trekking
Trip Grade:

Moderate/ Streneous
Trip Overview
---
Annapurna Circuit Trek is one of the topmost incredible trekking trails of the world. It extends in the northwestern part of Nepal. Annapurna Circuit Trek is also famous in name of Annapurna Round trekking because it circles the Annapurna massif. Annapurna I is the world's tenth highest mountain in the world. It is 8091 meters/ 26545 feet tall above the sea level. The trail of Annapurna circuit trekking opened for foreigners in 1977 AD.
Annapurna Circuit trekking begins from Beshi Sahar. It is a small town 172 km west of Kathmandu city. From Beshi Sahar the trail goes up along the Marshyangdi River with majestic mountain views of Manaslu and Himal Chuli range. Next, the trail enters Manang. It is the region of Tibetan migrants who called Manangis. Manang is graced with the beautiful unique landscape. After Manang, it climbs the Thorung La at the top of the valley at 5,416m. Thorang La is also considered as the longest high mountain pass in the world.
Crossing this pass it descends into the dramatic Kali Gandaki valley where it lays the world's deepest gorge named Kali Gandaki Gorge. Muktinath, a famous temple worshiped by both Hindu and Buddhist people is just beneath after crossing Thorung La. Further, the trail traverses beautiful villages of Kagbeni, Jomsom, Marpha and comes to another great hot spring place called Tatopani.
A Hot bath at natural hot spring in Tatopani is another exciting experience of this trip. From here the route follows Ghorepani, Poonhill. Poonhill is one of the best spots for sunrise views over the Himalayas. Furthermore, Poonhill is also the popular place for the outlook of Mt. Dhaulagiri, the seventh highest mountain in the world at 8167 meters/ 26795 feet from sea level. Next, the route moves down to Nayapul passing the classic villages of Gurung and Magar along with beautiful rhododendron forest. Nayapul is the ending point of this trekking which is 43 km away from Pokhara. Then further journey continues by the drive to Pokhara followed by Kathmandu.
Next, the route moves down to Nayapul passing the classic villages of Gurung and Magar along with beautiful rhododendron forest. Nayapul is the ending point of this trekking which is 43 km away from Pokhara. The journey continues by the drive to Pokhara afterward to Kathmandu.
To sum up, the Annapurna Circuit trek is the exciting trip of diverse geography accompanying cultural variation with different flora and fauna.
Annapurna Circuit Trek Cost
Excellent Himalaya Trek and Expedition is one of the leading ground operator of Annapurna Circuit Trekking promoted and run by local Nepalese experts and Mountain Sherpas. We offer the Annapurna Circuit Trek cost at the sound price of USD 895 per person for a group size of two people on a private tour basis. It includes hotel/ lodge in each place, food during trekking, mountain guide, trekking permit, all ground transport, and local taxes. For a single traveler, we have a separate special package price. Should you require further detail about the package of Annapurna circuit Trek cost, please contact us. Go with Locals and save money.
About Trip Date of Annapurna Circuit Trek
The best time of Annapurna Circuit Trekking is from Mid Sept to End of Nov and from March to end of May. During this period the daytime is sunny and warm with outstanding views. Trekking to Annapurna Circuit in winter (Dec, Jan, Feb) is likely to be difficult because of bitter cold and the snow will possibly cover the higher part of the trail like around Thorong La Pass. Annapurna Round Trekking in the summer season (June, July, Aug) is also possible but will be affected by rain/monsoon.
The trip departure date of Annapurna Circuit Trekking will be on any date which you feel comfortable. We organize this trekking mostly as the private trip.
About Optional Activities for Annapurna Circuit Trek
Annapurna Circuit Trekking is a fascinating trekking holiday in the Annapurna region of Nepal. You can make it further exciting by joining in extra activities/ side trips. As the interest of people is different from each other, we have put these extra activities as optional tours. They are not included in your package cost of Annapurna Circuit Trek. On your request, we offer you. The list of optional activities is displayed in the right column.
Trip Map
---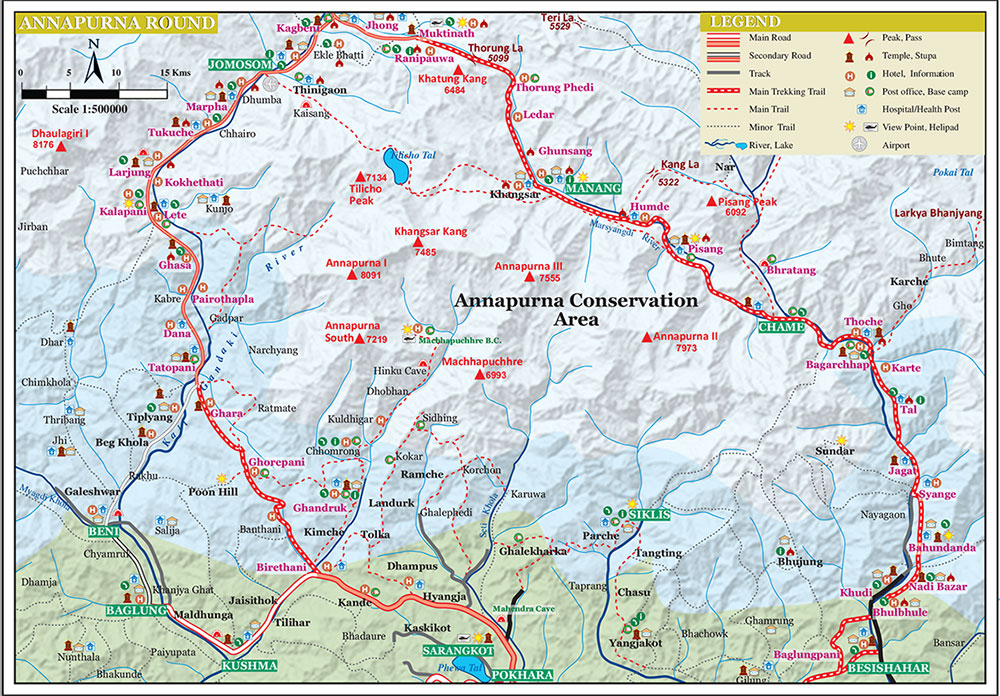 Trip Review
---

I finished Annapurna circuit trek including Poon Hill last November 2017. It was the awesome trekking that I had ever done in my life in terms of perfect Himalayan views, beautiful villages, nice local people and several sceneries. My trek was organized by Excellent Himalaya Trek and Expedition.  Before the start of the trek, Mr. Suman, the team leader of this company, briefed me overall about this trip. He introduced my guide Lhakpa and porter Hari. With these two people, I started my trek from Besisahar. I took our time, spending two days in Manang for acclimatization purpose. But it was not a free day. My guide took me to visit glacier and lake. After Manang, we moved up to cross Thorung La Pass. It was my dream to cross this world's longest pass and I achieved it with my good guide and porter. After Thorung La via Muktinath, Tatopani I also trekked to Poonhill. This is also very nice place. To my opinion everybody who go for Annapurna Circuit they also should include Poonhill for the more exciting experience. Finally, I am very much thankful to the whole team of Excellent Himalaya for organizing me this best trekking. See you guys again for next great trekking.
Shilan
Australia

It was my absolutely fantastic experience in Annapurna Circuit Trek. I did this trekking with one guide and porter of Excellent Himalaya Trek in mid-October 2017. Following the itinerary, we took the bus to Besisahar and then from Besisahar to Chame by jeep. We started our trek from Chame to Pisang, then Manang, Yak Kharka, Thorong Phedi, and finally crossing Thorung La pass descending to Muktinath. On the return, we took a bus to Tatopani, trekked to Ghorepani, went on the Poon Hill hiking for Sunrise, and descended to Nayapul before going to Pokhara. From Pokhara, I back Kathmandu by flight. The trek was totally amazing, and our guide - Lhakpa - and porters – Hari and Bishnu - were as professional and pleasant as it gets. The company's other arrangements were satisfactory like airport pick up, transport, pre/post hotels, city tour. The farewell dinner with Suman on my final day was superb. Thank you Excellent Himalaya Trek.
Heinrich
Germany

Overall the Annapurna circuit is a challenging as well as so much rewarding trek. We enjoyed every step of this great trekking; so many great views, wonderful people and enjoyable times. We were five from Belgium and our whole trip was organized by Excellent Himalaya Trek and Expedition. They made sure everything was perfect for us and really enhanced the experience. Before we land in Nepal, Suman, the team leader, provided us all necessary details of this trip. He was quick to reply our all questions. Our guide Nigma was the best guide. He was very helpful about everything (what food to eat, how the trail is a head, what to see there). Also our porters were strong and great. Every day they carry our stuff. While climbing to Thorong La one our member felt difficulties because of altitude. Nigma managed it very attentively and responsibly. Finally, we would like say all- Annapurna Circuit is a beautiful adventure trip & you can have a life time experience.
Pauline & Group
Belgium

We went Annapurna Circuit Trekking in the beginning of September in 2017. It was amazing trip. The scenery was breathtaking. It has so many different landscapes. Before start of this trip we expected the rain fall because it was still monsoon in Nepal. But it never happened. The trail is well marked out, easy to follow. The best challenging part of this trek is climb to the Thorong La Pass, the mountain pass with an elevation of 5,416 meters (17,769 ft). It tested our strength, mind and body. The experience we had on the top of this pass can't be expressed in words. It's amazing…. We all enjoyed so much there. We booked this trek through Excellent Himalaya Trek and Expedition. We found them so professional. From beginning to the end of our trip, all their services were perfect. We really appreciate Suman, the owner of this company, Nigma, our guide, Ganesh and Shyam (porters) for the good jobs. Thank you.
Stella & Patrick
Australia

I did the Annapurna circuit loop, starting at Besisahar and ending in Nayapul. Went without a porter/guide, started alone but met an awesome group of friends along the way! We took our time, spending a few days each at some of the bigger villages and more beautiful locations. Favorite sceneries included the few days leading up to and include the Thorung La Pass (beautiful Himalaya views) and the final few days (Poon Hill sunrise, difficult but rewarding up/down climbs through the lower mountains). We didn't do any camping - although we met some trekkers that did - so only needed our light, 30L packs as supplies and accommodations can all be found in villages along the way.
Christina
USA