Special Puja at Pashupatinath, Abhishek, Cost and Time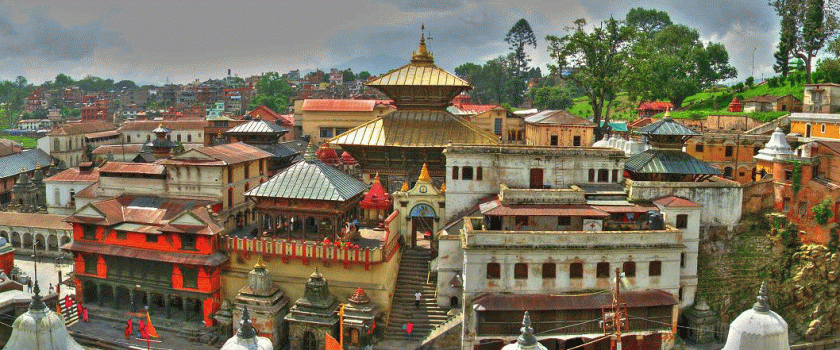 Trip Overview
---
The Pashupatinath temple is one of the biggest Shiva temples in Nepal. It is located on the banks of the Bagmati River in the eastern part of Kathmandu, Nepal. Pashupatinath means lord to all animals. This temple is unofficially regarded as a national deity in Nepal. Hindus all over the world believe that Pashupatinath is the head of all and the remaining 12 Jyotirlingas. The 12 Jyotirlingas are part of the body which is in different places in India. It is believed that the person who visits Pashupatinath and sees lingam (Shiv Linda) will not be born as an animal when he/she reincarnated.
Pashupatinath has five faces. The five faces represent various incarnations of Shiva. They are Sadyojata (also known as Barun), Vamdeva (also known as Uma Maheswara), Tatpurusha, Aghor & Ishana. They face West, North, East, South, and Zenith respectively, and represent Hinduism's five primary elements namely earth, water, air, light, and ether.
Historically, it is estimated that the existence of Pashupatinath was even before 400 B.C. Later, it was rebuilt in the 5th century by the Lichhavi King of Nepal named Shupuspa. Reconstruction of the temple was done again in the 17th century by Nepal King. The built style of Pashupatinath is in Nepalese Pagoda style which looks very unique. The temple is listed in the UNESCO World Heritage Sites list. There are many temples dedicated to other Gods in the temple complex, which include Vaishnav temple, Ram temple, Guhyeshwari temple, etc.
According to the legend, the wish-fulfilling cow Kamadhenu took shelter in a cave in the nearby Chandravan Mountain. Every day Kamadhenu Cow went down to the place where the Lingam was sunken into the soil and poured her milk on the top of the soil. Later some people who saw this incident were surprised and they removed the soil and discovered Shivlinga. When the people touched the Lingam, they disappeared into the Lingam and thus attained liberation.
Another story related to Pashupatinath temple is one day Shiva and Parvathi came to Kathmandu valley and rested by the Bagmati River while on a journey. Shiva and Parvathi were impressed by its scenic beauty, that they transformed themselves into deer and walked into the forest. Meanwhile, all Gods were searching for Shiva, and last found him in deer form and they requested Shiva to return back to Kailash. After many requests, Shiva agreed to return. But since Shiva lived near the Bagmati River in a deer's form, he would now be known as Pashupatinath, the Lord of all animals. And Shiva manifested himself into a Linga there.
Time to visit Pashupatinath Temple
The temple courtyard is open daily from 4 AM to 7 PM.
Devotees can visit the lingam from 5 AM to 12 PM as well as from 5 PM to 7 PM.
Special Puja (Abhishek): 9:30 AM to 11 AM.
Special Pooja (Abhishek) at Pashupatinath Temple and Time
Every day from 9:30 to 11 AM is the period of special puja at Pashupatinath temple. The special Pooja is also called Abhisheka. Abhisheka means bathing of the Shiva Linga and worship is offered. It is a religious rite or method of prayer in which the priests pour a liquid offering on Shiva Linga. In Abhishek's time, all four doors of the main temple are opened. Thus, during special puja, all four faces of the Shiva Lingam are visible to the devotees.
Rates of Special Pooja (Abhishek) at Pashupatinath Temple
| | | | |
| --- | --- | --- | --- |
| S.N. | Types Of Special Puja (Abhishek) | NPR (Nepalese Currency) | INR (Indian Currency) |
| 1 | Panchmrit Puja | 2,100 | 1,313 |
| 2 | Panchmrit Puja with Balbhog | 3,100 | 1,938 |
| 3 | Rudrabhishek and Panchmrit Puja with Balbhog | 7,500 | 4,688 |
| 4 | Laghurudrabhishek and Panchmrit Puja with Purabhog | 15,100 | 9,438 |
| 5 | Rudrabhishek and Panchmrit Puja with Purabhog  & One Hundred Twenty-Five Thousand Deep Aarati (Sawa lakh batti) | 35,000 | 21,875 |
| 6 | Laghurudrabhishek and Panchmrit Puja with Purabhog, Hawan & One Hundred Twenty-Five Thousand Deep Aarati (Sawa lakh batti) | 65,000 | 40,625 |
| 7 | Daily Nitya Puja with Purabhog, participating with devotees | 1,71,000 | 1,06,875 |
| 8 | Ekdiwasiya Maharudri | 3,21,000 | 2,00,625 |
| 9 | Ekadas Diwasiya Maharudri | 8,00,001 | 5,00,001 |
| 10 | Ekadas Diwasiya Atirudri | 25,00,000 | 15,62,500 |
Notes:
1. For the booking of special puja at Pashupatinath temple, the receipt should be taken one day before the puja date.
2. The above rates are effective from 17th July 2022.
Benefits of Pooja at Pashupatinath Temple
The puja ritual gives relief from problems, fears, stress, and ego. It gives deep religious realization. It also gives relief from all kinds of fears of death and the influences of evil planets. Performing Pashupatinath puja is beneficial for a long and healthy life. It gives freedom from diseases.
• Blessings of Lord Pashupatinath
• Removal of planetary doshas in the horoscope.
• Good health
• Rccover from illness
• Removes the fear of death
• Peace of mind and spiritual progress
• Boosts immunity & bestows longevity
• Good career.
• Remove obstacles in the work.
• Financial gains
• Washing off bad karma and sins
• Attaining human birth in the next life
• Deep religious realization.
Pashupatinath Evening Aarti Time
Everyday evening Aarti begins half an hour before sunset i.e., 5:30 pm or 6 pm on the banks of the Bagmati River near Pashupatinath temple. Bigger crowds gather to see the aarti. During the aarti time, Shiva's Tandava Bhajan is also carried out which is a very interesting part.
Ask our experts (Inquiry)
---