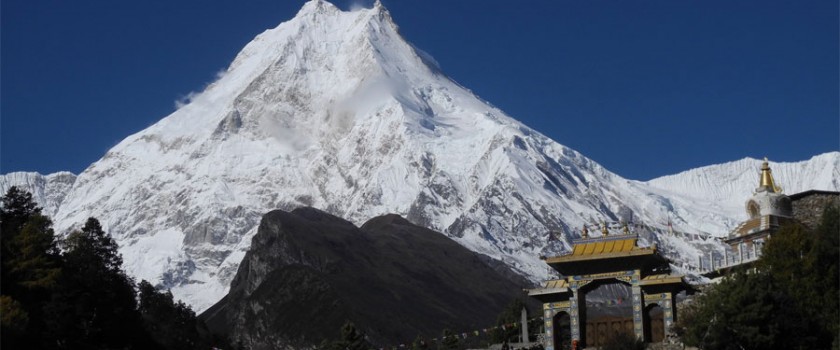 Trip Overview
---
Manaslu Trek is one of the rewarding hiking journeys in the Himalayan territory. Mount Manaslu rank as the 9th highest mountain in the world. It lies in the west north of Kathmandu in the Gorkha district of Nepal. The world Manaslu refers to as "The spirit mountain". The villagers believe that a compassionate and strong deity resides within this mountain.
Manaslu Trek is a trip to explore the beautiful periphery of Mount Manaslu. This trek is comparatively less crowded and untouched by modernity than other popular trekking routes in Nepal. This trek commercially opened in 1991 AD. It is still controlled by the Nepal government as a restricted area. But by special permits trekkers are allowed to trek in Manaslu.
Manaslu trek grants a great view of some of the high Himalayan peaks in the world like Mount Manaslu, Mount Annapurna, and Mount Dhaulagiri. Besides, it also provides to explore hidden cultural villages and outstanding as well as biological diversity. Thus, we can say that Manaslu Trek is a wonderful blend of natural glory as well as cultural diversity.
Manaslu Circuit Trek is one of the off-beaten trails of Nepal. However, it requires only moderate fitness. In Manaslu trek, you need to walk in an average of six to seven hours of walking per day. To join Manaslu Trek, it is not required to have an athletic body. If you have some prior trekking experiences will be an advantage. However, the person who does not have any such experiences is advised to do exercise like jogging a few weeks prior to the trekking.
Manaslu Tea House Trek/ Lodge Trekking
In the route of trekking in Nepal, accommodation in lodges is called tea houses. Tea Houses in the trekking route are almost similar types. They are built of locally available materials like stone, wood, bricks, etc. Tea Houses are not like a big hotels with luxury facilities. One tea house has normally 10 to 12 rooms on average. Rooms are often with twin beds and with a small window. Beds are made of wood. Beds with mattress, pillow, and blankets. The toilets are often shared outside the rooms.
In the Manaslu Trek route, tea houses are available for accommodation. These guesthouses are often clustered together in small settlements to cater to trekkers, or occasionally by themselves in quieter areas. Only at Larke Phedi/ Dharmashala before moving over Larke Pass, lodges options are very few. For a long time, there was only one old lodge, with a row of tents outside for trekkers. Now there are established two newer prefab lodges. The tea houses in Manaslu were destroyed in the earthquake of 2015 but almost all of them have been restored now.
Outline Itinerary of Manaslu Tea House Trek
| | | | | |
| --- | --- | --- | --- | --- |
| Day | ITINERARY | HEIGHT | AVG WALKING | ACCOMMODATION |
| 1 | Arrival in Kathmandu, Nepal. | 1400 m | | Hotel |
| 2 | Manaslu Permit processing and preparation for trekking. | | | Hotel |
| 3 | Drive from Kathmandu to Arughat to Machhi Khola. Driving around 9 hrs. | 930 m | | Tea House |
| 4 | Trek from Machhi Khola to Jagat. | 1410 m | 6 hrs | Tea House |
| 5 | Trek from Jagat to Deng. | 1860 m | 6/7 hrs | Tea House |
| 6 | Trek from Deng to Namrung. | 2660 m | 6 hrs | Tea House |
| 7 | Trek from Namrung to Lho. | 3180 m | 4 hrs | Tea House |
| 8 | Trek from Lho to Sama Gaon. | 3520 m | 4 hrs | Tea House |
| 9 | Rest day in Sama Gaon for acclimatization. | 3520 m | | Tea House |
| 10 | Trek from Sama Gaon to Samdo. | 3690 m | 4 hrs | Tea House |
| 11 | Trek from Samdo to Dharmashala. | 4470 m | 4/5 hrs | Tea House |
| 12 | Trek from Dharmashala to Larke La Pass (5160 m) to Bimtang. | 3720 m | 8 hrs | Tea House |
| 13 | Trek from Bimtang to Tilche. | 2560 m | 5/6 hrs | Tea House |
| 14 | Trek from Tilche to Jagat. | 1300 m | 6 hrs | Tea House |
| 15 | Trek from Jagat to Bhulbhule. | 840 m | 6 hrs | Tea House |
| 16 | Drive from Bhulbhule to Kathmandu. | | | Hotel |
| 17 | Departure from Kathmandu, Nepal. | | | |
Please Click Here for a detailed itinerary of Manaslu Trek.
Manaslu Tea House Trek Cost
| | |
| --- | --- |
| Silver Package Price | Gold Package Price |
| USD 1050 Per Person | USD 1190 Per Person |
The Services included in the above Packages:
| | | |
| --- | --- | --- |
| Services Name: | Silver Price | Gold Price |
| Airport pick up on arrival day | By Car/ Van | By Car/ Van |
| 3-night Hotel in Kathmandu (2 nights before trek, 1 night after trek) | Tourist Standard Hotel | Tourist Standard Hotel |
| Meal in Kathmandu | Breakfast | Breakfast |
| 14-night Accommodation during Trekking | Mountain Lodge/ Tea House | Mountain Lodge/ Tea House |
| Meal during Trekking | Breakfast, Lunch, Dinner | Breakfast, Lunch, Dinner |
| Experience Trekking Guide | Yes | Yes |
| Porter | No | Yes |
| Kathmandu to Arughat to Soti Khola | Local Bus | Local Bus |
| Bhulbhule to Kathmandu | Local Bus | Local Bus |
| Manaslu Restricted Area Permit Fee | Yes | Yes |
| Manaslu Conservation Area Permit Fee | Yes | Yes |
| Annapurna Conservation Area Permit Fee | Yes | Yes |
| Trip Certificate (If needed) | Yes | Yes |
| First Aid Medicine | Yes | Yes |
| Trekking Map for Group | Yes | Yes |
| Meal, Salary, Accommodation, Insurance of Trekking Staff | Yes | Yes |
| Dinner with Cultural Show on last night of Trip in Kathmandu | Yes | Yes |
| Local Taxes | Yes | Yes |
| Airport drop on departure day | By Car/ Van | By Car/ Van |
The Services does not include in both Packages:
• Airfare for your international flight.
• Nepal Visa Fee
• Your travel insurance which includes Heli evacuation (As Manaslu trek is high altitude journey it is advised to do travel insurance which covers medical & helicopter evacuation from a high altitude, 5300 meters.)
• Alcoholic beverages, hot and cold drinks, hot water, bottled water, dessert.
• All kinds of personal expenses like phone calls, internet use, laundry, battery charge, hot shower during trekking, excess baggage charge, etc.
• Lunch and dinner in Kathmandu except for farewell dinner on the last night of the trip.
• In case of emergency helicopter rescue/ evacuation & its cost.
• Tips for Trekking Staff.
• Any expenses arising due to unforeseen situations like flight cancellation, personal sickness, natural calamities, political strikes, COVID-19, etc.
• Cost of any extra services if you use which not mentioned in the above package includes section.
Notes:
I. Porter will be provided only in Gold Price. As usual, a porter is provided based on 1 porter for 2 trekkers. 1 porter carries the baggage of two trekkers with a maximum total weight limit of 25 kg.
II. The above cost is on a Per Person basis for a minimum group size of two persons.
III. Costs are not refundable and transferable if you leave the trek voluntarily and want to return from the trek earlier than scheduled.
Why Excellent Himalaya Company for Manaslu Circuit Trek?
Many companies promote the Manaslu Circuit Trek package. Excellent Himalaya Trek and Expedition Pvt Ltd are different from them. We are a company based only in Nepal and managed by Nepalese tourism experts and local guides. Our team is engaged in the Nepalese tourism industry since 2002. We are the direct operator of Manaslu Circuit Trek, not the agent and middle people. We are the trekking company authorized by Nepal Government Tourism Ministry. Our company's government registration number is 175840/074/075 and our license number to operate trekking, tour, and mountain expedition in Nepal is 2432. We are associated with different tourism organizations like TAAN (Trekking Agencies Association of Nepal), NMA (Nepal Mountaineering Association), etc.
Our further features are as below by which people around the world trust us as the authentic organizer of Manaslu Circuit Trek:
Team of Local Experts and Guides: As this company is managed and run by well-trained, experienced & competent local experts, and guides, we know well about the mountain trail, ecology, culture, etc. of the trekking routes. We know the best way of trekking and also we get you the same way.
Trustworthy: Trust is something that comes from commitment. Hence, being a legally registered company, we commit to providing the best, satisfactory trekking, tour, and expedition. We are operating all trekking, and climbing tours in Nepal based on reality, integrity, and honesty.
Focus on your needs: We highly value all the clients. We always move according to your interest and requirements. Because your satisfaction is our goal. Thus, all our trekking, tour, and mountaineering packages are customizable.
Fair Price: As we are a direct operator, not an agent, our price is always competitive that does not have any middle and hidden fees. We provide the value of what you are buying of our services at least equal to your paying amount.
Safety: Your safety is our priority. The trekking to the Himalayas is both exciting and adventurous. So we provide you with all the safety materials needed, along with motivational counseling.
Friendly, and Professional Staff: We have highly friendly, helpful, and professional staff. Our staff looks after you right from the moment of your arrival to the time of your departure. They can cope with most emergencies including those requiring evacuation and hospitalization.
Real Cared Services: Our one travel consultant or our local trekking guide keeps in touch with our clients every time. We make sure their protection is guaranteed so that they will have peace of mind while trekking with us.
Please contact us by email at [email protected] or WhatsApp/ Viber at +977 9851203181 for any further information about Everest Base Camp Trek, need any changes in the above itinerary, or if any questions. Once we receive your message, we get back to you within 24 hours.
Ask our experts (Inquiry)
---