Lwang Village Homestay Tour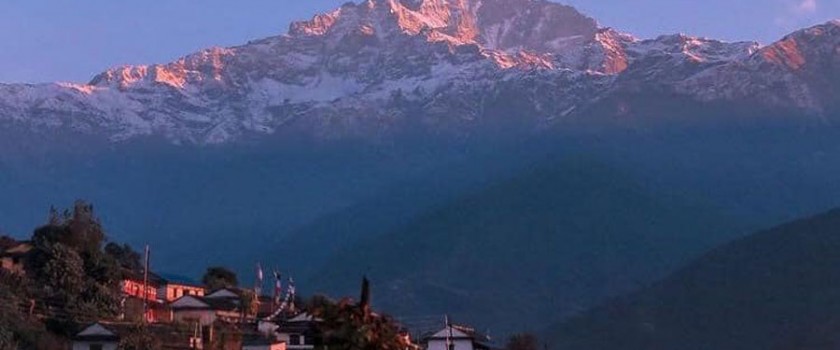 Trip Overview
---
Lwang Village is one of the best popular villages for homestay tours in Nepal. This village is located 26 kilometers in distance to the northeast of Pokhara. There are various reasons behind its popularity. They are traditional Nepali homes made of stones, a homestay facility with warm and hospitable locals, comfortable accommodation, delicious organic food directly from the fields and gardens, a cool environment with a flourishing tea garden, almond farming, and an opportunity for a thrilling canoeing experience.
Lwang lies in the picturesque view of the Machhapuchhre Himalayas, which falls under the Annapurna Conservation Area Project (ACAP). It is situated at an elevation of 1,550 meters from sea level. This village is also the starting point of the Mardi Himal trekking route.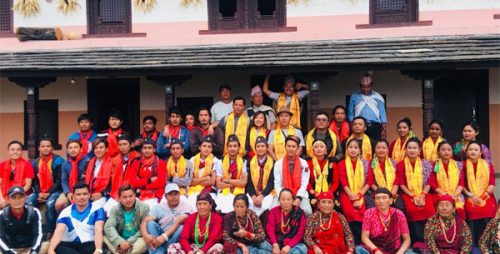 Lwang village is famous for community-based homestay tourism. Homestay started in 2009 AD.  The village has 12 houses that provide homestay facilities. The homestays are registered under the ministry of tourism of Nepal. The 11 houses can accommodate around 60-70 people at a time. The houses provide clean rooms with basic amenities like toilets, bathrooms, hot & cold showers, etc. There is no restaurant or hotels in the village. The household mother cook typical Nepali food (Dal, Bhat, and Organic Vegetable), and local chicken curry and served to tourists with local alcohol (rakshi). Indeed, Lwang Ghalel Homestay is always a good idea for your vacation in Nepal because it leaves you speechless, then turns you into a storyteller.
In Lwang village, you will have a great opportunity to experience Gurung culture and tradition. The major occupations of villagers are tourism (homestay), military service, overseas employment, organic tea factory & agriculture. You will spend two nights at Lwang village experiencing the versatile, traditional, and cultural village lifestyle in a quiet environment. The villagers are extremely friendly, helpful & honest. They love music & have their own language. Gurung community believes "The Guest is God".
The next attraction of the Lwang Village tour is the visit to Tea Garden. The Tea is planted in 71188 sq ft at an altitude of 1600 meters. It's a 30-40 mins walk from the village. The view of villages and downtown Pokhara from the garden is wonderful. Tea is processed in the village itself.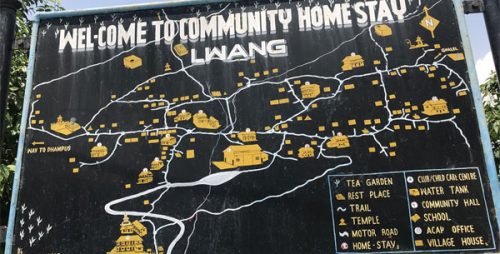 There are other things to see here like a Buddhist monastery, chortens, Shiva Temple, etc. On the outskirts of Lwang, there is Ghatte Khola with two large-scale 39 meters 70 meters long waterfall where Canyoning can be done. You will visit this site.
Some other interesting activities you can participate in at the village are by mingling with the locals to learn to churn yogurt, butter, ghee, etc.  You can also get traditional by putting on the cultural dresses and experiencing some daily household chores of the villagers. In the evenings you can rest in the peaceful environment of the isolated village feeling blissful under the towering image of the Machapuchhare Himal and feeling the tranquility of nature.
You start your journey from Pokhara with 1 and a half hrs to Lwang village northwest of Pokhara. By driving you reach Khoramukh (the middle place of Lwang & Hemja) then 45 mins walk via forest you will arrive at Lwang village. You stay at a homestay with one local family. You will explore the interesting sights surrounding the village. After exploring all the beautiful landscapes and traditions you head back to Pokhara.
In summary the Highlights of the Lwang Village Homestay Tour are as below:
• Stay at a local home with the local host family
• Taste organic foods prepared by the host harvested from their gardens/ fields
• Visit organic tea gardens and almond farming
• Enjoy the Himalayan views
• Village Hiking opportunities
• Visit the Pokhara canoeing site
• Interaction with the locals
• Experience the daily lifestyle of villagers
ITINERARY OF LWANG VILLAGE HOMESTAY TOUR
Day 1: Drive from Pokhara to Lwang village (Lwang Ghalel).
In the morning our guide will meet you at the hotel in Pokhara. Then drive to Lwang village. Lwang village is located northwest from Pokhara 26 km in distance. From Pokhara after 1 and a half hrs drive you will reach Khoramukh (middle place of Lwang & Hemja) then 45mins walk via forest you will arrive at Lwang village. The village is located at an altitude of 1,550 meters from sea level. At Lwang, you will stay in one of the community-managed homestays with the lovely Gurung family. Enjoy their warm hospitality and the magnificent view of Mt Fishtail which appears in the northeastern backdrop of the village. You will be served meals which are cooked from the kitchen garden of the host and able to taste the fruits according to seasons. You will involve the activity of village walking and interact with the friendly locals. Overnight at Lwang Village Homestay
Day 2: Exploration of Lwang Village
Wake up early morning before the sun and reach the viewpoint to watch the sunrise over the Himalayan range. After breakfast, you will visit the tea garden and enjoy the canoeing site. You can participate and experience the village life, observe feeding and milking cattle, churning of yogurt and making butter, traditional way of grinding cereals to make flour for your meal. Learn about their custom, tradition, and culture and help them prepare your meal with ladies. Overnight at Lwang Village Homestay
Day 3: Return to Pokhara from Lwang Village
After breakfast locals bid you farewell by putting on tika and flower garlands. Then you drive back to Pokhara enjoying some scenic views of the valleys and mountains.
Important Note: Excellent Himalaya Trek and Expedition also organize Lwang Village Homestay tour from Kathmandu in package inclusive hotel in Kathmandu/ Pokhara, transport, and all travel-related services according to your requirements.
Pokhara Canyoning at Ghalel nearby Lwang Village is an exciting and thrilling activity for adventure lovers. It is one of the best and most incredible adventures to escape everyday life and get refreshment in the water. If are also interested to do Canyoning at Ghalel village near Lwang Village please click on Pokhara Canyoning.
Ask our experts (Inquiry)
---