Trekking Guide and Porter Hire Cost in Nepal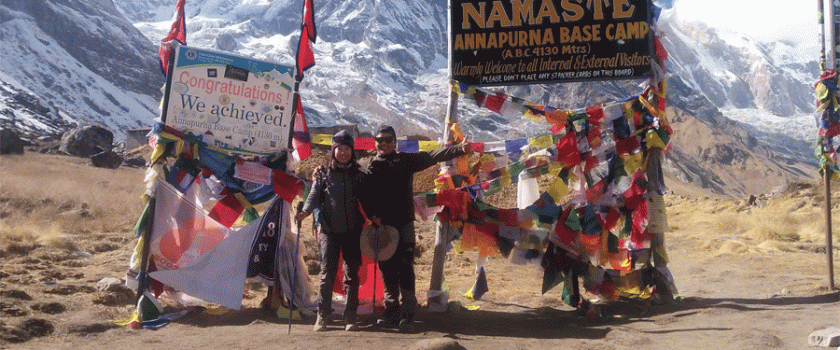 Trip Overview
---
Nepal is a Himalayan Country. It's a country of Mount Everest as well as 1300 Himalayan Peaks. Its varied mountain landscape offers the ground for wonderful trekking and hiking journey. Nepal's most popular trekking trips are Everest Base Camp Trek, Annapurna Circuit Trek, Annapurna Base Camp Trek, Langtang Trek, Poon Hill Trek, Manaslu Trek, Gokyo Lakes Trek, Three Passes Trek, Mustang Trek, Kanchenjunga Trek and Dolpo Trek. Apart from them in Nepal, there are many off-the-beaten trekking trails.
Why does it need to hire a Trekking Guide?
To trek any route of Nepal, it is advised to hire an experienced trekking guide. It is a fact that if you have a guide, your trekking will obviously become more comfortable, secure, and informative. Trekking in Nepal without a guide is also possible. But if you trek without a guide, you may be confused to find out the exact trail since there are many side trails on every route used by local people. If you hire a guide there will not be any confusion about finding out the proper route.
Lots of people think that the guide's job is only to show you the right trail. Yes, showing the trail is his major duty. But apart from that, the guide provides you with all the major information about the Himalayas, villages, local lifestyle, environment, flora, and fauna. Our trekking guides all are very sincere in their duties and always do their best to make your trip more memorable and lifetime.
Further, trekking in Nepal is a high-altitude journey. In some treks, the trekker needs to walk up to 5500 meters from sea level. So, in High land, sometime you may face altitude sickness. Altitude sickness should be properly handled on time. In severe cases, you need to evacuate by chopper to Kathmandu immediately. So, in such an emergency situation, if you have a guide he will handle everything well and you will be on the safe side.
Why does it need to hire a porter?
In the case of a porter, if you can carry your all backpacks/ luggage during the entire trek, it is optional. However, it should be memorized that the trekking journey is more days of hiking. Every day you need to walk around 6 hours and some days more than 6 hours also. On long days of high land hiking if you do not have a porter, you may feel fatigued and sometimes you may not complete your trip. Thus, for a comfortable trekking holiday, a porter is also advised to hire.
About the service provider of Guide and Porter:
Excellent Himalaya Trek and Expedition is a leading trekking operator of Nepal authorized by the Nepal Government, Ministry of Tourism. Officially located in Kathmandu the capital of Nepal, the outstanding feature of this company is run by a group of experienced local trekking guides and tourism experts who have been dedicated to engaging in mountain tourism for 18 years. We provide an experienced trekking guide who has authorized a guiding license from the Ministry of Tourism, Nepal Government. Our guide and porter are insured by an established local insurance company.
Price for Hiring Guides, and Porters for Trekking in Nepal
| | |
| --- | --- |
| Trekking Guide | USD 25 to 30 Per Day |
| Porter | USD 20 to 25 Per Day |
* The above price includes his daily meals cost, lodge cost, and salary.
How to contact us to hire a guide and porter with us?
For any information about hiring guide and porter or to book them, you may please contact us by email: [email protected]. You may also contact us by mobile phone, WhatsApp, and Viber. The no. is +977 9851203181. We will be in your support at any time or day.
Ask our experts (Inquiry)
---