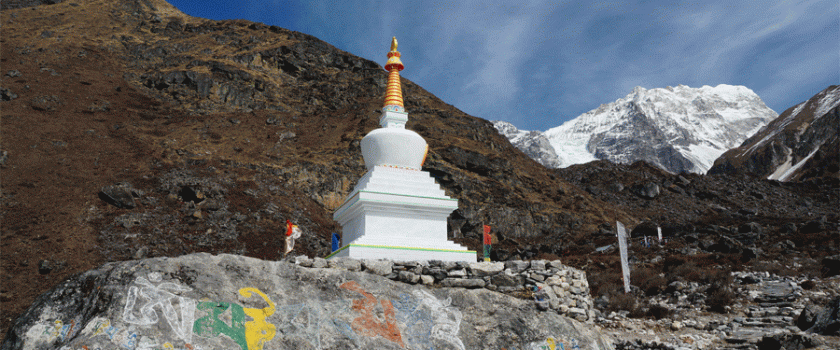 Trip Overview
---
Langtang Trek is a pleasing scenic hiking tour in Nepal. It is also the nearest hiking trail from Kathmandu which takes you to the alpine Himalayan zone in a short period of time. Langtang valley is like heaven surrounds by the majestic Himalayan peaks. This valley is inside the territory of Langtang National Park.
Langtang trek grants you an opportunity to explore beautiful mountain villages habituated by Tamang People. Tamang is one of the major ethnic communities in Nepal. The lifestyle of Tamangs who live in the Langtang area is highly influenced by Tibetan Buddhist culture. Another attraction of this route is you can visit Himalayan glaciers from the lower altitude place.  From the Langtang Valley trek, you can experience the outstanding views of Mount Langtang Lirung (7246 meters), Dorje Lakpa (6966 meters), Gang Cheenpo (6388 meters), and Ganesh Himal (7429 meters).
About the origin of the name 'Langtang' of that place, locals tell an interesting legend. According to the legend, in ancient times, one of the Buddhist monks called Lama lost his yak. When in search of yak he discovered this beautiful valley. In the Tibetan language, the word 'Lang' means 'yak' and 'tang' means 'to follow'. As this valley found when the following yak, later this place called Langtang. In the upper part of this valley, we find lots of yaks. They are grazing in an open meadow.
Syabru Besi is the gateway of Langtang valley trekking. It is reachable after 6 hours of drive from Kathmandu. From Syaphrubeshi the trail swings north into the Langtang valley crossing the river several times along with oak and rhododendron forests. Upon reaching Langtang valley firstly, you visit Langtang village. Afterward, the trail moves towards Kyanjin Gompa crossing through the glacial moraine.
Kyanjin Gompa is the last place on this trekking. From Kyanjin Gompa, you hike up to Tsergo Ri (4984m), the highest elevation of this trip. It offers spectacular views of the Himalayan panorama with glaciers. Then, you retrace your footsteps to Syabrubesi. From Syabrubesi you drive back to Kathmandu.
ITINERARY
Day 1: Drive from Kathmandu to Syabrubesi (Alt. 1467m/4813ft) by route bus. 145 km northwest of Kathmandu. Driving 6:30 hours. Overnight at Tea House.
Day 2: Trekking from Syabrubesi to Lama Hotel (Alt. 2470m/ 8104ft). Walking 5:60 hrs. Overnight at Tea House.
Day 3: Trekking from Lama Hotel to Langtang village (Alt. 3430m/11253ft). Walking 6 hours. Overnight at Tea House.
Day 4: Trekking from Langtang Village to Kyanjin Gompa (Alt. 3870m/12697ft). Walking 3 hours. Overnight at Tea House.
Day 5: Hiking up Kyanjin Ri or Tsergo Ri (Alt. 5050m/16564ft) and back to Kyanjin Gompa. Walking 6 hours. Overnight at Tea House.
Day 6: Trekking from Kyanjin Gompa to Lama Hotel (Alt. 2470m/ 8104ft). Walking 6 hours. Overnight at Tea House.
Day 7: Trekking from Lama Hotel to Syabrubesi (Alt. 1467m/4813ft). Walking 5 hours. Overnight at Tea House.
Day 8: Drive from Syabrubesi to Kathmandu (Alt. 1350m/ 4429ft) by route bus. 145 km. Driving 6:30 hours.
PACKAGE COST: For the up-to-date cost of Langtang Trek, please contact us by email at [email protected] or WhatsApp/ Viber at +977 9851203181. Once we receive your message, we get back to you with the best price detail within 24 hours.
The Cost Includes:
1. Your arrival airport pickup & your departure airport drop by private car.
2. Mode of all ground transport as mentioned in the above itinerary.
3. During trekking accommodation in Mountain Lodge/ Tea House during the trekking.
4. An Experienced English-speaking friendly trekking Guide for the entire trekking.
5. Expenses of food, accommodation, insurance, transport, and the wages of Guide.
6. Trekking Permit (TIMS Card) fee.
7. Annapurna Conservation Area Permit (ACAP) Fee.
8. Comprehensive first aid medical kit carried by the guide.
9. A Trekking Map of this route for a Group.
10. Trip Achievement Certificate after completion of the trek.
11. Necessary paper works, government, and local taxes tourist and service charges.
The Cost Excludes:
1. Airfare of your international flight.
2. Your Meal cost (Breakfast, Lunch, Dinner) during the trekking.
3. Porter (Generally, one porter can be shared by two trekkers. One porter carries the baggage of two trekkers in maximum total weight limit of 25 kg).
4. Your travel insurance which includes evacuation.
5. Alcoholic beverages, hot and cold drinks, bottled water, boiled water, dessert.
6. All kinds of personal expenses like phone calls, internet use, laundry, hot shower during trekking, etc.
7. Tips for Trekking Staff.
8. Any expenses arising due to unforeseen situations like personal sickness, natural calamities, political strikes, etc.
9. Cost of any extra services if you use which not mentioned in the above package includes section.
EXCELLENT HIMALAYA: RECOMMENDED TREKKING AGENCY FOR LANGTANG TREK
Excellent Himalaya Trek is recognized as the recommended operator of Langtang Trek as this company is run by local tourism experts and Sherpas who live in Nepal. We are also authorized by the Tourism Ministry of the Nepal Government, to organize Langtang Valley Trek for all people from around the world.
Our salient features are as below by which all the people trust us as the best local trekking agency in Nepal:
Run by Local Experts: As a local travel operator, we know well about the route and its surroundings. We know the best way of trekking and tour here and get you also the same way.
Trustworthy: We are a trustworthy Trekking and Expedition Company in this sense that we are operating all trips based on reality, integrity, and honesty.
Focus on your needs: We highly value all trekkers and are responsive to their needs and preferences. Our packages are customizable according to their interest and plan.
Good Value for money: We provide the value of what you are buying of our services at least equal to the amount you are paying. Our price is always competitive that does not have any middle and hidden fees.
Real Cared Services: Our one travel consultant or our local trekking guide keeps in touch with our clients every time. We make sure their protection guaranteed so that they will have peace of mind while trekking and touring.
Ask our experts (Inquiry)
---