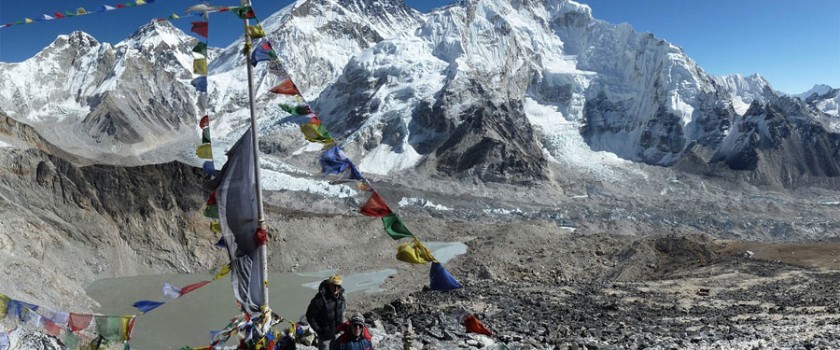 Trip Overview
---
Trek to Kala Patthar is the ultimate solution to reach very close to Mount Everest, the world's highest peak. Mt. Everest is rising majestically 8,848 meters above sea level. It is so massive that the local people call it Sagarmatha, meaning Mother of the Universe. Kala Patthar at an altitude of 5643 meters is nearby Everest Base Camp. It is the best viewpoint for a 360-degree panoramic view of Mt. Everest, Mt. Lhotse, Mt. Cho Oyu, and other peaks.
Kala Patthar is also spelled Kalapathar. In fact, the Kalapathar trek is a blend of natural beauty and cultural diversity. It provides you a lifetime of memories. Besides, the magnificent mountain views the lush valleys, eye-catching landscapes, Sherpa villages with their unique housing styles, and centuries-old monasteries are other attractions of the Kalapathar trek.
There is no doubt that the Kala Patthar Trek is a once-in-a-lifetime opportunity to see some of the most breathtaking scenery imaginable and hike the most famous trekking route in the world. The trek begins with a scenic flight to Lukla from Kathmandu. You will then trek to Phakding and continue ahead to reach Namche Bazaar. You will rest at the Namche Bazaar, which is the trade center in the Everest region.
From here, the trail goes through beautiful forests of pines and rhododendrons to take you to Tengboche. At Tengboche, the Tengboche Monastery, the largest Buddhist monastery in the Khumbu region, which is located on the lap of Mt. Ama Dablam is another important alluring site. The monastery reflects the Tibetan Buddhist art and artifacts.
You will then trek towards Everest Base Camp and ascend to the famous Kala Pathar from where you get panoramic views of Mt. Everest (8,848 m) and other surrounding peaks. It's a good hike to Kala Pathar to test your endurance level.
When you reach the top of Kala Patthar, you will find yourself in the most spectacular place ever imaginable. You will be standing in between the almighty mountains that rise above eight thousand meters and will be celebrating their splendor. The awe-inspiring views of the beautiful mountains swaddled in the glittering white snow take you to a place beyond your imagination.
After climbing Kalapathar, you retrace your journey towards Lukla staying the night at Pheriche and Namche Bazaar. Then with the flight you back to Kathmandu.
The best time to go on this trek is from mid-September to early December and from March to May. The weather will be clear and almost stable at this time of the year with mild-warm days and cold nights.
In summary, the highlights of Trek to Kala Patthar is as below:
• Scenic flight to Lukla (Tenzing Hillary Airport) from Kathmandu
• Explore Namche Bazaar, the trade center of Everest region and also the gateway to Everest Base Camp
• Visit of Tengboche Monastery, the largest in the Khumbu region
• Trek through Sagarmatha National Park, UNESCO World Heritage Site
• Hike Kala Pathar to enjoy the 360-degree panoramic view of Mount Everest and the nearby snowcapped peaks from Kala Patthar
• Trek to Everest Base Camp
• Pass-through Sherpa villages in the route
• Experience Sherpa culture, tradition, and lifestyle
ITINERARY OF TREK TO KALA PATTHAR 
Day 01: Arrive at Kathmandu.
Upon your arrival at Tribhuvan International airport, you will be welcomed by the tour officer of the Excellent Himalaya Trek and Expedition. He will assist you to transfer to your hotel. Trip briefing at the hotel. Meet your trekking guide and preparation for the trek. Then the rest at the hotel. Overnight at hotel in Kathmandu
Day 02: Fly to Lukla (2,610 m), trek to Phakding (2810 m). 30 min flight. Average 4 hours trek.
You will wake up early today to catch a mountain flight to Lukla. Be prepared for a very scenic and exciting flight. After landing at Lukla airport, you will be introduced to your crew who will carry your luggage's entire trek. Then starting the trek towards Phakding. From Lukla, you follow the downhill stroll and Dudh Koshi River. Then you pass through the Sherpa villages of Chhupulung, Ghat, and then reaches Phakding. The trail offers some majestic and alluring views mountains and beautiful landscapes where you will see Tibetan words carved in rocks and multi-color Buddhist flags are hanging around the mani walls it makes the trek more exciting. Overnight at mountain lodge
Day 03: Phakding to Namche Bazaar (3,450 m). Average 6 hours trek.
Enjoy your breakfast at the lodge. Then start the trekking towards Namche Bazaar. The trail follows on the left side of the Dudh Koshi River to enter the Sagarmatha national park. You will register your trekking permit at the Manjo Police check post. Then you pass Jorsalle village and descend to the famous twin Suspension Bridge famous by name of Hillary Bridge. After crossing the bridge you ascend uphill into the lush forest of pines. Before reaching Namche Bazaar you will be rewarded by the first glimpse of Everest and Lhotse.  Namche Bazaar is the trade center of the Everest region and also well known as the gateway to Mount Everest. Overnight at mountain lodge
Day 05: Namche Bazaar (Acclimatization Day, Hike to Syangboche and Khumjung Village). Average 4 hours trek.
Today is an acclimatization day. There is an optional trek on this day, which is highly recommended for acclimatizing the body for the heights ahead. After breakfast you will hike up to Syangboche, the Everest View hotel to catch an amazing panorama of Mt Everest, Thamserku, Ama Dablam, Lhotse, Nuptse, and Choaltse. Then, you will go to visit Khumjung Village to experience the Sherpa lifestyle and culture. Then you return back to Namche Bazaar. Overnight at mountain lodge
Day 06: Namche to Tengboche (3,870 m). Average 6 hours trek.
After breakfast, you follow the trail along the narrow hilltop passing few unique Stupas. You can enjoy the views of Mt. Thamserku, Kusum Kangri, and Kantega. On strolling a couple of hours on the flat crisscross route, you descend to the waterway and touch base at Phunki Tenga. Then you ascend through Rhododendron woods to reach Tengboche. Here you visit Tengboche Monastery. It is the biggest and most revered Buddhist monastery in the Everest region. From Tengboche, you will have a stunning view of Mt. Ama Dablam. Overnight at mountain lodge
Day 07: Tengboche to Dingboche (4,360 m). Average 6 hours trek.
Today your hiking begins light and easy as you walk downhill from the monastery. The picturesque trail dips down to Devuche, crosses the Imja River, and takes to Pangboche. The upper Pangboche trails reward you with a more pristine view of the Himalayas and the Pangboche Monastery. Be prepared for a drop in climate and a change in vegetation. Your trek moves ahead towards the Imja Valley, Lobuche River, and ultimately begins climbing up to Dingboche. At Dingboche, you see a beautiful array of fields enclosed by stone walls to protect barley, buckwheat, and potatoes from the cold winds and grazing animals. Overnight at mountain lodge
Day 08: Dingboche (Acclimatization Day, Optional Hike to Nagartsang peak). Average 4 hours trek.
Today is another acclimatization day at Dingboche. After breakfast, there is an optional hike to Nagartsang peak (5083m). It provides you a beautiful view of Ama Dablam (6812m), Makalu (8485m), Lhotse (8516m), Kantega(6782m), and Cho Oyu (6160m). Or, walk around Dingboche village. Overnight in Dingboche. The village is beautiful with an array of fields enclosed by stone walls to protect barley, buckwheat, and potatoes from the cold wind and grazing animals. Overnight at mountain lodge
Day 09: Dingboche – Lobuche (4,910 m). Average 6 hours trek.
You start the trek with a gradual climb to Duglha at the end of the terminal moraine of the Khumbu. You will enjoy several views of Everest, Lhotse, and Thamserku along this section of the trail and find yourselves amongst more and more snow. From Dughla, you climb up a steep trail to Chupki Lhara, where there is a memorial site erected in the name of trekkers and mountaineers who have lost their lives in the Everest region. Next, you continue to the Khumbu moraine to reach Lobuche. Overnight at mountain lodge
Day 10: Lobuche to Gorekshep (5,170 m). Visit Everest Base Camp (5,364 m). Average 6/7 hours trek.
After breakfast you begin the trek following the rough moraine way, see icebergs and icy glaciers en-route down underneath Khumbu glacier. The trek goes by the last rough moraine hills, a short downhill stroll till Gorakshep. Gorakshep is the last village before Everest base camp, you will check into your lodges, drop your bags, have lunch and then move towards Everest Base Camp. The trail is narrow and rocky with a windy atmosphere to reach EBC. After the visit to Everest Base Camp, you return to Gorekshep. Overnight at mountain lodge
Day 11: Early morning hike to Kalapather (5,545 m). Back Gorakshep then treks to Pheriche (4,250 m). Average 7 hours trek.
Wake up early morning today and start climbing Kalapathar in the moonlight. It takes around 2 hrs to reach the top of Kalapathar which is on the bottom of Mt. Pumori. From Kalapathar you see the sunrise on the majestic Himalayas at 360º degree including Mt. Everest, Nuptse, Lola, Khumbutse, Ama Table, Tabuchi, Cholatse, Thamserku, and numerous other peaks with excellent views of Everest Base camp and Khumbu glacier. Then hike down Gorakshep. Have breakfast. After that continue to walk through the moraine of Khumbu glacier. After passing Lobuche, you descend back down the beautiful valley to Pheriche. Overnight at mountain lodge
Day 12: Pheriche to Namche (3,450 m). Average 7 hours trek.
After breakfast, you trek down through the hillside covered by rhododendron and juniper trees. After crossing the prayer-flag festooned bridge over the Dudh Koshi River, you follow the trail to the Dudh Koshi gorge descending rapidly through pine forests. In the forest, you may come across colorful pheasants and mountain goats. The path eventually reaches Sansa from where you can enjoy views of Ama Dablam, Thamserku, and Nuptse mountains. You also pass winding trails, then through a forest before reaching Namche Bazaar. Overnight at mountain lodge
Day 13: Namche to Lukla (2,610 m). Average 7 hours trek.
Today you will continue to retrace your steps back to Lukla. You follow the trail that descends steeply downward so you need to walk cautiously as your shaky legs continuously battle the rocky terrain. After crossing the suspension bridges over the fast flowing Dudh Koshi and its tributaries, the trail becomes more level and natural. After you arrive in Lukla, you stretch those sore legs and recall the experiences of the last couple of weeks. Overnight at mountain lodge
Day 14: Lukla to Kathmandu.
You will catch an early morning flight back to Kathmandu. After reaching Kathmandu, you will be transferred to your hotel. You can take a rest or do some souvenir shopping. In the evening you will be offered a farewell dinner at an authentic Nepalese restaurant in Kathmandu to celebrate the successful completion of your journey. Overnight at hotel in Kathmandu
Day 15: Departure from Kathmandu, Nepal.
Depending on the time of your departure, our tour officer will accompany you to transfer Tribhuvan International Airport for the flight of your onward journey. Goodbye! See you again in Nepal for the next adventure.
KALA PATTHAR TREK COST:
| | | |
| --- | --- | --- |
| Bronze Price | Silver Price | Gold Price |
| USD 790 Per Person | USD 1060 Per Person | USD 1145 Per Person |
The above price is on a per-person basis for a minimum group size of 2 people. For the price inclusive and exclusive of Kala Patthar trek cost, please contact us at [email protected] or by Whatsapp/ Viber at +977 9851203181.
Why Excellent Himalaya Company for Kala Patthar Trek?
Excellent Himalaya is the leading operator of Kala Patthar Trek. There are many companies that promote the Kalapathar Everest Trek package. Excellent Himalaya Trek and Expedition Pvt Ltd is some different from them. We are a company based only in Nepal and managed by Nepalese tourism experts and local guides. Our team is engaged in the Nepalese tourism industry since 2002. We are the direct operator of Kala Patthar Trek, not the agent and middle people. We are the trekking company authorized by Nepal Government Tourism Ministry. Our company's government registration number is 175840/074/075 and our license number to operate trekking, tour, and mountain expedition in Nepal is 2432. We are associated with different tourism organizations like TAAN (Trekking Agencies Association of Nepal), NMA (Nepal Mountaineering Association), etc.
Ask our experts (Inquiry)
---