Tamang Heritage and Langtang Valley Trek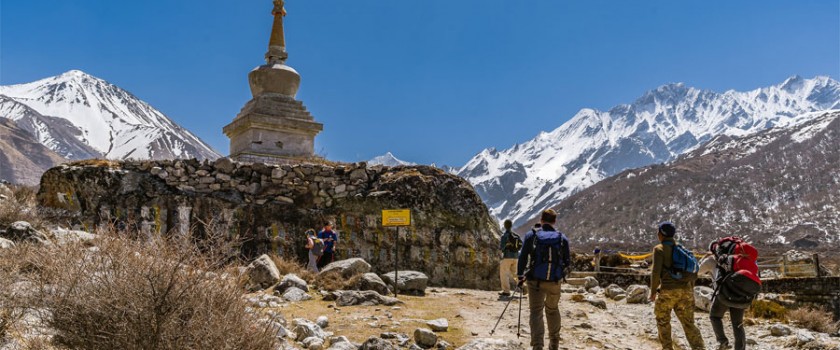 Trip Overview
---
Tamang Heritage and Langtang Valley trek is an exciting trek to the Himalayas. It offers you to experience the everyday lifestyle of the Tamang people who live the nearby the Himalayas. It also grants you to enjoy the majestic snowy Himalayan peaks and to pass through mountain terrain, lush green forest, and cascading waterfalls. Tamang Heritage and Langtang Valley Trek connect two famous trekking routes: Tamang Heritage Trekking Trail and Langtang Valley Trek. It is also a less crowded trekking route of Nepal Himalaya.
The trek starts by following the Tamang Heritage Trail. This trail was developed by the Tourism for Rural Poverty Alleviation Programme (TRPAP), a pilot program run by the Government of Nepal with technical and financial support from the United Nations Development Programme (UNDP), Department for International Development, and SNV/Nepal.
The local inhabitants are Tamangs. They are among some of the friendliest people you will ever see. Their culture is largely marked by Tibetan influences. During a trip when you trek from one village to another, you will pass cascading waterfalls, flowing rivers, terraced hillsides, and tip-tops of mountains peeping in the background.
Briddim is a living museum reflecting traditional Tamang culture and lifestyle. The jaw-dropping views at Nagthali (3165m) boost your energy.  Feeling ecstatic, you can't wait for what's in store.  You will enjoy Mt. Langtang Lirung (7227m), Ganesh Himal (7422m), and other mountain peaks, but for alpine views, the best has yet to come.
After the trek on Tamang Heritage Trail, you join the trail of Langtang Valley trek at Lama Hotel (2420m).  You will pass Langtang village, itself a symbol of resiliency after the earthquake of 2015.  Up and onward, you reach Kyanjin Gompa, the ultimate destination of your trek.
In Kyanjin, you can visit the famous Swiss cheese factory, and the Buddhist monastery, and/or venture out for some day hikes.  You may hike to Kyanjin Ri (4773m) or Tserko Ri, (4985m) which offers a view of over several dozen snow-capped peaks.  The feeling of being so close to the highest mountains in the world is unlike any feeling in the world.
After Kyanjin, you trace back your hiking to Syabrubesi, from where we started your trekking.  The next day, you drive back to Kathmandu. The Tamang Heritage Langtang Valley Trek doesn't require a high level of fitness and acclimatization to avoid acute mountain sickness.
ITINERARY OF TAMANG HERITAGE AND LANGTANG VALLEY TREK
Day 1: Arrival at Kathmandu International Airport. Transfer to the hotel.
After you arrive at Kathmandu International Airport, our tour officer will meet and welcome you. He will then take you to your hotel. In the evening you will meet with your guide, and he will brief you about the trip. Overnight stay at a hotel in Kathmandu.
Day 2: Drive from Kathmandu to Syabrubesi (Alt. 1467m/4813ft) by route bus. 145 km northwest of Kathmandu. Driving 6:30 hours.
Today in the morning you will drive from Kathmandu to Syabrubesi. The drive will present you with beautiful views of hilly landscapes, small settlements, and terrace fields. Also, the winding rivers will keep you company throughout the drive. On the way, you will pass several villages and the river. After reaching here, you can explore the nearby areas and do any necessary last-minute shopping. Overnight stay at Syabrubesi.
Day 3: Trek from Syabru Besi to Gatlang (Alt. 2,200m/7,217ft.). Walking 5 hours.
Today is the trek that starts the day. First, you hike across the Goljung Village. Enjoy the views of the Ganesh Himal, Shishapangma, Langtang Lirung among others. Gatlang is a small village on the hillside with traditional stone houses. Overnight stay at Gatlang.
Day 4: Trek from Gatlang to Tatopani (Alt. 2607m/8550 ft). Walking 6 to 7 hours.
After breakfast, you descend to Thangbuchet. Enjoy the magnificent views of the Ganesh Himal and Langtang Himal Ranges. Passing by the Chilime Hydropower dam, you ascend the trail until reach Tatopani. Tatopani literally means 'hot water in Nepali owing to the natural hot springs there. Take a dip into the natural hot water to relax your tired muscles. Overnight stay at Tatopani.
Day 5: Trek from Tatopani to Thuman (Alt. 2,400m/7,874 ft) via Brimdang and Nagthali. Walking 6 hours.
Today you trek from Tatopani to Thuman via Brimdang and Nagthali. Passing through the dense alpine forest, you reach the small Tamang settlement of Brimdang. Then a few hour's walk uphill, you arrive at Nagthali Hill. Enjoy the mesmerizing views of the Langtang, Sanjen, Kerung, and Ganesh Himal ranges. Trek downhill to the Tamang village of Thuman. Overnight stay at Thuman.
Day 6: Trek from Thuman to Briddim (Alt. 2,345m/7,693 ft). Walking 6 hours.
From Thuman, you trek to Briddim via Lingling. Briddim is a Tibetan Buddhist village on the lap of Langtang Himal. Visit the Dukchu Gomba monastery. Most of the houses in Briddim are stone houses. Inhabited by mostly people of Tibetan origin, Briddim resembles a typical Tibetan village on this side of Tibet.
Day 7: Trek from Briddim to Lama Hotel (Alt. 2470m/8104ft). Walking 6 hours.
From Briddim, we trek towards Lama Hotel. The trail descends to the Ghopche Khola. Then you ascend to Lama Hotel via Rimche. Lama Hotel is on the banks of the Langtang River and is surrounded by lush forests and mountains. Overnight stay at Lama Hotel.
Day 8: Trek from Lama Hotel to Langtang village (Alt. 3430m/11,253ft). Walking 6 to 7 hours.
After breakfast, you start trekking along with dense forests. After making a steady climb up through the valley, you leave the tree line behind you. Enjoy the marvelous views of Langtang Lirung. Pass by water mills, prayer wheels, chortens, with sacred mounds of rocks with inscriptions carved on them. Overnight at Langtang Village.
Day 9: Trek from Langtang Village to Kyanjin Gompa (Alt. 3,870m/12,697ft). Walking 3 to 4 hours.
Today you get out of the village and pass on through yak pastures. Also pass the largest mani wall in Nepal, made from stone with prayers written on them. The prayers written on the mani wall are supposed to be blown away by the wind. Cross several of the wooden bridges. Kyanjin Gompa is surrounded by the Himalayas all around. You can take a walk around Kanjin Gompa enjoying the views, glaciers, icefalls, birds, and yaks. Overnight at Kyanjin Gompa.
Day 10: Hiking to Kyanjin Ri (Alt. 4700m) or Tsergo Ri (Alt. 5050m/16564ft) and back to Kyanjin Gompa. Walking 6 hours.
A free day to marvel at the surrounding beautiful views of landscapes and peaks, where you can take a morning hike to Tsego Ri or Kyanjin hill at the height of 4,700 m high Ghengu Liru (Langtang II 6,571m / 21,560ft), Langtang Lirung (7,425m / 23,765ft) Kimshun (6,745m / 22,137ft) and Shalbachum(6,918m / 22, 699ft) to the south, the Chimsedang Lekh a ridge of peaks includes Naya-Kanga 5,846m or Ganjala peak with Gangchempo, Tilman's beautiful Fluted Peak. As it extends towards Jugal Himal, ending at Dorje Lakpa (6,980m / 22,929ft) within the east direction leads to upper meadows at the very end of Langtang Valley forming a massive mountain wall and a frontier with Tibet. Overnight at Kyanjin Gompa.
Day 11: Trek from Kyanjin Gompa to Lama Hotel (Alt. 2470m/ 8104ft). Walking 6 hours.
Today you trek back to the Lama Hotel by descending down through the forest along the lovely mountain river. Along the trek to Lama Hotel, you will cross villages like Ghoda Tabela and Gumanechok. Overnight stay at Lama Hotel.
Day 12: Trek from Lama Hotel to Syabrubesi (Alt. 1467m/4813ft). Walking 5 hours.
After breakfast, you will descend down to Sybrubensi through the lush green vegetation following the trail along the Langtang River. The trek will be around 5 hours long. You will be walking on familiar terrain as you will have covered them already on your ascent earlier on the trek. The Langtang Mountains will be keeping you company throughout the trek. Overnight stay at Syabrubesi.
Day 13: Drive from Syabrubesi to Kathmandu (Alt. 1350m/ 4429ft) by route bus. 145 km. Driving 6:30 hours.
You will drive back to Kathmandu after having breakfast. The winding roads offer scenic pleasure and the Trishuli River also follows you delightfully. Upon arriving in Kathmandu, you will check in at the hotel and relax. You can shop for gifts and souvenirs at the local markets around the city. Later, in the evening, you will have a farewell dinner with cultural dances. Overnight stay at a hotel in Kathmandu.
Day 14: Final Departure from Nepal.
Today, you will fly back to your country or your next destination. After having breakfast, you will check out of the hotel. You will be then escorted to the Tribhuvan International Airport for your flight to your next destination.
Why Excellent Himalaya Company for Tamang Heritage and Langtang Valley Trek?
Excellent Himalaya Trek and Expedition is the leading operator of trekking and tour in the Himalayas. We are a company based only in Nepal and managed by Nepalese tourism experts and local guides. Our team is engaged in the Nepalese tourism industry since 2002. We are the direct operator of Everest Base Camp Trek, not the agent. We are a trekking company authorized by Nepal Government Tourism Ministry. Our company's government registration number is 175840/074/075 and our license number to operate trekking, tour, and mountain expedition in Nepal is 2432. We are associated with different tourism organizations like TAAN (Trekking Agencies Association of Nepal), NMA (Nepal Mountaineering Association), etc.
Price of Tamang Heritage and Langtang Valley Trek
For the package price of Tamang Heritage and Langtang Valley Trek, you simply send us an inquiry mentioning how many you are by email to [email protected] or by Whatsapp/ Viber/ Signal to +977 9851203181. Once we receive your message, we will get back to you with a reasonable updated price within 24 hours.
Ask our experts (Inquiry)
---