Trip Overview
---
Sikles Kapuche Lake trek is a newly discovered trekking route in Nepal. A unique location, pristine natural presence, beautiful mountain villages, high alpine meadows snuggled below the towering mountains of Lamjung Himal, Annapurna II (7937m), Annapurna IV (7525m), and the glacier lake is the major attraction of this trekking.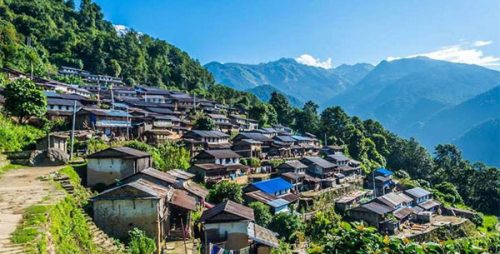 In this trek, you will have an opportunity to travel through the lush forest of rhododendrons, interesting patterns of terraced fields, beautiful mountain ranges, and landscapes. Further during this trek, you can see numerous species of birds, waterfall, wild honey bees, and different species of pet and wild animals. Since this is an emerging trekking route, it is less crowded than other trails in Nepal.
The ultimate destination of Sikles Kaphuche (Kafuche) Lake Trek is to visit Kaphuche Lake. In Nepal, all glacier lakes are situated 4,000 meters above sea level but Kapuche Glacier Lake is unique in that it is idyllically located just 2,546 meters above sea level. Because of which this lake is the Nepal Lowest Glacier Lake as well. While exploring Kaphuche ice lake, if you are lucky you witness a number of small avalanches falling down straight to the lake with the sliding noise of ice and the snow.
In the local Gurung, language means "Ka" means Ice or snow, "Phu"/"Fu" means breaking down and sliding down after the break and "Che" means landing on the plain land. This means this Ice Lake which is formed by the continuous avalanche from Mount Annapurna II and Lamjung Himal is named under the local Gurung Language as 'Kafuche'.
Besides Kaphuche Lake, a visit to Sikles grants you a wonderful cultural experience with an amazing feeling. This mountain village is located at a height of 1980 meters. It is the earliest and biggest Gurung community settlement. In Sikles village you learn about the Gurung culture, lifestyle/ tradition and handicraft production of this area.
Pokhara is the gateway of Sikles Kafuche Lake trek. From Pokhara, by 3 hours of drive, you will reach at Sikles. This is one of the beautiful Gurung villages where we can see a panoramic view of the mountains. Then, from Sikles we trek 6 hours to Goth Ghar. Goth Ghar is like a base camp while doing Kahphuche Glacial Lake Trek. Then, after walking about 2 hours we finally reach Kahphuche Glacial Lake.
Except for the monsoon season, all the seasons are the best for Sikles Kahphuche Lake Trek. The main season for beautiful mountains and lake is from September to November. The color of the lake will be blue and reflects the sky. The view of the lake and mountains will be marvelous this month. If you want to see the Annapurna II frequent avalanche with the best view of a mountain then February to April is the best month. The monsoon in Nepal is from May last to July. The trial will be slippery and the mountain will hide behind the clouds.
In summary the Highlights of Sikles Kapuche Lake Trek as below:
• Newly discovered and less crowded trekking route
• Excellent views of Mt. Annapurnas, Fishtail, Manaslu, and Lamjung
• Kapuche Glacier Lake (2546 m), the lowest altitude glacier lake in Nepal.
• Hiking through the villages, forest of Rhododendron trees & Terrace Field.
• Easy Level Trekking can be done by all age groups.
• Low altitude trek, very little possibility of altitude sickness
• Get familiar with the Gurung community's culture, tradition, and lifestyle
• Enjoy the hospitality of Gurung people in Sikles Village
• Visit the Eco-Museum at Sikles village.
For itinerary and price, please see below.
ITINERARY OF SIKLES KAPUCHE LAKE TREK
Day 1: Drive from Pokhara to Sikles (Altitude 1980 m). Exploration of Sikles Village. L/D
After breakfast, you'll leave for Sikles from Pokhara. From Pokhara to Sikles is a 36.7 km off-road route. By drive, it takes around 3 hours. Before reaching Sikles, you will be crossing many beautiful villages on the way. The Taprang, Chipli Gaun and Khilang village on the way are also beautiful as Sikles but small settlements comparing to Sikles. On the way to Sikles village, you can see beautiful mountains and green hills welcoming you. Sikles is a beautiful Gurung Community village located on a small hill at a height of 1980 meters. After you reach Sikles, the traditional and cultural beauty of the village will amaze you. Explore and village tour and observe culture, village architecture, and their tradition. People are very friendly and helpful at the same time. You can visit Eco-Museum. Further, you can climb the view tower for the whole village view. Likewise, you may hike up to Sikles park and Rising Dada which will takes around 30 mins for average hikers from where we can see the mesmerizing view of the Annapurna II, Lamjung Himal, and other mountains as well. Overnight at Village tea house/ lodge in Sikles
Day 2: Trek from Sikles to Huwu (Hugu) (Altitude 2100 m). B/L/D
Today is the first day of your trekking journey. After your breakfast, you'll be ascending uphill towards Huwu through the stone stairs and stone path. After you cross the Sikles village, you'll be seeing some of the beautiful mountains Annapurna II and Lamjung Himal up close. Then you'll be walking on a narrow path at the edge of the hills which is adventurous. Then you'll descend, following the same trails, and witness a beautiful waterfall called the Edi Jharna (64 m). After some pictures and a short rest, you'll continue the trek. You'll ascend uphill. You'll be climbing some steep and big stone path which passes through small rivers, bridges and you'll finally reach Huwu village. The route in between Sikles to Hugu is greenery, forest way, riverbank sidewalk, and amazing overall. You'll be trekking for 6 hours. On the way to Hugu, there are no resting places or any village is found. Hardly you, find some villagers on the way. At Huwu you will stay in the basic tea house sleeping on a mat in the sleeping bag. Overnight at basic lodge in Huwu
Day 3: Trek from Huwu to Kahphuche Lake (Altitude 2450 m) and back to Sikles (Altitude 1980 m). B/L/D
Today, early morning you'll trek from Huwa to Kahphuche Lake. The Kahphuche Lake is the lowest glacial lake in Nepal. This lake lies here at a height of 2,450 meters above sea level. The path is easy and short compared to other trails in your journey. You'll enjoy the beautiful mountain range and the peaceful wildlife of the trail. After trekking for 2 hours, you'll reach crystal clear Kahphuche Lake. The beautiful mountains will surround you with the crystal clear blue lake upfront. The beautiful scenery provided to you by Kahphuche Lake will amaze you. The lake is so beautiful that neither the words nor your lens is enough to explain its beauty. If you are lucky you can see the avalanche from Annapurna II. After spending some time and taking some pictures you'll return back to Huwa village. And following the same previous trial return to Sikles. The return trip will be faster than your arrival.
Day 4: Drive back to Pokhara. B
Today is simply exploring the village for the one last time, taking some photos with the local people and interacting with them. After having breakfast, the hotel owner bid local-style farewell with Tika. Then you will drive back to Pokhara.
Kapuche Lake Trek Cost for Nepali
| | | | | | | | | |
| --- | --- | --- | --- | --- | --- | --- | --- | --- |
| Group Size | 10 People | 9 People | 8 People | 7 People | 5 People | 4 People | 3 People | 2 People |
| Price Per Person | Rs. 8500 | Rs. 9000 | Rs. 9500 | Rs. 10000 | Rs. 10500 | Rs. 11500 | Rs. 12500 | Rs. 14500 |
Above Price includes:
. Breakfast, lunch, dinner
. 3 night stay at Lodge in sharing.
. Pokhara to Sikles & Sikles to Pokhara drive by jeep in sharing
. One trekking Guide will be accompanied by whole trip
. All taxes & service charge
Above Price excludes:
. Personal expenses like phone calls, internet use etc.
. Hot and cold drinks, alcohol, bottled water, dessert.
. Insurance
. Any expenses arising due to unforeseen situations like personal sickness, natural calamities, etc.
. Cost of any extra services if you use which not mentioned in the above service inclusive section.
Notes:
1. The above cost is only valid to Nepali Citizen. For cost of the foreigner, please contact to us.
2. On the 3rd day the returning same day to the Sikles is possible. If you are a slow Pacer/walker as well as you want to relax journey then you can speed overnight in the Huge itself and back to Sikles in the next morning. After reaching Sikles, drive back to Pokhara without staying overnight at Sikles on the 4th day.
3. Excellent Himalaya Trek and Expedition also organize Sikles Kapuche Lake trek from Kathmandu in package inclusive hotel in Kathmandu/ Pokhara, transport, and all travel-related services according to your requirements.
Please contact us by email at [email protected] or WhatsApp/ Viber at +977 9851203181 for the best price of the Sikles Kapuche Lake Trek, customized itinerary according to your interest or any further information. Once we receive your request message, we get back to you within 24 hours.
Ask our experts (Inquiry)
---