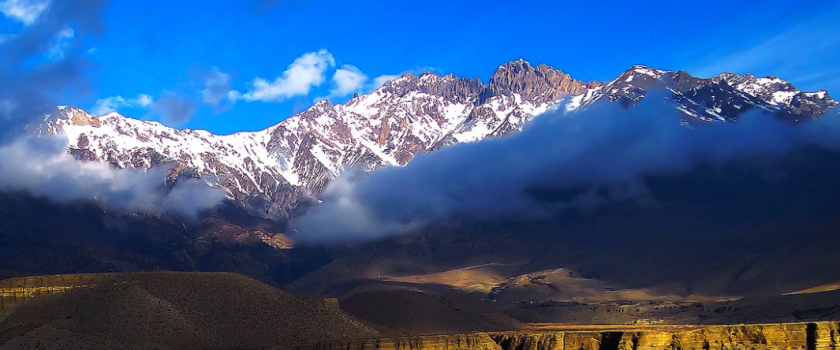 Trip Overview
---
Pokhara to Jomsom trek is wonderful hiking which grants to explore the beauty of the Annapurna region. This trekking route is popular among both international and domestic hiking lovers. It grants an amazing experience of natural and cultural diversity. In this Trek, you will explore the lovely views of the Annapurna mountain range and Dhaulagiri, varieties of ethnic culture, and the landscape of the Tibetan plateau. Especially in this trek, you get the sight of Mount Dhaulagiri (8167meters), Mount Annapurna South (7219 meters), Mount Tukuche (6920 meters), Mount Nilgiri (6940 meters), etc.
The trekking trail incorporates a wide array of landscapes from sub-tropical rhododendron and oak forests to the high, dry landscape similar to the Tibetan Plateau. You walk through the Kali Gandaki valley, the deepest gorge in the world, Kagbeni, a Tibetan-influenced village dotted with prayer wheels, or a Buddhist monastery and chortens.
The views from the first rays of the sun at the break of dawn grace the pinnacles of Dhaulagiri and Annapurna from Ghorepani, creating a landscape that is absolutely magnificent to behold. Further, the fascinating traditional villages of Gurung, Magar & Thakali will keep you enthralled day after day as you hike along the way.
Pokhara Jomsom is an easy trek that can be done any time of the year except during the monsoons (July & August). In monsoon, the trail gets slippery, muddy and landslides might occur. So, we suggest you skip the road journey during the monsoon.
The trek begins with some easy trekking sections and exposes you to moderately challenging sections later. To start the trek you will drive from Pokhara to Nayapul and walk to Birenthati. In the next few days, you travel through lovely Gurung villages and rhododendron forest to Ghorepani (2860m) and descend to Tatopani (1189m) at the bank of Kali Gandaki-river. As you hike through the Kali Gandaki Valley, passing through the deepest gorge in the world, the trail gradually ascends to the villages of Tukuche, Marpha, and Jomsom.
Jomsom is the gateway for trekking to Muktinath and Lo-Manthang. Also, considered an ending point for treks from Manang. Jomsom way halfway point of the Round Annapurna trekking; but after the road construction, it has now become a terminal point.
Once you reach Jomsom you also trek to the famous Muktinath temple, sacred for both the Buddhist and Hindu community located at 3710 meters. After the visit to Muktinath temple, you end your trek at Jomsom. From Jomsom, you will back to Pokhara either by flight or drive.
In Summary, the major highlights of Pokhara to Jomsom Trek are:
• Enjoy the sights of Annapurna mountain range and Mt. Dhaulagiri
• Poon Hill, the famous viewpoint of Himalayan Views
• Explore the World's deepest Kali Gandaki River gorge
• Visiting Muktinath, the hotel temple to Buddhists and Hindus, at an altitude of 3800 meters
• Arid landscape from Jomsom to Muktinath
• Walk through rhododendron forests, rocky cliffs, and desert
• Tibetan- influenced village filled with prayer wheels, chortens & monastery
• An ideal trek throughout the year except for monsoon
POKHARA TO JOMSOM TREK ITINERARY
Day 1: Arrival at Kathmandu International airport. We pick up at the airport by our car and transfer to the hotel. Overnight at Hotel in Kathmandu.
Day 2: Drive from Kathmandu to Pokhara by Tourist Coach, 200 km west of Kathmandu. Driving 7 hours. Overnight at Hotel in Pokhara.
Day 04: Drive from Pokhara to Nayapul (Altitude 1080 meter) by car 41 Km. Driving 1:30/ 2 hours. Trek from Nayapul to Tikhedhunga (Altitude 1540 meters). Walking around 4 hours. Overnight at Tea House
Day 05: Trek from Nayapul to Ghorepani (Altitude 2780 meters). Walking around hours. Overnight at Tea House
Day 06: Early morning hike to Poon Hill (Altitude 3190 meters). After breakfast trek from Ghorepani to Tatopani (Altitude 1190 meters). Walking around 8 hours. Overnight at Tea House
Day 07: Trek from Tatopani to Ghasa (Altitude 2010 meters). Walking around 6 hours. Overnight at Tea House
Day 08: Trek from Ghasa to Tukuche (Altitude 2586 meters).  Walking around 6 hours. Overnight at Tea House
Day 09: Trek from Tukuche to Kagbeni (Altitude 2800 meters). Walking around 7 hours. Overnight at Tea House
Day 10: Trek from Kagbeni to Muktinath (Altitude 3800 meters). Walking around 5 hours. Overnight at Tea House
Day 11: Trek from Muktinath to Jomsom (Altitude 2720 meters) via Jharkot (Altitude 3550 meters). Walking around 6 hours. Overnight at Tea House
Day 12: Fly or drive from Jomsom to Pokhara. Flight Duration: 20 to 25 Minutes. Driving 155 km. Driving around 9 hours. Overnight at Hotel in Kathmandu.
Day 13: Drive back from Pokhara to Kathmandu by Tourist Coach. Driving 7 hours. Overnight in Hotel Kathmandu.
Day 14: Final Departure from Nepal. We drop you at Kathmandu International airport by our car for your flight to your onward journey.
Please contact us by email at [email protected] or WhatsApp/ Viber/ Signal at +977 9851203181 for any further information about Pokhara to Jomsom Trek, package price, or any question. Once we receive your request message, we get back to you within 24 hours.
WHY EXCELLENT HIMALAYA TREK & EXPEDITION FOR POKHARA TO JOMSOM TREK?
Excellent Himalaya Trek and Expedition Pvt. Ltd. is a leading organizer and also of the best Trek companies and agencies in terms of reviews of many trekkers, services, and success rates.  This company is run by local tourism experts and Sherpas who have more than eighteen years of experience. Further, we are also authorized by the Tourism Ministry of the Nepal Government, for organizing Pokhara to Jomsom Trek for all people from around the world.
Our salient features are as below by which all the people trust us as the best operator of Pokhara Jomsom Trek:
Run by Local Experts:  As a local travel operator, we know well about the route and its surroundings. We know the best way of trekking to here and get you also the same way.
Trustworthy: We are a trustworthy Trekking Company in this sense that we are operating all Trek based on reality, integrity, and honesty.
Focus on your needs: We highly value all trekkers and are responsive to their needs and preferences. Our Trekking packages are customizable according to their interest and plan.
Good Value for money: We provide the value of what you are buying of our services at least equal to the amount you are paying. Our price is always competitive that does not have any middle and hidden fees.
Real Cared Services: Our one travel consultant or our local trekking guide keeps in touch with our clients every time. We make sure their protection guaranteed so that they will have peace of mind while trekking.
Ask our experts (Inquiry)
---