Pikey Peak Trek: Affordable Cost and Package
Trip Overview
---
Pikey Peak Trek is a short but rewarding way of experiencing majestic Himalayan peaks.  The Pikey Peak trekking trail is located in the lower region of Mount Everest. The major highlight of this trek is that you can observe the best view of the highest peak of the world Mt. Everest in the short trek.
From Pikey peak, you can also capture the views of other towering Himalayan peaks like mount Makalu, Kanchenjunga, Ama Dablam, Lhotse, Nuptse, Numbur, Gaurisankhar, Langtang and also Dhaulagiri to the far west.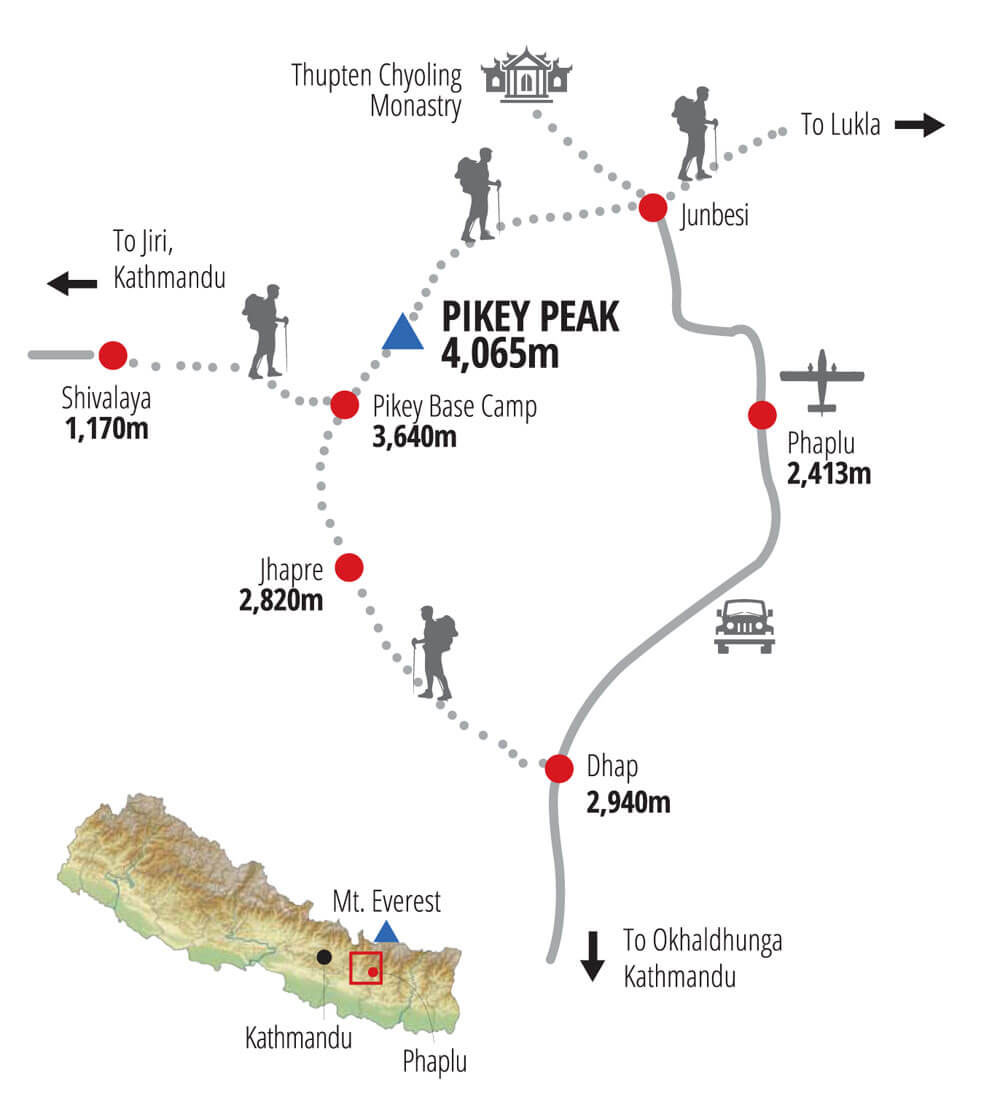 Pikey Peak is a less beaten, less crowded trekking route in the Everest region. The trail to Pikey Peak is full of absolute wilderness and serenity. It passes picturesque traditional villages and historical monasteries. The optimum height of this trek is 4070 m. Thus, it has the least chance of altitude sickness.
Further, this trip does not have any threat of flight cancellation/postponement because Pikey Peak Trek begins with a drive from Kathmandu to Dhap and can also end with a drive from Phaplu to Kathmandu.
Indeed, from the Pikey peak trek, you can explore the diversified natural beauty and experience the traditional living of different ethnic groups like Sherpa, Tamang, Chhetri, Gurung, and Rai. Additionally, Pikey peak rewards everyone with one of the best sunrise views with stunning Himalayan scenery.
The trail passes through dense forests of Pine, and Rhododendron trees. It is the habitat of different species of birds and animals like Lophophorus, Crimson Horned Pheasant, wild bear, Panda, Ghoral, and so on. Similarly, along the route, you can see yak, nak, and cow grazing here and there.
In Pikey Peak Trek you can enjoy the organic food produced locally and stay for a night halt at local tea houses.
Excellent Himalaya Trek and Expedition is the leading trekking operator and company managed by local tourism experts and Sherpas who have more than 20 years of experience organizing treks and expeditions into the Himalayan zone. We will take care of all permits and logistical matters, including food and accommodation on the trek.
Itinerary of Pikey Peak Trek Nepal
Day 01: Arrival in Kathmandu transfer to hotel.
Upon arrival at Tribhuvan International airport in Kathmandu, you will be met and welcomed by an officer from Excellent Himalaya Trek and Expedition. He will assist you to transfer your hotel by our car. You will be briefed about your trip to the hotel. Then, you can relax at your hotel or wander around Thamel, the tourist center of Kathmandu, and do some last-minute shopping. Overnight at a hotel in Kathmandu.
Day 02: Drive from Kathmandu to Dhap Bazaar (Altitude 2850 meters). Driving Distance: 240 km. Duration: 8 hours of drive.
The first leg of our journey takes you by road from Kathmandu to Dhap Bazaar. You follow the road along the banks of the Sunkoshi River until you reach Ghurmi Village. Along the way, you can sit back and admire the constantly changing Nepali countryside of dense forests, terraced rice fields, and numerous gushing rivers. You eventually reach Dhap Bazaar where we can take a leisurely walk around the markets. Overnight at Mountain Lodge.
Day 03: Trek from Dhap Bazaar to Japre (Altitude 2815 meters). Distance: 14 km. Walking Duration: 4/5 hours.
From Dhap you start the trek. As you near Sigane, you will get a view of the peaks of the Numbur Himal range. The trail from Sigane follows a road under construction for the first couple of hours. The first village you reach is called Japre (2920 m). It is located above a deep valley with lovely views of Everest and Numbur Himal. There's a pretty little Buddhist Monastery and stupa. In Japre you stop for the night halt. Overnight at Mountain Lodge.
Day 04: Trek from Jhapre to Pikey Base Camp (Altitude 3640 meters). Distance 13.73 km. Walking Duration: 5/6 hours.
After Japre, you follow the trail which climbs up to a grassy ridge at Bhulbhule. From there also you will have nice views of the Everest range. Soon after Bhulbhule, the trail splits and you'll turn right to Pikey Peak. You'll pass some old yak houses and a long mani stone wall. The trail then contours the hillside below Taklung Danda and goes through a beautiful forested trail. There are many rhododendron trees here along a level path (which you can see in bloom if trekking in the spring). As you leave the forest, it's around 2 hours to reach Pikey Peak base camp. Overnight at Mountain Lodge.
Day 05: Trek from Pikey Base Camp to Pikey Peak (Altitude 4065 meters) to Jase Bhanjyang (Altitude 3520 meters). Distance around 5 km. Walking Duration 4/5 hours.
Today early morning you start trekking to the famous viewpoint of Pikey Peak. You can enjoy the sunrise and mountain views of Mt. Everest (8848m), Number Chuli (6959m), Thamserku (6608m), Kangtega (6685m), Khatang (6853m), Kanchenjunga (8586m), Manaslu (8163m), Dhaulagiri (8167m), Gaurishankar (7134m), Dorje Lakpa (6966m) and Langtang. After taking in the extensive panorama from Pikey Peak we will descend to Jase Bhnajyang and rest (Today walking distance is short but because of steps up and down hiking, walking time will take around 4/5 hours. Thus it is wise to stay at Jase Bhanjyang for night stay and take a rest). Overnight at Mountain Lodge.
Day 06: Trek from Jase Bhanjyang to Junbesi (Altitude 2680 meters). Distance 11.02 km. Walking Duration 5/ 6 hours.
After breakfast, you follow the trail through the forest. After the forest, you walk through the meadow. Then you arrive village named Taktor. Have lunch in this village. Then continue the trek towards Junbesi by wide dirt road. Before arriving in Junbesi, you can visit Buddhist Monastery. Junbesi is a beautiful village with Buddhist Stupa, and comfortable tea houses. This is the village of the Sherpa, Magar, and Tamang people. Overnight at Mountain Lodge.
Day 07: Trek from Junbesi to Phaplu (Altitude 2380 meters). Distance: 13.26 km. Walking Duration: 5/6 hours.
After breakfast, you will follow the descending dusty trail along the Junbesi Khola until reaching a steel suspension bridge. After crossing the bridge you will reach Beni Ghat. You will continue your walk along the trail filled with scenic pleasures before reaching Phaplu. At Phaplu we can sample the local cuisine and drink while taking part in a traditional Sherpa cultural event. Overnight at Mountain Lodge.
Day 08: Drive from Phaplu to Kathmandu (Altitude: 1350 meters). Driving Distance 280 km. Driving around 9/10 hours.
Drive from Phaplu to Kathmandu with a regular sumo jeep. Upon arrival at Kathmandu, transfer to the hotel. In the evening farewell dinner at an authentic Nepali restaurant with Nepali cuisine.
Day 09: Transfer to International Airport for your Final Departure.
Today is your ending day in Nepal. Our officer will take you to the airport approximately 3 hours before your scheduled flight. He will drop you at the Kathmandu airport for your flight to the onward journey.
Note:
. In Junbesi, if you are interested to visit Thupten Choling Monastery, one day will be added to the above itinerary. It's a day trip from Junbesi to Thupten Choling Monastery to Junbesi around 5 to 6 hours of hiking.
. The walking hours mentioned above may be different according to the pace of trekkers and the distance may some different according to the various navigation devices.
Pikey Peak Trek Cost
As compared to Everest Base Camp and long treks of the Everest region, the Pikey Peak Trek Cost is not as much expensive. Few things like Food and Accommodation, jeep ride cost to Dhap from Kathmandu, the flight cost from Phaplu to Kathmandu, the cost of guide and porter, personal expenses and the cost of TIMS Card determine Pikey Peak Trek Cost.
For the package price of Pikey Peak Trek, you simply send us an inquiry mentioning how many you are by email to [email protected] or by Whatsapp/ Viber/ Signal to +977 9851203181. Once we receive your message, we will get back to you with a reasonable updated price within 24 hours.
Why Excellent Himalaya Trek and Expedition for Pikey Peak Trek?
Excellent Himalaya Trek and Expedition Pvt Ltd is the leading trekking and tour company authorized by Nepal Government Tourism Ministry based in Kathmandu Nepal. We are managed by Nepalese tourism experts, local guides, and Sherpa. Our team is engaged in the Nepalese tourism industry since 2002. Our License no. from Nepal Government to operate trekking tours in Nepal is 2432.  We are also associated with different tourism organizations like TAAN (Trekking Agencies Association of Nepal), NMA (Nepal Mountaineering Association), etc.
Our further features are as below by which people around the world trust us as the authentic organizer of Pikey Peak Trek:
Team of Local Experts and Guides: As this company is managed and run by well-trained, experienced & competent local experts, and guides, we know well about the mountain trail, ecology, culture, etc. of the trekking routes. We know the best way of trekking and also we get you the same way.
Trustworthy: Trust is something that comes from commitment. Hence, being a legally registered company, we commit to providing the best, most satisfactory trekking, tour, and expedition. We are operating all trekking, and climbing tours in Nepal based on reality, integrity, and honesty.
Focus on your needs: We highly value all our clients. We always move according to your interest and requirements. Because your satisfaction is our goal. Thus, all our trekking, tour, and mountaineering packages are customizable.
Fair Price: As we are a direct operator, not an agent, our price is always competitive that does not have any middle and hidden fees. We provide the value of what you are buying from our services at least equal to the amount you are paying.
Safety: Your safety is our first priority. Trekking to the Himalayas is both exciting and adventurous. So we provide you with all the safety materials needed, along with motivational counseling.
Friendly, and Professional Staff: We have highly friendly, helpful, and professional staff. Our staff looks after you right from the moment of your arrival to the time of your departure. They are able to cope with most emergency situations including those requiring evacuation and hospitalization.
Real Cared Services: Our one travel consultant or our local trekking guide keeps in touch with our clients every time. We make sure their protection is guaranteed so that they will have peace of mind while trekking with us.
Ask our experts (Inquiry)
---