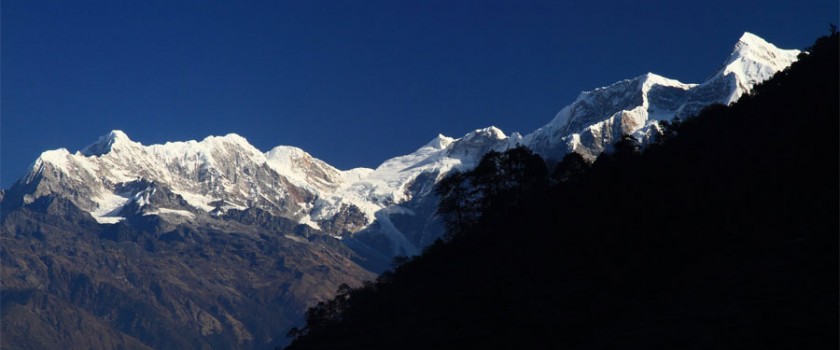 Trip Overview
---
Pikey Peak Trek is a short but rewarding way of experiencing majestic Himalayan peaks.  The Pikey Peak trekking trail located in the lower region of Mount Everest. The major highlight of this trek is that you can observe the best view of the highest peak of the world Mt. Everest in the short trek.
From Pikey peak you can also capture the views of other towering Himalayan peaks like mount Makalu, Kanchenjunga, Ama Damlam, Lhotse, Nupatse, Numbur, Gaurisankhar, Langtang and also Dhaulagiri to the far west.
Pikey Peak is a less beaten, less crowded trekking route in the Everest region. The trail to Pikey Peak is full of absolute wilderness and serenity. It passes picturesque traditional villages and historical monasteries. The optimum height of this trek is 4070 m. Thus, it has the least chance of altitude sickness.
Further, this trip does not have any threat of flight cancellation/postponement because Pikey Peak Trek begins with a drive from Kathmandu to Dhap and can also end with a drive from Phaplu to Kathmandu.
Indeed, from Pikey peak trek you can explore the diversified natural beauty and experience the traditional livings of different ethnic groups like Sherpa, Tamang, Chhetri, Gurung, and Rai. Additionally, Pikey peak rewards everyone with one of the best sunrise views with stunning Himalayan scenery.
The trail passes through dense forests of Pine, Rhododendron trees. It is the habitat of different species of birds and animals like Lophophorus, Crimson Horned Pheasant, wild bear, Panda, Ghoral, and so on. Similarly, in the route, you can see yak, nak, and cow grazing here and there.
In Pikey Peak Trek you can enjoy the organic food produced locally and stay for a night halt at local tea houses.
Excellent Himalaya Trek and Expedition is the leading trekking operator and company managed by local tourism experts and Sherpas who have than 20 years of experience organizing treks and expeditions into the Himalayan zone. We will take care of all permits and logistical matters, including food and accommodation on the trek.
Outline Itinerary of Pikey Peak Trek Nepal
Day 1: Arrival at Kathmandu International airport. We pick up at the airport by our private vehicle and transfer to the hotel. Overnight at Hotel in Kathmandu.
Day 02: Drive from Kathmandu to Dhap Bazaar (Altitude 2850 meters). Driving Distance: 250 km. Duration: 7/8 hours of drive. Overnight at Mountain Lodge.
Day 03: Trek from Dhap Bazaar to Japre (Altitude 2815 meters). Distance: 13 km. Walking Duration: 4/5 hours. Overnight at Mountain Lodge.
Day 04: Trek from Jhapre to Pikey Base Camp (Altitude 3640 meters). Distance 15 km. Walking Duration: 5/6 hours. Overnight at Mountain Lodge.
Day 05: Trek from Pikey Base Camp to Pikey Peak (Altitude 4065 meters) to Junbesi (Altitude 2680 meters). Distance 22 km. Walking Duration 7 hours. Overnight at Mountain Lodge.
Day 06: Trek from Junbesi to Phaplu (Altitude 2380 meters). Distance: 11 km. Walking Duration: 5/6 hours. Overnight at Mountain Lodge.
Day 07: Drive from Phaplu to Kathmandu (Altitude: 1350 meters). Driving Distance 270 km. Driving around 9 hours. Overnight at Hotel in Kathmandu.
Day 08: Departure from Kathmandu, Nepal. Our tour officer will drop you at the Kathmandu international airport and see you off. End of Service.
For a detailed itinerary of Pikey Peak Trek, please click here.
Pikey Peak Trek Cost
As compared to Everest Base Camp and long treks of the Everest region, the Pikey Peak Trek Cost is not as much expensive. Few things like Food and Accommodation, jeep ride cost to Dhap from Kathmandu, the flight cost from Phaplu to Kathmandu, the cost of guide and porter, personal expenses and the cost of TIMS Card determine Pikey Peak Trek Cost.
For the package price of Pikey Peak Trek, you simply send us an inquiry mentioning how many you are by email to [email protected] or by Whatsapp/ Viber/ Signal to +977 9851203181. Once we receive your message, we will get back to you with a reasonable updated price within 24 hours.
Ask our experts (Inquiry)
---