Trip Overview
---
Paragliding Pokhara is one of the most popular sports activities in Nepal. Pokhara, the beautiful valley 200 km west of Kathmandu, is a perfect destination for paragliding. The paragliding in Pokhara offers you to experience unmatched attractive grandeur as you share airspace with Himalayan griffin, vultures, eagles, kites while floating over villages, monasteries, temples, lakes, and jungles with a fantastic view of the majestic Mount Fishtail, Annapurna, and Dhaulagiri Himalayan range.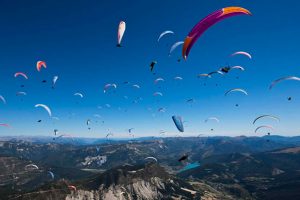 The best season of Paragliding Pokhara is from early October to the beginning of May. The most popular months are November, December, and January, because of the super consistent weather during this time. Besides these months, in other months also it is possible of paragliding in Pokhara.
Schedule Flight of Paragliding Pokhara

9.30 AM – 1st Flight | 11.30 AM – 2nd Flight | 13.30 AM – 3rd Flight – Everyday
Duration of Paragliding

20 to 30 minutes only
Location of Paragliding Pokhara
Take off point– Sarangkot and Landing point- Lakeside, Khahare, Pamey Road
Price of Paragliding Pokhara

For Nepali:
Short Flight: Rs 6,500/- (Per Person / Approx 25 min)
Long Flight: Rs 9,000/- (Per Person / Approx 50 min)
For Foreigner:
Short Flight: Rs 10,000/- (Per Person / Approx 25 min)
Long Flight: Rs 15,000/- (Per Person / Approx 50 min)
Note:
The Cost and Schedule subject to change with or without prior notice. Please contact us for the updated final price.