Mohare Danda Trek: Community Lodge Trek in Nepal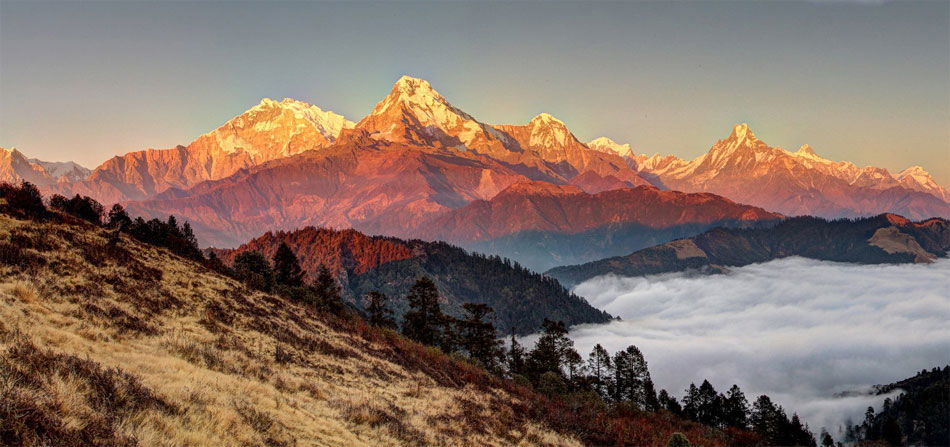 Trip Overview
---
Mohare Danda Trek is one of the famous Eco-Community Lodge Treks in Nepal. It is a newly introduced off-the-beat trekking trail located inside the Annapurna region. It opened as the community lodge trek in 2010. Mohare Danda Trek is an easy, incredible, and peaceful hiking adventure in the Himalayas.
Mohare Danda Trek offers you a wonderful mixed bag of culture, nature, and mountains. You will feel the charm of mountains, nature, and culture at the best of their serenity. The view of Dhaulagiri and Annapurna mountain ranges will have overwhelming effects on you as you reach the Mohare Danda. Looking at the sunrise over the mountains from Mohare hill is an experience to make your day.
This amazing trip to Mohare Danda is best suited for the trekkers with a limited amount of time in their hands to explore the glorious existence of natural wonders in the Annapurna region. This glorious trek will take you through the unspoiled trails of Annapurna foothills, surrounding you with gracious wilderness and astounding landscapes.
From Mohare Danda at an altitude of 3320 meters/ 10892 feet, you can enjoy the gorgeous sunrise as well as sunsets over the magnificent peaks like Fishtail 6,993m, Tukuche 6,920m, 8,167m, South Annapurna 7,219m, Dhaulagiri 8,167m, and others. You are likely to be stunned by the thrilling sound and beautiful view of the Kali Gandaki gorge which we will be encountering on this Mohare Danda trek. Similarly, this trek is likely to take you through exposed ridges making this trip even more adventurous.
Likewise in this trek, you will be humbled by the generous and kind nature of the Magars living in the Magar community while exploring their way of life. The beautiful Villages like Tilkoy at 2,250m welcomes you with their unaltered ethnicity and cultural values, offering you delicious foods made from local ingredients.
On your way to the top of Mohare Dande, you will be encountering many pretty villages and some schools as well. You will find many tea houses on the way which are always eagerly waiting to provide you with the best hospitality possible.
In short, the major highlights of Mohare Danda Trek are:
• Magnificent views of Annapurna and Dhaulagiri mountain ranges
• Short trek through a less crowded route in the Annapurna region
• See great views of the Himalayas from Mohare Danda
• Staying at Community lodges
• Fewer tourists & fewer commercial treks
• Orange & lemon tree village
• Walk on Forest pathways
• Walk on Village trails
BEST TIME OF MOHARE DANDA TREK
From Mid-September to early December: This is the best time of trekking in Nepal. The best period too to go trekking to Mohare Danda.
From March to April: This is the end of the dry season in Nepal and the second-best time of year to go trekking to Mohare. This time of year also has the added advantage of the surrounding countryside in full bloom.
From mid to December to February: The skies are clear but it can get very cold. It's rare for Mohare to close asides from being cold it is still a good time of year to go.
From May to June: The hot pre-monsoon season means things get uncomfortable and humid. The valley and hills around Mohare are starting to bloom with flowers though. Don't go expecting to see mountains.
From June to Mid-September: this Monsoon season in Nepal and the least popular time to go trekking to Mohare Ridge. The risk of leeches and heavy rain increases greatly. The views are nearly always obstructed too.
ITINERARY OF MOHARE DANDA TREK WITH DISTANCE
Day 1: Arrival at Kathmandu International airport. We pick up at the airport by our car and transfer to the hotel. Overnight at Hotel in Kathmandu.
Day 2: Drive from Kathmandu to Pokhara by Tourist Coach. Overnight at Hotel in Pokhara.
Driving Distance: 200 Km/ 124 miles
Driving: 7 hours.
Day 3: Drive from Pokhara to Beni. Trek from Beni to Bans Kharka (Altitude 1526 meters/ 5007 feet). Overnight at Community Lodge.
Driving Distance: 92 km/ 57 mile
Driving: 4 hours
Hiking Distance: 8 km/ 4.9 mile
Hiking: 3 hrs
Day 4: Trek from Bans Kharka to Nagi Village (Altitude 2320 meters/ 7612 feet). Overnight Community Lodge.
Hiking Distance: 9.1 km/ 5.6 mile
Hiking: 5/6 hours
Day 5: Trek from Nagi Village to Mohare Danda (Altitude 3320 meters/ 10892 feet). Overnight at Community Lodge.
Hiking Distance: 7.7 km/ 4.9 mile
Hiking: 5/6 hours
Day 6: Trek Mohare Danda to Fulbari or Danda Kharka (Altitude 2765 meters/ 9072 feet). Overnight in Tea House/Community Lodge.
Hiking Distance:  3.1 km/ 2 miles
Hiking: 2 hours
Day 7: Trek from Fulbari to Tikot Village (Altitude 2210 meters/ 7251 feet). Overnight at Community Lodge/ Home Stay.
Hiking Distance:  11.9 km/ 7.4 miles
Hiking: 5/6 hours
Day 8: Trek from Tikot Village to Baseri. Drive from Baseri to Pokhara. Overnight at Hotel.
Hiking Distance: 11 km/ 6.8 mile
Hiking: 4 hours
Driving Distance: 103 km/ 64 miles
Driving: 4/5 hours
Day 9: Drive back from Pokhara to Kathmandu by Tourist Coach. Driving 7 hours. Overnight in Hotel Kathmandu.
Day 10: Final Departure from Nepal. We drop you at Kathmandu International airport by our car for your flight to your onward journey.
Note: The walking hour mentioned above may be different according to the pace of trekkers and the distance may some different according to the various navigation devices.
EXCELLENT HIMALAYA: OPERATOR OF MOHARE DANDA TREK
Excellent Himalaya Trek and Expedition is the leading trekking operator and company managed by local tourism experts and Sherpas who have more than 20 years of experience organizing treks and expeditions into the Himalayan zone. We will take care of all permits and logistical matters, including food and accommodation on the Mohare Danda Trek.
Please contact us by email at [email protected] or WhatsApp/ Viber/ Signal at +977 9851203181 for any further information about Mohare Danda Trek, package price, or any question. Once we receive your request message, we get back to you within 24 hours.
PACKLIST FOR MOHARE DANDA TREK
> A pair of trekking boots or trekking shoes suitable for off-road walking
> A windcheater style jacket
> Long sleeve shirts
> Trekking pants
> Shorts
> Socks
> Rubber sandals
> Trekking poles
> Water bottles
> Water purification system
> Sun hat/warm hat
> Sunglasses
> Sunblock
Note:
1. The community lodges all have blankets. Advised to carry a sleeping bag liner helpful as the bedding may not be clean to your standards.
2. There's no bottled water on this trek so make sure you are comfortable with your water filtration system.
Ask our experts (Inquiry)
---