Langtang Tour Package: Hiking Trip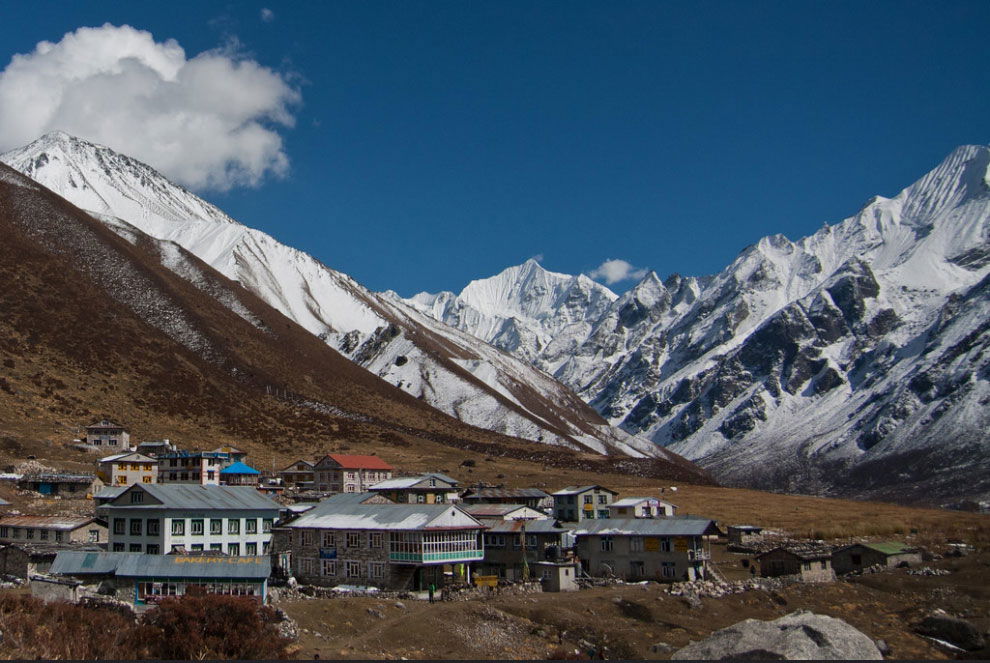 Trip Overview
---
Langtang is one of the famous Himalayan Travel destinations in Nepal for a hiking tour. It offers a great array of natural and cultural elements all adding up to make a brilliant journey into the depths of the Langtang itself. The obvious company of the splendid Himalayas and a mesmerizing bio-diversity throughout the trek will bound you to rave and admire each constituent of the Langtang region. The cultural heritage in the region is equally brilliant both in the tender preservation and display of the ancient beliefs and practices.
You will begin your hiking trip from the Sybrubesi, which is located to the north of Kathmandu. You will reach there by bus and begin climbing towards Langtang Valley. You will go through beautiful forests of rhododendron and oak. While ascending, you will see the views of snow-capped peaks standing tall in the distant horizon as if to admire you on your venture into the Langtang region.
After reaching Langtang valley, you will be welcomed by the local people. Most of the people living here are of Tamang ethnicity. You will then ascend to Kyanjin Gompa from where you will get to see Langtang glacier and also visit Langshisha Kharka. You will get to see stunning views of mountains from here. You will see Dorje Lakpa (6,966 m), Langtang Lirung (7,227 m), Shisapangma (8,013 m), and other mountains.
While staying there, you will also get to experience the lifestyle, food, culture, and tradition of the local people. The hiking to Langtang is perfect for you if you want to experience both nature and culture at the same time. The best seasons to go on this trek are during Spring and Autumn. You will get to see excellent views of snow-capped mountains and colorful bushes at this time of the year.
ITINERARY OF LANGTANG HIKING TOUR
Day 1: Arrival at Kathmandu International airport. Transfer to the hotel. Overnight at Hotel.
After you arrive at Kathmandu International Airport, our tour officer will meet and welcome you. He will then take you to your hotel. In the evening you will meet with your guide, and he will brief you about the trip. Overnight stay at a hotel in Kathmandu.
Day 2: Drive from Kathmandu to Syabrubesi (Alt. 1467m/4813ft) by route bus. 145 km northwest of Kathmandu. Driving 6:30 hours. Overnight at Tea House.
Today in the morning you will drive from Kathmandu to Syabrubesi. The drive will present you with beautiful views of hilly landscapes, small settlements, and terrace fields. Also, the winding rivers will keep you company throughout the drive. On the way, you will pass several villages and the river. After reaching here, you can explore the nearby areas and do any necessary last-minute shopping. Overnight stay at Syabrubesi.
Day 3: Trekking from Syabrubesi to Lama Hotel (Alt. 2470m/ 8104ft). Walking 5:60 hrs. Overnight at Tea House.
From today your hiking trip begins. You will trek to the Lama Hotel along the Langtang River. You will cross several suspension bridges and further, trek through the dense forest of rhododendron and oak. You will get a chance to see a variety of wildlife on the way and even get a glimpse of the elusive Red Panda if you are lucky enough. Trekking through the narrow trail, you will cross several villages and reach Lama Hotel. Overnight stay at Lama Hotel.
Day 4: Trekking from Lama Hotel to Langtang village (Alt. 3430m/11253ft). Walking 6 hours. Overnight at Tea House.
You will trek along the dense forest and ascend through a valley. You will get to witness amazing views of Langtang Lirung (7,227 m) along the trail which is decorated with prayer wheels, Chortens, and water mils. You will cross several villages and reach Langtang Village. You will follow the Langtang River all the way to the village. Overnight stay at Langtang village.
Day 5: Trekking from Langtang Village to Kyanjin Gompa (Alt. 3870m/12697ft). Walking 3 hours. Overnight at Tea House.
You will begin trekking through the yak meadows and walk along the large Mani wall. You will cross several wooden bridges and reach Kyanjin Gompa. Kyanjin Gompa is a beautiful place surrounded by the Himalayas all around it. You can explore the nearby areas and get to see beautiful landscapes around the Gompa and also see the Langtang Lirung glaciers to the north. Overnight stay at Kyanjin Gompa.
Day 6: Hiking up Kyanjin Ri (Alt. 4700m) or Tsergo Ri (Alt. 5050m/16564ft) and back to Kyanjin Gompa. Walking 6 hours. Overnight at Tea House.
A free day to marvel at the surrounding beautiful views of landscapes and peaks, where you can take a morning hike to Tsego Ri or Kyanjin hill at the height of 4,700 m high Ghengu Liru (Langtang II 6,571m / 21,560ft), Langtang Lirung (7,425m / 23,765ft) Kimshun (6,745m / 22,137ft) and Shalbachum(6,918m / 22, 699ft) to the south, the Chimsedang Lekh a ridge of peaks includes Naya-Kanga 5,846m or Ganjala peak with Gangchempo, Tilman's beautiful Fluted Peak. As it extends towards Jugal Himal, ending at Dorje Lakpa (6,980m / 22,929ft) within east direction leads to upper meadows at the very end of Langtang valley forming a massive mountain wall and a frontier with Tibet.
Day 7: Trekking from Kyanjin Gompa to Lama Hotel (Alt. 2470m/ 8104ft). Walking 6 hours. Overnight at Tea House.
Today you trek back to the Lama Hotel by descending down through the forest along the lovely mountain river. Along the trek to Lama Hotel, you will cross villages like Ghoda Tabela and Gumanechok. Overnight stay at Lama Hotel.
Day 8: Trekking from Lama Hotel to Syabrubesi (Alt. 1467m/4813ft). Walking 5 hours. Overnight at Tea House.
After breakfast, you will descend down to Sybrubensi through the lush green vegetation following the trail along the Langtang River. The trek will be around 5 hours long. You will be walking on familiar terrain as you will have covered them already on your ascent earlier on the trek. The Langtang Mountains will be keeping you company throughout the trek. Overnight stay at Syabrubesi.
Day 9: Drive from Syabrubesi to Kathmandu (Alt. 1350m/ 4429ft) by route bus. 145 km. Driving 6:30 hours. Overnight at Hotel.
You will drive back to Kathmandu after having breakfast. The winding roads offer scenic pleasure and the Trishuli River also follows you delightfully. Upon arriving in Kathmandu, you will check-in at the hotel and relax. You can shop for gifts and souvenirs at the local markets around the city. Later, in the evening, you will have a farewell dinner with cultural dances. Overnight stay at a hotel in Kathmandu.
Day 10: Final Departure from Nepal.
Today, you will fly back to your country or your next destination. After having breakfast, you will check-out of the hotel. You will be then escorted to the Tribhuvan International Airport for your flight to your next destination.
PACKAGE COST: USD 395 PER PERSON
The above Cost includes:
1. Your arrival airport pickup & your departure airport drop by private car.
2. Two-night accommodation in Kathmandu at Tourist Type hotel with breakfast.
3. Mode of all ground transport as mentioned in the above itinerary.
4. During trekking accommodation in Mountain Lodge/ Tea House during the trekking.
5. An Experienced English-speaking friendly trekking Guide for the entire trekking.
6. Expenses of food, accommodation, insurance, transport, and the wages of Guide.
7. Trekking Permit (TIMS Card) fee.
8. Annapurna Conservation Area Permit (ACAP) Fee.
9. Comprehensive first aid medical kit carried by the guide.
10. A Trekking Map of this route for a Group.
11. Trip Achievement Certificate after completion of the trek.
12. Necessary paper works, government, and local taxes tourist and service charges.
13. Complimentary farewell dinner in Kathmandu with a cultural show at a typical Nepalese restaurant.
The above Package cost excludes:
1. Nepal visa fee (USD 25 for 15 days period). You can easily get a Nepal visa on your arrival time at Tribhuvan International Airport in Kathmandu.
2. Airfare of your international flight.
3. Your Meal cost (Breakfast, Lunch, Dinner) during the trekking. (Per Day USD 25 to 30) depend on the food you choose according to the restaurant menu).
4. Porter (Generally, one porter can be shared by two trekkers. One porter carries the baggage of two trekkers in maximum total weight limit of 25 kg).
5. Your travel insurance which includes evacuation.
6. Alcoholic beverages, hot and cold drinks, bottled water, boiled water, dessert.
7. All kinds of personal expenses like phone calls, internet use, laundry, hot shower during trekking, etc.
8. Lunch and dinner in Kathmandu and Kathmandu except for farewell dinner on the last night of the trip. (Cost around USD 8 to 10 per lunch/per dinner)
9. Tips for Trekking Staff.
10. Any expenses arising due to unforeseen situations like personal sickness, natural calamities, political strikes, etc.
11. Cost of any extra services if you use which not mentioned in the above package includes section.
Notes:
• In the package, if you want to include porter and food cost of trekking. We have a special package rate for this. Please contact us for the package rate including porter and food of trekking.
• The above cost is on a Per Person basis for a minimum group size of two persons.
• If you are single and want to Solo Trek. We also organize Everest Base Camp Trek for a solo trekker. For the solo trekker, we have a separate special price. Please contact us for the price of Solo Trekking.
Ask our experts (Inquiry)
---