Khopra Danda Trek: Khopra Danda, Khayer Lake, Poon Hill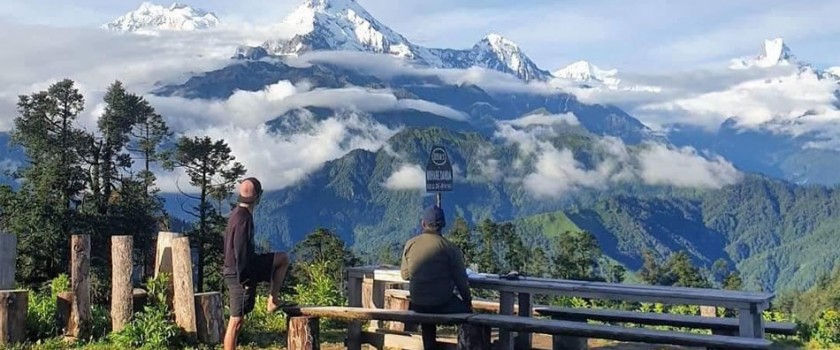 Trip Overview
---
Khopra Danda Trek is one of the newly open trekking routes in the Annapurna region. In this trek, as you also visit holy Khayer Lake, this trek is also named by Khopra Danda Khayer Lake trek. Indeed this trek is one of the immensely beautiful but least trekked or untouched trekking trails in Nepal.
Khopra Danda Khayer Lake Trek is located to the north-east of Pokhara bordering the districts of Myagdi District and Kaski District. The Khopra Ridge itself is relatively close to the village of Ghorepani in Dhaulagiri.
Khopra Danda Trekking is different from other popular trails in the Annapurna region. It takes you to hidden areas away from mainstream trails beyond villages and human settlements within the complete wilderness of mountains and dense woodland.
Khopra Danda Trekking an ideal journey around high hills in the close shadow of the massive Annapurna range of mountains, where the walk takes you scenic ridges to close between Dhaulagiri and Annapurna Himalaya facing an exceptional panorama of peaks.
From Khopra Danda trek you will get full views of Dhaulagiri 8167 m, Annapurna I 8091 m, Annapurna South 7219 m, Machhapuchhre 6993 m, Annapurna II 7937 m , Annapurna III 7555 m, Gangapurna 7455 m, Tukuche peak 6920 m, Dhampus peak 6012 m, Hiunchuli 6441 m, Gurja Himal 7193 m, Nilgiri Himal 7061 m. However, the best views you will get is Annapurna South.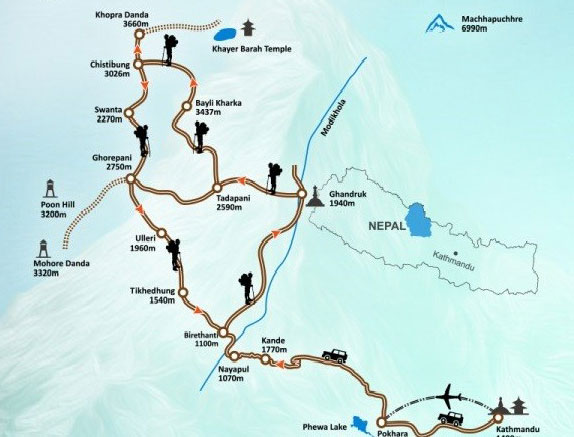 At the beginning of the trek enjoying time within the tranquil environment, you continue to climb up at Khopra ridge a scenic spot with a breath-taking Himalayan vista. After reach at Khopra ridge you take a time to visit Khayel Lake, a holy lake where once a year festival takes place and pilgrims come here for a dip in this sacred Lake.
After a great time around remote and hidden areas of Annapurna, you will lead to join on the main trails of Annapurna to reach Ghorepani. Enjoy another breathtaking panoramic view with Sunrise from Poon Hill. Then you retrace your journey to Nayapul and back to Pokhara.
The trek is also known as a community lodge-based trek. During the trek, while you deviate from the mainstream of the Annapurna trail, you will stay at the community lodge. Community Lodges are run by local communities rather than privately run lodges. The local woman along the Khopra Trek opened a community lodge in 2014.
The highest part of the Khopra Danda Trek is 3640 meters (11942 feet). However, if you do the side trek to Lake Khayar then you'll reach 4,600 meters (15091 feet). Likewise, the highest sleeping point is at the community lodge on Khopra Ridge Phedi at 3640 meters (11942 feet).
In short, the major highlights of Khopra Danda Trek are:
• Enjoy the great view of Dhaulagiri, Annapurna range, and green Hill
• Visit Khayer Lake.
• Explore the cultural lifestyle of local people.
• Walking through rolling hills and dense forests
• A short trek away from all the crowds
• Staying at Community Lodges around Khopra Ridge
• Less touristic trail
• Can be extended through several routes
ITINERARY OF KHOPRA DANDA TREK WITH DISTANCE INCLUDING POON HILL
Day 1: Arrival at Kathmandu Airport.
Upon arrival at Kathmandu airport, you will be met by our Tour officer. He will escort you to the hotel. Overnight at Hotel in Kathmandu.
Day 2: Drive from Kathmandu to Pokhara.
Scenic mountain drive is from Kathmandu to Pokhara. Driving 7 hours. Overnight at Hotel in Pokhara. Overnight at Hotel in Pokhara
Driving Distance: 205 km
Driving: 6/7 hours
Day 3: Drive from Pokhara to Naya Pul. Trek from Naya Pul to Ghandruk (Altitude 1940 meters/ 6365 feet). Overnight at Mountain Lodge
Driving Distance: 41 km
Driving: 1:30 min/ 2 hour
Hiking Distance: 12 km/ 7.5 miles
Hiking: 6 hours
Day 4: Trek from Ghandruk to Tadapani (Altitude 2630 meters/ 8629 feet). Overnight at Mountain Lodge
Hiking Distance: 8 km/ 5 miles
Hiking: 4/5 hours
Day 05: Trek from Tadapani to Bayali Kharka via Dobato (Altitude 3437 meters/ 11276 feet). Overnight at Community Lodge
Hiking Distance: 16 km/ 10 miles
Hiking: 6/7 hours
Day 06: Trek from Bayali Kharka to Khopra Danda (Altitude 3660 meters/ 12008 feet). Overnight at Community Lodge
Hiking Distance: 8 km/ 5 miles
Hiking: 4 hours
Day 07: Excursion to Khayar Lake (Altitude 4700 meters/ 15420 feet) and full-day hike around Khopra Danda (Ridge). Overnight at Community Lodge at Khopra Danda
Hiking Distance: 11 km/ 7 miles
Hiking: 7/8 hours
Day 08: Trek from Khopra Danda to Swanta (Altitude 2214 meters/ 7264 feet). Overnight at Community Lodge
Hiking Distance: 15 km/ 9.3 miles
Hiking: 6 hours
Day 09: Trek from Swanta to Ghorepani (Altitude 2860 meters/ 9383 feet). Overnight at mountain lodge
Hiking Distance: 9 km/ 6 miles
Hiking: 4/5 hours
Day 10: Early morning hike to Poon Hill (Altitude 3210 meters/ 10532 feet). Enjoy the Sunrise and Himalayan views. Back to Ghorepani. Trek from Ghorepani to Nayapul. Drive from Nayapul to Pokhara. Overnight at Hotel in Pokhara.
Hiking Distance: 22 km/ 14 miles
Hiking: 8/9 hours
Day 11: Rest Day in Pokhara. Optional Tour: you may join different activities in Pokhara like paragliding, ultralight flight, bungee jump, and also sightseeing. Overnight at Hotel in Pokhara.
Day 12: Drive back from Pokhara to Kathmandu by Tourist Coach. Driving 7 hours. Overnight in Hotel Kathmandu.
Day 13: Final Departure from Nepal. We drop you at Kathmandu International airport by our car for your flight to your onward journey.
Note: The walking hour mentioned above may be different according to the pace of trekkers and the distance may some different according to the various navigation devices.
EXCELLENT HIMALAYA TREK & EXPEDITION: OPERATOR OF KHOPRA DANDA TREK
Excellent Himalaya Trek and Expedition is the leading trekking operator and company managed by local tourism experts and Sherpas who have more than 20 years of experience organizing treks and expeditions into the Himalayan zone. We will take care of all permits and logistical matters, including food and accommodation on the Khopra Danda Trek.
Please contact us by email at [email protected] or WhatsApp/ Viber at +977 9851203181 for any further information about Khopra Danda Trek, package price, or any questions. Once we receive your request message, we get back to you within 24 hours.
BEST TIME OF KHOPRA DANDA TREK
From Mid-September to early December: This is the best time of trekking in Nepal. The best period too to go trekking to Khopra Danda.
From March to April: This is the end of the dry season in Nepal and the second-best time of year to go trekking to Khopra. This time of year also has the added advantage of the surrounding countryside in full bloom.
From mid to December to February: The skies are clear but it can get very cold. It's rare for Khopra to close asides from being cold it is still a good time of year to go.
From May to June: The hot pre-monsoon season means things get uncomfortable and humid. The valley and hills around Khopra are starting to bloom with flowers though. Don't go expecting to see mountains.
From June to Mid-September: this Monsoon season in Nepal and the least popular time to go trekking to Khopra Ridge. The risk of leeches and heavy rain increases greatly. The views are nearly always obstructed too.
PACKLIST FOR KHOPRA DANDA TREK
> A pair of trekking boots or trekking shoes suitable for off-road walking
> A windcheater style jacket
> Long sleeve shirts
> Trekking pants
> Shorts
> Socks
> Rubber sandals
> Trekking poles
> Water bottles
> Water purification system
> Sun hat/warm hat
> Sunglasses
> Sunblock
> Sleeping Bag
Ask our experts (Inquiry)
---