Kathmandu to Langtang Trek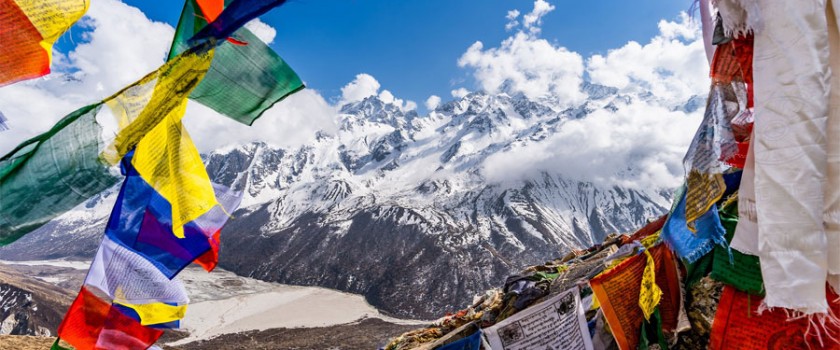 Trip Overview
---
Langtang Trek is an easily accessible hiking route from Kathmandu. The standard itinerary of Kathmandu to Langtang Trek is 8 days. If you do not have time, it can complete in 7 days as well. This trek brings you to the most beautiful parts of the Himalayas. The Langtang Trek from Kathmandu provides the beauty of the main Himalayan range to the north and a slightly lower range of snowy peaks to the south. Further, trekking with the varieties of rhododendron, bamboo forests, majestic waterfalls, and the snow-capped Himalayas has made this trek one of the most diversified treks.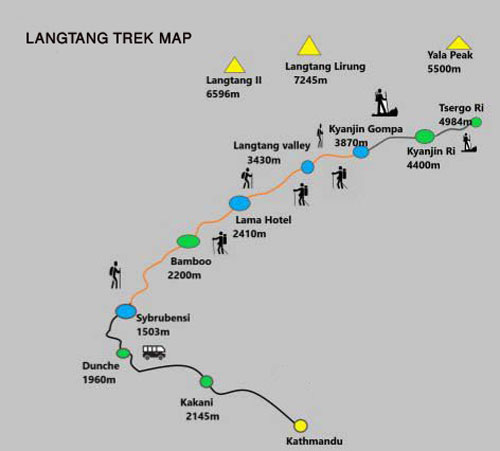 About the meaning of Langtang word. It has an interesting legend. It is being said that a Lama following the footprints of Yak discovered the valley and hence the valley was named Langtang which means (Lang in Tibetan is 'yak' and Teng is 'to follow'). Langtang is a small but beautiful valley situated in the eastern part of Nepal connecting the southern border of Tibet.
The Himalayan peaks which view you can enjoy this trek are Langtang Lirung (7246m) Gang Chhenpo (6388m), Naya Kangri (5864m), and Dorge Lakpa (69866m).  Indeed, Lantang is an isolated region inhabited by Tamangs. Tamang is the local ethnic group whose religious practices, language, and dress are much more similar to those of Tibet. This trek offers you an opportunity to explore Tamang villages and to experience their lifestyle.
Langtang valley is surrounded by glaciers from all sides. Thus Langtang region is also known as the Valley of Glaciers. A throng of glaciers originated from the Himalayas is an excellent reward for your trekking efforts.
Another attraction of this trek is Kyanjin Gompa, which dates back hundreds of years. Further rich natural diversities and pastureland also give wonderful experience in Langtang trek.
In summary, the major highlights of Kathmandu to Langtang Trek is as below:
• Enjoy a scenic drive along the bank of the Trishuli river
• Cultural and scenic trekking route
• Exploring an ancient Buddhist monastery & cheese factory in Kyanjing Gompa
• Panoramic view of Langtang Himalayan range from the top of the Kyangjin Ri/ Tsergo Ri
• Experience interesting Tibetan style lifestyle of Tamang people
• Explore the Himalaya glacier nearby Kyanin Gompa
• Trek through Langtang National Park
ITINERARY OF KATHMANDU TO LANGTANG TREK
Day 1: Drive from Kathmandu to Syabru Besi (1,600m)
Our guide will come to your hotel in Kathmandu early in the morning to receive you before starting the trip. After breakfast drive from Kathmandu to Syabrubesi, which takes about 7 hours by local bus. You drive out along the north-western mountains of Kathmandu. The drive passes through the road along the bank of the Trisuli River. You can enjoy a glimpse of Ganesh Himal, Tibet peaks, terraced fields, rural towns, and green hills. Enjoy lunch at the Trishuli Bazar before proceeding further to Dhunche. From Dhunche, you drive to Syabrubesi. Overnight at mountain lodge.
Day 2: Trek from Syabru Besi to Lama Hotel (2,470m)
Today is your first day of trekking. Syabru Besi is the gateway of Langtang trek. Start trekking following the bank of Langtang River. You will pass through the thick woodlands. Cross a few suspension bridges. Pass tea-houses. The trail looks steep, but it isn't that testing and is always exciting. Following up and down the trail, you will reach Lama Hotel. Lama Hotel is a small village with a pleasant tea house. Overnight at mountain lodge.
Day 3: Trek to Langtang village (3,430m)
Enjoy breakfast at your lodge in Lama Hotel before setting out and walking further east into the Langtang Valley. You ascend to pass through forests of oak and then the sub-alpine forests of larch, fir, and hemlock. Then you arrive at Ghodatabela village where the valley widens and get the views of LangtangLirung (7234m). Continuing on you arrive in Langtang village, the largest settlement in the Langtang valley and populated by Tamang who practice Tibetan Buddhism. There you can see yaks, cows, sheep, goats, and horses are grazing freely. The view visible from Langtang village is very impressive. Overnight at mountain lodge.
Day 4: Trek to Kyanjin Gompa (3,900m) and Acclimatization
Today is more like a leisure day. You will walk for 2 -3 hours to reach Kyangjin Gompa at an altitude of 3817m. You pass through yak pastures. You will also cross the biggest Mani divider in Nepal and cross a few wooden scaffolds as well. As you are getting into the high elevations, you may begin to feel the thin mountain air. a serene and beautiful place that allows us to have scenic views of Mt. Ganchhenpo and Mt. Langtang Lirung. The cheese factory, the monasteries, and the traditional local houses are the main attractions of this place. Overnight at mountain lodge.
Day 5: Exploration around Kyanjin Gompa
Today the full day will be dedicated to indulging in the natural beauty and serenity of the Kyanjin Gompa area. You of course enjoy the splendid mountain views as well as relish in the peaceful environment. You can also take a climb up to Kyanjin Ri at 4500m or climb to the Tsergo Ri at 5150 m and also reach the Langtang glacier. From Kyanjin Ri and Tsergo Ri, you can enjoy the panoramic views of Mt Langtang and its nearby Himalaya peaks. You can also visit the Old Buddhist monastery. Then back to the lodge. Overnight at mountain lodge.
Day 6: Trek to Lama Hotel (2,470m)
Wake up early to catch the sunrise over Kyanjin Gompa which is incredible. You can then observe morning prayers at the Kyanjin Gompa Monastery. Then you trek back west, descending through the Langtang valley. You again pass through forest, cross suspension bridges, and small Tamang villages to reach Lama Hotel. It is about 6 hours of easy walk. Overnight at mountain lodge.
Day 7: Trek to Syabru Besi
You enjoy our final breakfast on the trail, and then continue to walk by descending further, ever accompanied by the Langtang River, and your last moments in the Langtang National Park. Around after 5 hours of trekking, you arrive at Syabru Besi. Check in your lodge explore the market town. Overnight at mountain lodge.
Day 8: Drive to Kathmandu and then transport to your Hotel
After breakfast, we drive back to Kathmandu. Arriving in Kathmandu, we transfer you to your hotel. The rest of the day you can spend at your own leisure, enjoying your much-deserved rest and some last moment shopping.  In the evening, enjoy a farewell dinner at an authentic Nepalese restaurant with a cultural show.
Please contact us by email at [email protected] or WhatsApp/ Viber at +977 9851203181 for the best package cost of the Kathmandu to Langtang Trek, customized itinerary according to your interest, or any further information. Once we receive your request message, we get back to you within 24 hours.
Ask our experts (Inquiry)
---