Island Peak Climbing Nepal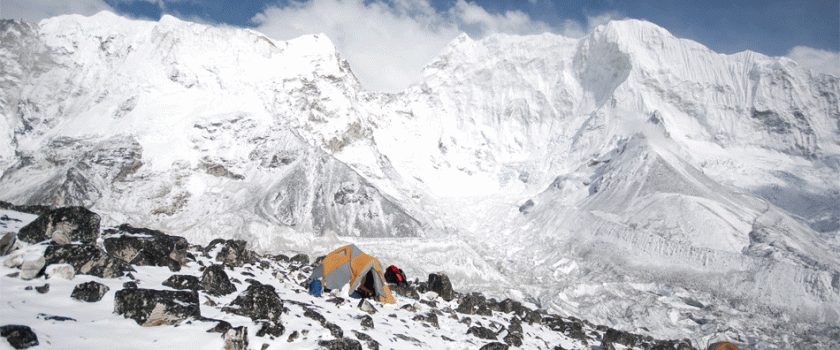 Trip Overview
---
Island Peak, locally named Imja Tse, is a prominent Himalaya in Nepal for climbing. The aim of this adventurous trip is a climb to the top of Island Peak. The people who come in Nepal for summit climbing of Island Peak also go to visit Everest Base Camp, the foothill of world's tallest mountain.
Indeed Island Peak is one of the busy trekking peaks in Nepal. The height of this mountain is 6187 meters high above sea level. It is located in the Khumbu Himalayan range in the Everest region. There is no doubt that climbing Island peak gives the best satisfaction to every climbing lover.
We believe you are looking for the thrill of adventure and wish to widen your experience towards the peak climbing beyond simply trekking in Nepal. If our guess is true, Island Peak is probably the best mountain for you.
The trip for Island Peak Climbing firstly starts by trekking to Everest Base Camp. After the visit of Everest Base Camp, you head for Island Peak Base Camp. Before the start of climbing our climbing guide brief and follow you the course of climbing practices. He will teach you various aspects of climbing techniques.
When you reach the summit of the Island peak you will be rewarded with enchanting panoramic views of the world's magnificent mountains like Mount Lhotse, Mount Nuptse, Mount Baruntse, Mount Ama Dablam, Mount Makalu, etc.
Descending with a sense of achievement, you trek back following the cultural places, such as Pangboche, a traditional Sherpa village; Tangboche, famous for its ornately decorated Tibetan monasteries and Namche Bazaar, the Sherpa Capital and cultural center of Khumbu. Your trek ends in Lukla. From Lukla you back to Kathmandu.
EXCELLENT HIMALAYA: BEST RECOMMENDED AGENCY FOR ISLAND PEAK CLIMB AND EBC TREK
Excellent Himalaya Trek is recognized as the recommended operator of Island Peak Summit Climbing and Everest Base Camp Trek as this company is run by local tourism experts and Sherpas who live in Nepal. We are also authorized by the Tourism Ministry of Nepal Government, to organize climbing and trekking trips for all people from around the world.
Our salient features are as below by which all the people trust us as the best local trekking & expedition agency in Nepal:
Run by Local Experts: As a local travel operator, we know well about the route of and its surroundings. We know the best way of trekking and climbing here and get you also the same way.
Trustworthy: We are a trustworthy Trekking and Expedition Company in this sense that we are operating all trips based on reality, integrity and honesty.
Focus on your needs: We highly value all trekkers and are responsive to their needs and preferences. Our packages are customizable according to their interest and plan.
Good Value for money: We provide the value of what you are buying of our any services at least equal to the amount you are paying. Our price is always competitive that does not have any middle and hidden fees.
Real Cared Services: Our one travel consultant or our local trekking guide keep in touch with our clients every time. We make sure their protection guaranteed so that they will have peace of mind while trekking and climbing.
ITINERARY
Day 01: Flight to Lukla (2804m/9199ft). Start trekking from Lukla to Phakding (Alt. 2610m/8563ft). Flight 40 minutes. Walking 3 hours. Overnight at Mountain Lodge in Phakding.
Day 02: Trekking from Phakding to Namche Bazaar (Alt. 3441m/11289ft). Walking 5 hours. Overnight at Mountain Lodge in Namche Bazaar.
Day 03: Acclimatization day in Namche Bazaar. Day trip to Shyangboche and Khumjung Village (Alt. 3780m/12402ft) and trek back to Namche Bazaar. Walking 5 hours. Overnight at Mountain Lodge in Namche Bazaar.
Day 04: Trekking from Namche Bazaar to Tengboche (Alt. 3860m/12664ft). Walking 5 hours. Overnight at Mountain Lodge in Tengboche.
Day 05: Trekking from Tengboche to Dingboche (Alt. 4350m/14272ft). Walking 6 hours. O/n in Mountain Lodge in Dingboche.
Day 06: Acclimatization day in Dingboche. Walk around Dingboche. Walking 4 hours. O/n in Mountain Lodge in Dingboche.
Day 07: Trekking from Dingboche to Lobuche (Alt. 4910m/4910ft). Walking 5 hours. O/n in Mountain Lodge in Lobuche.
Day 08: Trekking from Lobuche to Everest Base Camp (Alt. 5365m/17602ft) then back to Gorak Shep. Walking 7:30 hours. Overnight at Mountain Lodge in Gorak Shep.
Day 09: Early in the morning hike up to Kalapatthar (Alt. 5555m/18225ft) then trek to Chukhung (Alt. 4730m/15518ft). Walking 8 hours. Overnight at Mountain Lodge in Chukhung.
Day 10: Trekking from Chukhung to Island Peak Base Camp (Alt 5080m/ 16667ft). Climbing Training at Island Base Camp. Walking 4 hours. Overnight at Tented Camp in Island Peak Base Camp.
Day 11: Trekking from Island Peak Base Camp to Summit (6189 m/ 20305ft) and back to Island Base Camp, then to Chukhung. Walking 10 to 12 hours. Overnight at Mountain Lodge in Chukhung.
Day 12: Extra day for Contingency in case of bad weather.
Day 13: Trekking from Chukhung to Tengboche (Alt. 3860m/12664ft). Walking 7 hours. Overnight at Mountain Lodge in Tengboche.
Day 14: Trekking from Tengboche to Namche Bazaar (Alt. 3441m/11289ft). Walking 6 hours. Overnight at Mountain Lodge in Namche Bazaar.
Day 15: Trekking from Namche Bazaar to Lukla (Alt.2804m/9199ft). Walking 6:30 hours. Overnight at Mountain Lodge in Lukla.
Day 16: Flight from Lukla to Kathmandu. In the evening we offer you farewell dinner with Nepali Cultural show at a typical Nepalese restaurant in Kathmandu.
PACKAGE PRICE:

USD 1950 Per Person

Above Package Price Includes:

1. The airport picks up and drops services in a private car.
2. Airline tickets for the flight to Lukla and also from Lukla.
3. Domestic airport taxes.
4. Accommodation in Mountain Lodge/ Tea House on twin sharing basis during the trekking.
5. Accommodation in tented camp during the climbing period.
6. Meals [Breakfast, Lunch, and Dinner] during the trekking and climbing period.
7. Everest National Park Entry Permit fee.
8. Trekker's Information Management System [TIMS] registration card fee.
9. Experienced English speaking trained trekking guide for the entire trekking.
10. Strong experienced porter for the entire trekking. One porter carries from 20 to 25 kg.
11. An experienced Government licensed holder Climbing guide.
12. Meals, accommodation, salary, insurance, and transport for guide and porter.
13. Camping gears like two men tent, kitchen tent, kitchen equipment, mattress while climbing period.
14. Island Peak climbing permit.
15. Climbing equipment like ice axe, Ice crew, snow bar, Ice Hammer and climbing rope
16. Comprehensive first aid medical kit carried by the guide.
17. A Trekking Map of this route for a Group.
18. Necessary paper works, all government, and local taxes
19. Complimentary farewell dinner in Kathmandu with a cultural show at a typical Nepalese restaurant.

Above Package Price Excludes:

1. International airfare; Nepal visa fees; Travel and Medical insurance, it is mandatory the insurance should cover emergency high-altitude rescue and evacuation. Note: Nepal visa can be obtained on your arrival time at Tribhuvan International Airport. The visa fee is USD 50 for 30 days period. For Visa two passport photographs are required.
2. Personal trekking and Climbing Equipment (Climbing boot, Helmet, Sleeping bag, down Jacket)
3. Hotel in Kathmandu
4. Travel insurance that covers emergency Rescue and Evacuation.
5. Personal nature expenses like bars and beverage bills, hot and cold drinks, bottled water, hot shower, telephone, laundry, titbit, etc.
6. Costs arising from natural calamities, mishaps, personal sickness, flight cancellation, political strikes or anything beyond our control (Costs are not refundable and transferable in any means if you leave the trek voluntarily and want to return from the trek earlier than scheduled).
7. Lunch and dinner in Kathmandu (also in the case of early returns and late departures than the scheduled itinerary).
8. Tips for guide and porter.
9. Services not mentioned in the 'Package Includes' section.

Notes:

1. The above package price is per person basis for group size of two people. We also organize Island Peak Climbing for Single person. If you are single and want a Solo trip package, please contact us for the rate.
2. The above package is from Kathmandu to Kathmandu. If you want to book a hotel in Kathmandu through us, an additional USD 20 per person per night for the room on a twin sharing basis. It includes room, breakfast and hotel tax.
3. As usual, during trek porter is given on the basis of one porter sharing by two trekkers. One porter carries luggage of two trekkers in total maximum weight limit of 25 kg.
4. In Lukla, sometimes (not every day) due to foggy and cloudy weather, a flight may be canceled. So to be safe from if flight cancels, it will be wise to keep a couple of more extra days in Kathmandu or buying fully flexible international flight tickets. If you do this if Lukla flight cancellation happens, you will not miss your international flight and your important schedules.
Ask our experts (Inquiry)
---