Everest Base Camp Trek in December
14 Days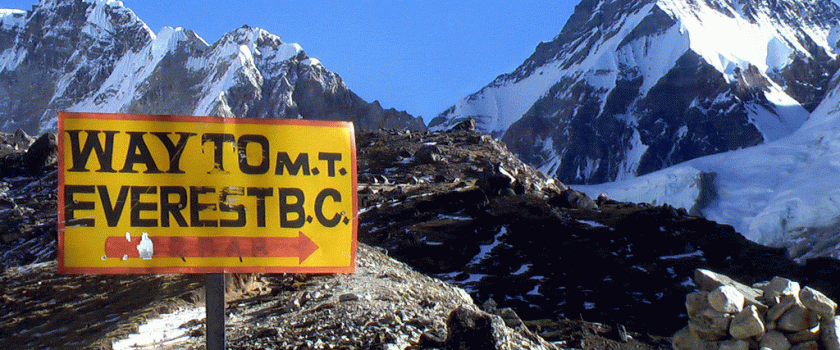 Trip Overview
---
Everest Base Camp Trek is one of the world-famous hiking journeys. Everest Base Camp Trek in short also called EBC Trek. This hiking trip takes you to the base camp of Mount Everest and grants you a great opportunity to explore Mount Everest, the tallest peak on the earth, its nearby glaciers, and the other Himalayan peaks.   Truly, Everest Base Camp Trek is an adventurous lifetime journey that is full of romantic moments.
Everest Base Camp Trek follows the trekking trail through the gorgeous Sagarmatha National Park and takes you through the famous Himalayan town of Namche Bazaar. Destinations and sites like the sacred Tengboche Monastery and the beautiful summer valley of Dingboche are also encountered and visited during the peregrination.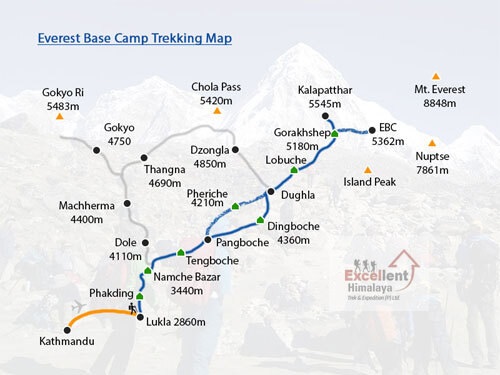 This trek takes you up to Kala Patthar (5643m) which is the closest viewpoint of Mt. Everest and other enormous snow-capped Himalayan peaks. At EBC you can see the Khumbu Glacier descending down the face of Everest.
Going through far-off villages that lie in very isolated locations in the mountains is a great way to learn about Nepal's remote Himalayan life. Observing the day-to-day life of the indigenous mountain people and getting to involve yourself in their warm hospitality is a massive part of the whole experience.
Nature lovers and enthusiasts can also bask in the beautiful natural environments of the region while trekking. Ornamented with lush woods, alpine vegetation, and much unique flora and fauna life, the Everest region is a cornucopia of marvelous Himalayan beauty. The charming and spell-binding beauty of the sceneries during the trek is breathtaking with farmlands in the low-lying areas and snow-covered grounds in the high, the changing terrain is enthralling with Rhododendron forests.
Is it possible for Everest Base Camp Trek in December?
This is one of the very common questions asked by many people. Yes, Everest Base Camp Trek can be done easily in the month of December. The only difference is in the month of December, the temperature is relatively lower than in October, and November. But it is bearable for trekking. And the trekking in December is like the same, not tougher than other months of the year.
The temperature on the route of Everest Base Camp Trek in December
In December, the temperature on the route like in Lukla averages 4°C minimum -1.8°C maximum of 9.8°, in Namche Bazaar average 0.5°C minimum -6.5°C maximum 7.6°C, in Dingboche average -5.1 °C minimum -13.4°C maximum 3.2°C, in Lobuche average -7.7°C minimum -16.4°C maximum 1.1°C and in Gorak Shep/ Everest Base Camp average -8.9°C minimum -17.8°C maximum 0°C. The average daily wind speed is around 12-19 k/hr (about 8-12 mph).
Tips and Packing List for Everest Base Camp Trek in December
To trek to EBC in December be prepared to pack up important trekking gears you need before you head out. It is advisable to dress in layers (to wear pieces of clothing on top of one another). The following list is a guideline to help you pack for your trekking. According to your requirements, you may adjust it.
For Head: Sun Hat; Bandana or head scarf; Headlamp with extra batteries; Sun Glasses with UV protection.
For Upper Body: Shirts (1 half sleeve and 2 long sleeves); Lightweight thermal tops; Fleece Jacket or Wool Sweater; Wind Cheater jacket; Down Jacket (good to minus 20 degrees).
For Lower Body: 1 pair of lightweight thermal bottoms; 1 pair of fleece or woolen trousers; 1 pair of waterproof shell pants and 1 pair of hiking trousers.
For Hands: 1 pair of lightweight wool or fleece gloves and 1 pair of lightweight poly liner gloves.
For Feet: 2 pairs of thin inner socks; 2 pairs of poly or wool socks; 1 pair of Hiking boots (sturdy soles, water-resistant, ankle support); 1 pair of running shoes and/or sandals.
Medical: Your daily taking medicine if any; small personal first aid kit; Aspirin, plasters (band-aids); Sunscreen; lip balms; Anti-diarrhea pills; Anti-headache pills; Cough and/or cold medicine; Anti-altitude sickness pills: Diamox or Acetazolamide; Stomach antibiotic: Ciprofloxacin.
Other Useful Items: 1 sleeping bag (good to -20 degrees C or 28 degrees F); Rucksack and Travel Bags; 1 large duffel bag; A small daypack/backpack for carrying your valuables; Small padlocks for duffel- bags; 2 large waterproof rucksack covers (optional); 2 water bottles (1 liter each); disposable rubbish sacks; Toiletries: 1 medium-sized quick-drying towel; Toothbrush/paste; Multi-purpose soap; Deodorants; Nail clippers; Face and body moisturizer; Tissue /toilet roll; hiking poles, snack food (chocolate/ biscuits); umbrella; reading book or pack of cards (for leisure time during trekking).
The advantages of trekking to Everest Base Camp in December
Low Rainfall: Everest region has almost no rainfall during December, although you may see some snow. You can walk dry and do not have to worry about walking in wet clothes.
Clear view: Winters usually have the clearest views on the route of the Everest Base Camp trek. The sky is crystal clear with a good view of the surrounding.
Less crowd: In the winter, you will not find a crowd of trekkers there. The trails become quiet and peaceful. You get to spend as much time on the trail as you like to enjoy the surroundings. You will also have easy accommodations.
Outline Itinerary of Everest Base Camp Trek
| | | | |
| --- | --- | --- | --- |
| DAY | ITINERARY | HEIGHT | AVG WALKING |
| 1 | Arrival in Kathmandu, Nepal | 1400 m | |
| 2 | Flight to Lukla. Trek to Phakding. | 2610 m | 4 hours |
| 3 | Trek Phakding to Namche Bazaar. | 3440 m | 6+ hours |
| 4 | Day for Acclimatization in Namche. | 3880 m/ 3440 m | 3 hours |
| 5 | Trek Namche Bazaar to Tengboche. | 3860 m | 6 hours |
| 6 | Trek Tengboche to Dingbouche. | 4410 m | 6 hours |
| 7 | Day for Acclimatization in Dingboche. | 4600m / 4410 m | 3 hours |
| 8 | Trek Dingboche to Lobuche. | 4910 m | 6 hours |
| 9 | Trek Lobuche to Everest Base Camp. Night stay at Gorakshep. | 5164 m / 5365 m | 7:30/8 hours |
| 10 | Early morning Hike to Kala Patthar. Then trek Gorakshep to Pheriche. | 5550 m / 4200 m | 6+ hours |
| 11 | Trek Pheriche to Namche Bazaar. | 3440 m | 7 hours |
| 12 | Trek Namche Bazaar to Phakding to Lukla. | 2840 m | 7 hours |
| 13 | Flight from Lukla. Back to Kathmandu. | 1400 m | |
| 14 | Departure from Kathmandu, Nepal. | | |
For the price detail of the Everest Base Camp trek, please click on this hyperlink: Everest Base Camp Trek Cost.
Please contact us by email at [email protected] or WhatsApp/ Viber at +977 9851203181 for any further information about Everest Base Camp Trek, need any changes in the above itinerary, or if any questions. Once we receive your message, we get back to you within 24 hours.
Ask our experts (Inquiry)
---