Everest Base Camp Trek from Malaysia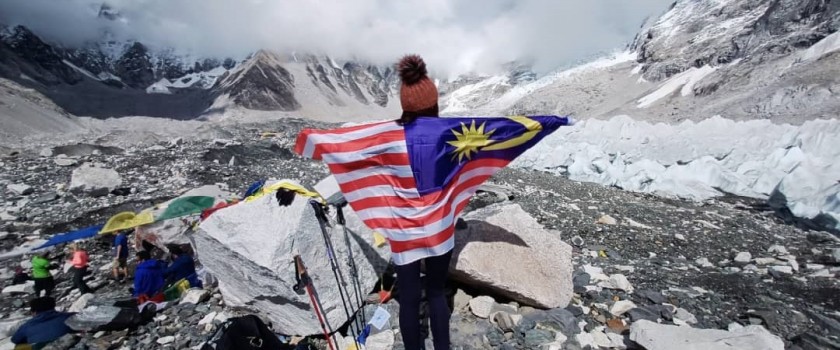 Trip Overview
---
Everest Base Camp Trek is a dream trip for every Malaysia Hiker. Everest Base Camp shortly also famous as EBC Trek takes you to the beneath of the world's highest mountain Mount Everest and grants an opportunity to see Mount Everest very closely and its surrounding beautiful Himalayan panorama. Following the footsteps of Edmund Hillary and Tenzing Norgay, the trek is along the foothills of Himalayan mountains including the world's highest mountain; Mount Everest including Mount Lothse, Mount Cho Oyu, etc. En route, you will of course experience authentic Sherpa hospitality and culture, Buddhist spiritualism, and amazing mountain scenery. So, be part of a fascinating and adventurous journey through the Himalayas.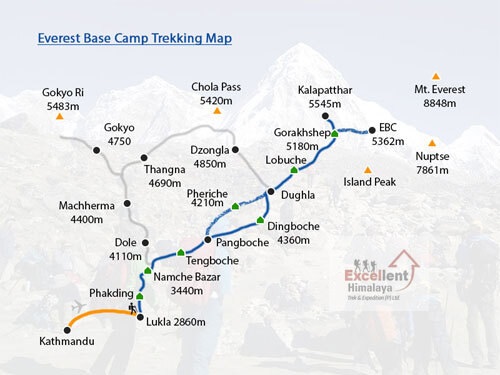 The standard Everest Base Camp Trek is 12 days of hiking including two spare days for acclimatization. If count from your arrival in Kathmandu, Nepal to your departure from Kathmandu, the total duration of the EBC trek will be 14 days. The Everest Base Camp Trek starts from Lukla and ends also in Lukla. From Kathmandu to Lukla airfield is 35 minutes flight. From Lukla, hiking starts towards Namche Bazaar through the Sherpa villages of Chheplung, Ghat, Phakding, Benkar, Manjo, and Jorrsalle. On the way, you will cross several suspension bridges.  In Namche Bazaar, you will stay one more day to acclimatize the body to the altitude.
After Namche Bazaar, you continue trekking to Tengboche. In Tengboche, you visit the famous Buddhist monastery famous as Tengboche Monastery. Then, you walk ahead passing the places called Dibuche, Somare, Orsho, Dingboche (the world's highest farmland), Thukla Pass (4,830m), Lobuche Pass (5,110m), Gorekshep to reach Everest Base Camp. After the visit to Everest Base Camp and climb to the viewpoint of Everest 'Kalapathar', you trek back to Lukla following the same previous route. From Lukla, you fly back to Kathmandu where your overall trip ends.
Hiking Distance of Everest Base Camp Trek
The hiking/trekking distance from Lukla (hiking starting place) to Everest Base Camp and back from Everest Base Camp to Lukla is around 130 Kilometers/ 81 miles. You will complete this distance in 11 days. Every day you walk on an average of 12 Kilometers/ 7 miles. In your normal pace of walking, you will do it with a sometimes gradual ascent on the rocky terrain and sometimes with a descent.
Height of Everest Base Camp Trek/ Elevation of EBC Trek
You will start Everest Base Camp Trek from the elevation of 2804 meters/ 9199 feet at Lukla. Every day you will receive elevation in the range of 400 meters to 800 meters. As most people's bodies are not used to these elevations, the trek includes acclimatization days at the places named Namche Bazaar and Dingboche to ensure your safety. The highest altitude of the entire EBC trekking is Kala Patthar, nearby Everest Base Camp. Its height is 5555 meters/18225 feet. Kala Patthar is the best viewpoint for Mount Everest and its surrounding magnificent peaks.
In Summary, the major highlights of Everest Base Camp Trek are as below:
. Trek through one of the top ten trekking routes in the world
. Reach the base camp of the world's highest mountain 'Mount Everest'
. Hike Kala Patthar peak (5,555m) & enjoy a 360degree view of the mountains
. Visit Tangboche Monastery; the largest monastery in the Khumbu region.
. Get face to face with the mighty Himalayas and giant Khumbu Icefall.
. See beautiful Sherpa villages and century old monasteries
Itinerary
Day 01: Arrival at Kathmandu International airport. You will be met our Tour officer and he will escort you to the hotel. The orientation of the trip at the hotel. O/n Hotel in Kathmandu.
Day 02: Early morning flight to Tenzing and Hillary Airport in Lukla (2804m/9199ft). Flight 30 to 35 minutes. Trek from Lukla to Phakding (Alt. 2610m/8563ft). Walking for 3 hours. O/n in Mountain Lodge.
Day 03: Trek from Phakding to Namche Bazaar (Alt. 3441m/11289ft). Walking for 5 hours. O/n in Mountain Lodge.
Day 04: Acclimatization day. Day trip to Shyangboche and Khumjung Village (Alt. 3780m/12402ft) and trek back to Namche Bazaar. Walking for 5 hours. O/n in Mountain Lodge.
Day 05: Trek from Namche Bazaar to Tengboche (Alt. 3860m/12664ft). Walking for 5 hours. O/n in Mountain Lodge.
Day 06: Trek from Tengboche to Dingboche (Alt. 4350m/14272ft). Walking for 6 hours. O/n in Mountain Lodge.
Day 07: Acclimatization day. Walk around Dingboche. Walking for 4 hours. O/n in Mountain Lodge.
Day 08: Trek from Dingboche to Lobuche (Alt. 4910m/4910ft). Walking for 5 hours. O/n in Mountain Lodge.
Day 09: Trek from Lobuche to Everest Base Camp (Alt. 5365m/17602ft) then back to Gorak Shep. Walking 7:30 hours. O/n in Mountain Lodge.
Day 10: Early in the morning hike up to Kalapatthar (Alt. 5555m/18225ft) then trek down to Pheriche (4200m/13780ft). Walking for 7 hours. O/n in Mountain Lodge.
Day 11: Trek from Pheriche to Namche Bazaar (Alt. 3441m/11289ft). Walking 6:30 hours. O/n in Mountain Lodge.
Day 12: Trek from Namche Bazaar to Lukla (Alt.2804m/9199ft). Walking 6:30 hours. O/n in Mountain Lodge.
Day 13: Flight back from Lukla. Rest of the day at leisure in Kathmandu. Evening farewell dinner with Nepali Cultural show. O/n Hotel in Kathmandu.
Day 14: Departure to the home country. Our tour officer will drop you at the international airport and see you off. End of Service. Or you may take optional side tours.
Please Click Here for a detailed itinerary of Everest Base Camp Trek.
Everest Base Camp Trek Cost: USD 799 Per Person (In MYR 3355 Per Person)
We also accept payment in Ringgit. The above MYR cost is based on the exchange rate of 1 USD=MYR 4.20. We receive payment in MYR on the exchange rate of USD versus the MYR on the payment day.
The above Cost includes:
1. Airport pick up and drop services by private car.
2. Two-night hotel in Kathmandu at Tourist Standard Hotel with complimentary breakfast.
3. Airline tickets for the flight from Kathmandu to Lukla and also from Lukla to Kathmandu.
4. Domestic airport taxes where applicable.
5. Accommodation in Mountain Lodge/ Tea House during the trekking.
6. Everest National Park Entry Permit fee.
7. Trekker's Information Management System [TIMS] registration card fee.
8. Khumbu Local Government Trekker Permit Tax
9. Experienced English-speaking trained trekking guide for the entire trekking.
10. Trekking Guide's daily expenses
11. Comprehensive first aid medical kit carried by the guide.
12. Trip Achievement Certificate after completion of the trek.
13. A Trekking Map of this route for a Group.
14. Necessary paper works, all government, and local taxes
15. Complimentary farewell dinner in Kathmandu with a cultural show at a typical Nepalese restaurant.
The above Cost excludes:
1. Nepal visa fee (USD 25 for 15 days/ USD 40 for 30 days period). You can easily get Nepal visa on your arrival time at Tribhuvan International Airport in Kathmandu.
2. Airfare for your international flight.
3. Your Meals cost (Breakfast, Lunch, Dinner) during the trekking. (Per Day USD 25 to 30) depend on the food you choose according to the restaurant menu)
4. Porter (Total USD 80 per person for the whole trek on the basis of on porter sharing by two trekkers. Generally, one porter carries the baggage of two trekkers with a maximum total weight limit of 25 kg).
5. Your travel insurance which includes evacuation.
6. Alcoholic beverages, hot and cold drinks, bottled water, boiled water, dessert.
7. All kinds of personal expenses like phone calls, internet use, laundry, hot shower during trekking, excess baggage charge in flight etc.
8. Lunch and dinner in Kathmandu. (USD 8 to 10 per lunch/per dinner)
9. Tips for Trekking Staff.
10. Any expenses arising due to unforeseen situations like personal sickness, natural calamities, political strikes, flight cancellation etc.
11. Cost of any extra services if you use which not mentioned in the above service inclusive section.
Notes:
In the package, if you want to include porter and food cost of trekking. We have a special package rate for this. Please contact us for the package rate including porter and food for trekking.
The above cost is on a Per Person basis for a minimum group size of two persons.
If you are single and want to Solo Trek. We also organize Everest Base Camp Trek for a solo trekkers. For the solo trekker, we have a separate special price. Please contact us for the price of Solo Trekking.
About Operator of Everest Base Camp Trek
Excellent Himalaya Trek is a leading trekking operator in Nepal run by local tourism experts and Sherpas. We have been organizing Everest Base Camp Trek for many tourists from Malaysia every year. The above cost of Everest Base Camp Trek is quoted at Malaysian Ringgit, especially for Malaysian hiking and outdoor lovers. For further information and any questions please feel free to contact us. You may contact us by email: [email protected] or by mobile phone, WhatsApp, and Viber: +977 9851203181. We will be in your support at any time or day.
Ask our experts (Inquiry)
---