Everest Three Passes Trek with Best Local Company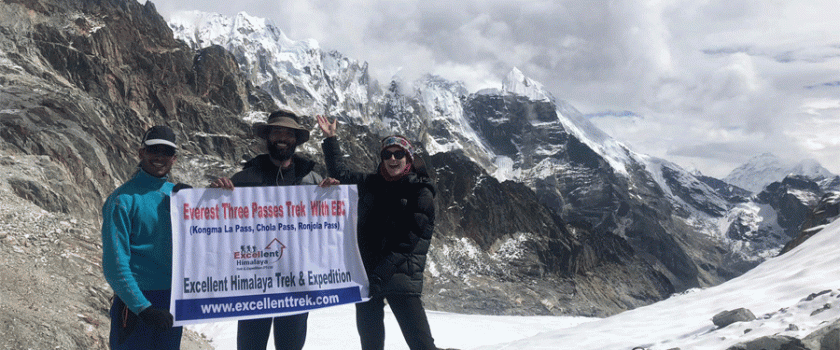 Trip Overview
---
Three Passes Trek Nepal is probably the ultimate high-altitude hiking journey in the Himalayas. It is an adventurous and equally scenic lifetime trip. The trail of three passes trek is in the Everest Region of Nepal. Three passes trek in Nepal takes you to cross over the three high passes in the world named Kongma La Pass (5535 meters/18159 feet), Cho La Pass (5368 meters/ 17612 feet), and Renjo La Pass (5360 meters/17585 feet).
Three Passes Trek in Nepal is technically not much difficult crossing the passes. But all this trail climbs over 5000 meters so it requires proper acclimatization to reduce the effects of Acute Mountain Sickness (AMS). Here the suggested hiking program is designed with consideration of this major issue.
Another remarkable feature of this journey is to be also at the Everest Base Camp, the foothill of the world's tallest mountain, and hiking up Kalapathar as well as Gokyo Ri. Both of them are smaller peaks from where the awesome close-up view of Mount Everest and other towering peaks of the planet can be experienced.
The trekking route of the Everest Three Pass Journey is almost like the circuit of the Everest region. It covers all major highlights of Everest Himalayan territory from stunning views of gigantic mountains to awesome Himalayan glaciers and from serene glacial lakes to distinct alpine lifestyles and vegetation. So, without doubtful Three Passes Trek in Nepal, we also can say it by Everest Circuit Trek.
Three Passes Trek in Nepal starts from Lukla after 40 minutes mountain flight from Kathmandu following the classic route of Phakding, Namche Bazaar then towards Dingboche. From here it branches off Chhukung valley. Afterward, it rises with a climb to Kongma La Pass to Lobuche and Everest Base Camp.
Trekking continues over Cho La Pass to Gokyo Lake, then crosses the Renjo La Pass down to Thame. Subsequently following the classical trail it drops down to Lukla where this adventure trekking ends. From Lukla, it's a flight back to Kathmandu to end the overall trip.
Which direction to follow counterclockwise or clockwise route of the Everest Three Passes Trek?
This is the common question of most trekkers. Three Passes Trek can be done clockwise as well as counterclockwise from Namche Bazaar. The given itinerary is counterclockwise which most of the trekkers follow. The main reason why trekkers follow counterclockwise is the route (from Namche to Thame is the clockwise route) takes you to the first high pass (Renjo La which is above 5000 meters) in just a few days. This could be risky in terms of altitude sickness. In the counterclockwise, you follow the EBC trail all the way to Dingboche, and then from there, take the path that goes to the first pass, Khongma-la. This route might be a good alternative for better acclimatization and avoiding altitude sickness. The next reason is the duration of counterclockwise trekking is shorter by 1 to 2 days than clockwise. The third reason is sometimes because of the snow the passes become unpassable. Even though such a scenario, in the counter wise itinerary, you do not miss visiting Everest Base Camp. These are the reasons why we recommend a counterclockwise itinerary of Three Passes Trek.
Why Excellent Himalaya Trek Company for Three Passes Trek
Excellent Himalaya Trek and Expedition is familiar as the top-rated company among many agencies for Three Passes Trek because of its below salient features:
Run by Local Experts: As a local travel operator, we know well about the route of Three Passes Trek and its surroundings. We know the best way of trekking at the route of Three Passes and get you also the same way.
Great Success Rate & Trustworthy: We are a trustworthy Trekking Company for Three Passes Trek in the sense that we are operating all Three Passes Trek based on reality, integrity, and honesty.
Focus on your needs: We highly value all trekkers and are responsive to their needs and preferences. Our Three Passes Trek package is customizable according to their interests and plan.
Good Value for money: We provide the value of what you are buying of our services at least equal to the amount you are paying. Our price is always competitive that does not have any middle or hidden fees.
Real Cared Services: Our one travel consultant or our local trekking guide keeps in touch with our clients every time. We make sure their protection is guaranteed so that they will have peace of mind while trekking to Three Passes with us.
About the Trip Date of Everest Pass Trek
The best time for Everest Three Passes Trekking is from mid-September to the end of November and from mid-March to mid-June. During the mentioned months the weather becomes pleasant with clear skies and temperatures at higher places are more bearable. In winter and during the monsoon months flights are frequently canceled because of poor visibility at the Lukla airstrip. The most serious obstacle of trekking in winter is cold weather and high passes are filled with snow. Consequently, it's very difficult to find out the trail.
The trip date of Everest Three Passes Trekking will be on any date on which you feel comfortable. We organize this trekking as your private trip.
Three Pass Trek Cost including Everest Base Camp
| | | |
| --- | --- | --- |
| Bronze Price | Silver Price | Gold Price |
| USD 1075 Per Person | USD 1390 Per Person | USD 1495 Per Person |
The Services inclusive in the above Prices:
| | | | |
| --- | --- | --- | --- |
| Services | Bronze Price | Silver Price | Gold Price |
| Airport Transfers | By Car | By Car | By Car |
| 2 Night Hotel in Kathmandu | Tourist Hotel | Tourist Hotel | Tourist Hotel |
| Meal in Kathmandu | Breakfast | Breakfast | Breakfast |
| Accommodation in Trekking | Mountain Lodge | Mountain Lodge | Mountain Lodge |
| Kathmandu Lukla Domestic Round Trip Flight | Air Ticket- Yes | Air Ticket- Yes | Air Ticket- Yes |
| Meal in Trekking | No | Breakfast, Lunch, Dinner | Breakfast, Lunch, Dinner |
| Experience Trekking Guide | Yes | Yes | Yes |
| Porter | No | No | Yes |
| Trekking Permit Fee | Yes | Yes | Yes |
| Sagarmatha National Park Entry Fee | Yes | Yes | Yes |
| First Aid Medicine | Yes | Yes | Yes |
| Trip Certificate | Yes | Yes | Yes |
| Trekking Map for Group | Yes | Yes | Yes |
| Insurance, Meals, Salary, and Accommodation for Trekking Staff | Yes | Yes | Yes |
| Dinner with Cultural Show on the last night of Trip | Yes | Yes | Yes |
| All Local Taxes | Yes | Yes | Yes |
The Services exclusive in the above Prices (Same in All Package Prices):
• Nepal visa fee (USD 25 for 15 days/ USD 40 for 30 days period). You can easily get a Nepal visa on your arrival time at Tribhuvan International Airport in Kathmandu.
• Airfare of your international flight.
• Your travel insurance which includes evacuation.
• Alcoholic beverages, hot and cold drinks, bottled water, and dessert.
• All kinds of personal expenses like phone calls, internet use, laundry, hot shower during trekking, excess baggage charge, etc.
• Lunch and dinner in Kathmandu "except farewell dinner in Kathmandu".
• In case of emergency helicopter rescue/ evacuation & its cost.
• Tips for Trekking Staff.
• Any expenses arising due to unforeseen situations like personal sickness, natural calamities, political strikes, flight cancellation, etc.
• Cost of any extra services if you use which not mentioned in the package price.
Note: The above cost is on Per Person basis for a minimum group size of two persons for the private tour. For the solo trekker, there will be additional supplement costs Please contact us for any further information about Three Passes Trek.
Ask our experts (Inquiry)
---