10 Days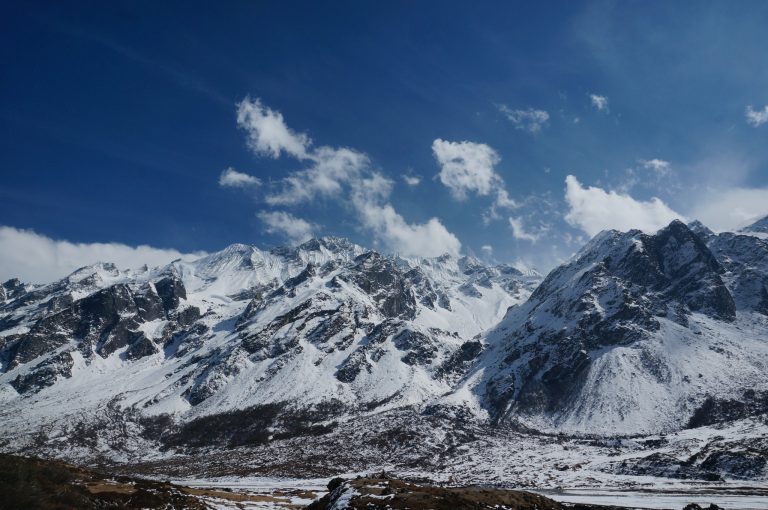 Trip Overview
---
Langtang Valley Trek is a wonderfully scenic hiking trip in Nepal. It is also the nearest hiking trail from Kathmandu which takes you to the alpine Himalayan zone in a short period of time. Langtang valley is like heaven surrounds by the majestic Himalayan peaks. This valley is inside the territory of Langtang National Park.
Langtang Valley trek grants you an opportunity to explore beautiful mountain villages in habituated by Tamang People. Tamang is one of the major ethnic communities in Nepal. The lifestyle of Tamangs who live in Langtang area is highly influenced by Tibetan Buddhist culture. Another attraction of this route is you can visit Himalayan glaciers from the lower altitude place. From Langtang Valley trek, you can experience the outstanding views of Mount Langtang Lirung (7246 meters), Dorje Lakpa (6966 meters), Gang Cheenpo (6388 meters) and Ganesh Himal (7429 meters).
About the origin of the name 'Langtang' of that place, locals tell an interesting legend. According to the legend, in the ancient time, one of the Buddhist monk called Lama lost his yak. When in search of yak he discovered this beautiful valley. In the Tibetan language, the word 'Lang' means 'yak' and 'tang' means 'to follow'. As this valley found when the following yak, later this place called Langtang. In the upper part of this valley, we find lots of yaks. They are grazing in open meadow.
Syabru Besi is the gateway of Langtang valley trekking. It is reachable after 6 hours of drive from Kathmandu. From Syaphrubeshi the trail swings north into the Langtang valley crossing the river several times along with oak and rhododendron forests. Upon reaching Langtang valley firstly, you visit Langtang village. Afterward, the trail moves towards Kyanjin Gompa crossing through the glacial moraine.
Kyanjin Gompa is the last place of this trekking. From Kyanjin Gompa, you hike up to Tsergo Ri (4984m), the highest elevation of this trip. It offers the spectacular views of Himalayan panorama with glaciers. Then, you retrace your footsteps to Syabrubesi. From Syabrubesi you drive back to Kathmandu.
Langtang Valley Trek Cost: USD 350 Per Person
The above Cost Includes:
• Your arrival airport pickup & your departure airport drop by car.
• Two-night accommodation in Kathmandu at Tourist Type hotel with breakfast.
• During trekking accommodation in Mountain Lodge/ Tea House.
• Drive from Kathmandu to Syabrubesi/ from Syabrubesi to Kathmandu by Local Route Bus
• During trekking, one experienced friendly trekking Guide.
• Trekking Guide's daily expenses
• Trekking Permit (TIMS Card) fee.
• Langtang National Park Entrance fee.
• Group medical supplies (first aid kit will be available).
• Trip Achievement Certificate.
• Trip Map.
• All government taxes, local tax, and tourist service charges.
The above Cost Excludes:
• Nepal visa fee (USD 30 for 15 days/ USD 50 for 30 days period). You can easily get Nepal visa on your arrival time at Tribhuvan International Airport in Kathmandu.
• Airfare of your international flight.
• Your Meals cost (Breakfast, Lunch, Dinner) during the trekking. (Per Day USD 25 to 30) depend on the food you choose according to the restaurant menu)
• Porter (Total USD 70 per person for the whole trek in the basis of on porter sharing by two trekkers. Generally, one porter carries the baggage of two trekkers in maximum total weight limit of 25 kg).
• Your travel insurance which includes evacuation.
• Alcoholic beverages, hot and cold drinks, bottled water, dessert.
• All kind of personal expenses like phone calls, internet use, laundry, hot shower during trekking, excess baggage charge, etc.
• Lunch and dinner in Kathmandu (USD 8 to 10 per lunch/per dinner)
• In case of emergency helicopter rescue/ evacuation & its cost.
• Tips for Trekking Staff.
• Any expenses arising due to unforeseen situations like personal sickness, natural calamities, political strikes, etc.
Notes:
1. In the package, if you want to include food cost of trekking and porter. We have a special package rate for this. Please contact us for the package rate including the food of trekking and porter.
2. The above cost is in Per Person basis for a minimum group size of two persons.
3. If you are single and want to Solo Trek. We also organize Langtang Valley Trek for a solo trekker. For the solo trekker, we have a separate special price. Please contact us for the price of Solo Trekking.
Ask our experts (Inquiry)
---